"Wine Clubs are the best way to be ensure you receive the latest releases and your favourite wines."
If ever there was a Wine Club that was all about fun, this is it! The team at Mayhem don't take themselves too seriously but they sure take their winemaking skills seriously! Incredible wines at great value pricing! It gets even better when you join their Wine Club!
Choose what you want. When you want. So convenient!
What's a little chaos among friends?
Club Mayhem is a great club, that's not really a club, it's more a gathering of friends who love wine. At Mayhem we like to break the rules, our club has no fees to subscribe, you get to pick the wines you want, and you can cancel anytime (but… why would you?)
Break all the rules! No fees to subscribe. Pick the wines you want. Get the ship dates you need.
Interested in 10% off your wines?
Want to be first in line for new releases, special events and more?
Subscribe to Club Mayhem today and start to save.
We ship six bottles in the spring and six bottles in the fall (or you can arrange to pick up).
Your subscription is free and if you make it by the published deadline for each shipment you can pick your wines for the case – if not you'll receive a selection curated by our awesome winemaker Ajay.
The Perks:
2 shipments per year, 6 tasty bottles each shipment (or you can pick up!)
Customizable packs or let our talented winemaker Ajay Chavan curate your pack for you!
10% off on all your wine orders
Complimentary tasting experiences
First in line for new releases & crazy good Club Mayhem events
Hang out with awesome Club members and the Mayhem crew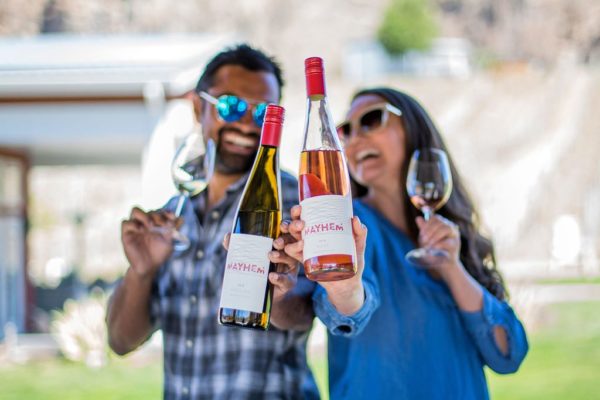 Come have fun with us, join Club Mayhem today. We can't wait to share our newest releases with you. Visit us at mayhemwines.com or follow the chaos @mayhemwine on Instagram.
Information and images courtesy of the winery.