"In this series I am bringing you an exclusive list of wines for Valentine's"
This list of wines is diverse and exciting, a lot like the early days of romance. Whether you are in the early stages of a relationship when you get to know each other, or yours is a lasting union, exploring your love of wine together adds that little bit of extra romance to your Valentine's Day.
Romance, a feeling of excitement and mystery associated with love.
2020 Liquidity Reisling

Picked at the end of September, both our Riesling blocks were picked with a bright, acid-driven style in mind. After gentle pressing, the juice was fermented in stainless steel tanks, racked and blended before bottling in January.
Wine Profile
TASTING NOTES
This Riesling embodies everything beautiful about the variety. Key lime zest, tangerine, and white flower aromatics flourish on the nose and compliment the stony minerality and racy acidity on the finish.
FOOD PAIRING NOTES
Winemaker, Amy Paynter — Oysters, onion tart, or seared scallops
$21.o0 available online and at the winery
2020 Pinot Noir Stag's Hollow Vnyd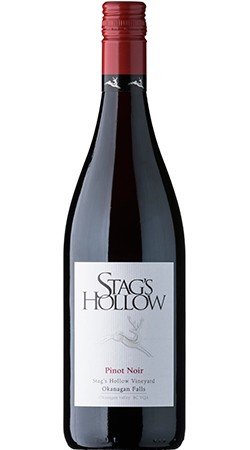 Wine Profile
Tasting Notes
Slightly fuller and more structured than our Shuttleworth Creek Vineyard Pinot Noir, our Estate grown fruit benefits from a warmer, west-facing aspect, which allows for a riper and richer fruit-forward profile. The nose is dominated by notes of black cherry, bramble, candied red fruit, plum and warm spice. It also shows notes of anise and cola. The palate is balanced by an elegant backbone of acidity that brings a litheness to this structured Pinot.
Vineyard Notes
Stag's Hollow Estate Vineyard – Okanagan Falls (Gravels & sandy loam)
Production Notes
The grapes were 100% destemmed, without crushing, leaving as much whole berry fruit as possible. After a 48 hour cold soak, the must was warmed and inoculated with selected yeasts. Hand punch-downs started at 3 times daily and tapered off to once a day as tannins progressed. Free run juice was drained off and the skins were pressed off as soon as the primary ferment was completed. All lots were racked into 300L French oak barrels (16% new, remainder 2nd fill & 3rd fill), where each lot rested, untouched, for 12 months, before being blended, stabilized and bottled.
Winemaker Notes
Our Stag's Hollow Estate Vineyard is home to the oldest of our Pinot Noir plantings. Now almost 30 years old, these well-established vines are among our most reliably-ripening, and intensely-structured. This particular blend is a co-ferment of the two Dijon clones planted to this block (115 & 667).
Food Pairing Notes
Classic: roast chicken, rack of lamb, beef wellington, roast pork with fennel, mushroom dishes (mushroom risotto), roast or grilled lobster, venison, cassoulet, turkey dinner, beef tenderloin. Adventurous: blue cheese (the stinkier, the better), enchiladas, Chinese dishes, salmon, rich milk chocolate.
Other Notes
195 cases
$30.00 available exclusively at the winery 
Moon Curser Moonlit 2021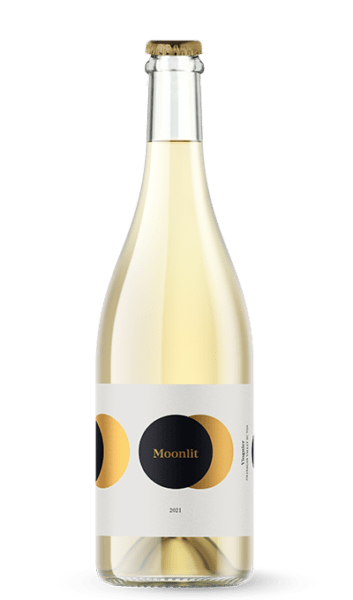 "We've selected our Moon Curser Moonlit 2021 for Romance because it is hard to beat a romantic night sharing a bottle of sparkling wine with the one you love. Viognier is rarely found in its effervescent version, but here at Moon Curser, we have created a wine bright with personality, charm and, yes, bubbles!" Moon Curser 
Tasting Notes
Made from 100% Viognier, this vintage of Moonlit has been a hit around the winery since the day it was bottled. Moonlit is a sparkling wine with a beautiful pale yellow colour that is produced using the carbonation method. The nose on this wine bursts with aromas of granny smith apple, kiwi, orange zest and clementines. The palate is balanced, crisp and clean with a wonderful backbone of acidity to carry this fruit-forward dry wine. Fresh bubbles make for a light-bodied wine and beautifully transport flavours of quince, orange blossom, raw honey and a note of flinty minerality across the palate. A perfect accompaniment to any patio, seafood dinner, or charcuterie board. To fully enjoy the fruit-forward nature of this wine, it is best to consume by the end of 2025.
$26.99 available online and at the winery
vinAmité Hidden Corner

Tasting Notes
"This red blend remains faithful to wine lovers as a complex blend that keeps on giving with every satisfying sip. Enjoy now, or hide it in a corner of your cellar!"
Fresh fruit-forward aromas with the sweet smell of pipe tobacco followed by blackberries, anise and blueberry jam, with a gentle blend of vanilla and chocolate that leaves you wanting more. Earthy yet soft, complex yet elegant, this wine is crafted for those occasions when you can devote your full attention to the beauty of a traditional Bordeaux-style wine.
55% Cab Sauv, 13% Petit Verdot, 12% Merlot, 10% Cab Franc and 10% Malbec.
$44.00 available online and at the winery
Hester Creek Select Vineyards Cabernet Merlot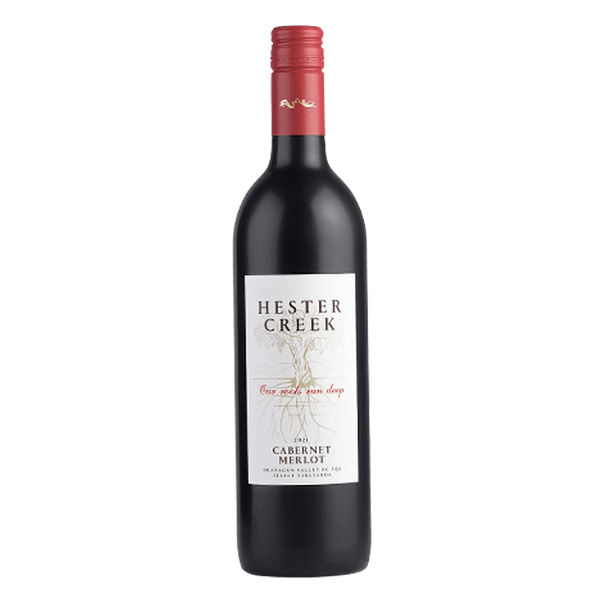 WINE PROFILE
Tasting Notes
Bold yet approachable, our Foundation Series Select Vineyards Cabernet Merlot shows enticing aromas of clove, sandalwood, sage and blackberry. These lead to a full palate of ripe black fruit, roasted espresso, and light vanilla tones, ending with a round and pleasingly long finish. A robust red that is a great companion for grilled foods, enjoy with BBQ pork chops, smoked ribs or try a lentil sauté.
Winemaker Notes
An enticing Bordeaux style wine, this vintage is made with handpicked grapes from our estate vineyard along with select farms south of Oliver and in Osoyoos. Approximately 2/3 Cabernet Franc and Cabernet Sauvignon and 1/3 Merlot, the Merlot was harvested first, this year in late September, with the Cabernet varietals picked last in late October and early November. The Cabernet Sauvignon provides a solid framework, the Cabernet Franc contributes the structure and elegance, and the Merlot adds a nice roundness to the blend. All the fruit was hand-picked, meticulously sorted, destemmed and fermented on the skins. After a gentle pressing and malolactic fermentation the lots were blended and then spent an additional 8 months aging on fine lees with 75% in French oak and 25% American oak.
Osoyoos LaRose Pétales D'Osoyoos

The approachable Pétales d'Osoyoos is fruity and intense with velvety tannins. In the old-world tradition of most Bordeaux Estates, Osoyoos Larose makes two wines of every vintage. Lots with more tannin and aging potential are reserved for Le Grand Vin. The remainder is used to create our second wine, Pétales d'Osoyoos. Extraordinary value for the wine enthusiast.
WINEMAKER'S NOTES
A mixture of red fruit and well intergraded oak on the nose. The pallet has well rounded and soft tannins with a long and fresh finish.
DRINKABILITY
Can be drunk over the next 3-5 years and to be enjoyed with food.
GROWING SEASON
The 2019 vintage was a classic Okanagan spring and summer. A hotter than average spring meant bud burst was a week earlier than normal. The summer was hot and dry but still had cool nights which allowed us to keep some freshness in the wines. A warm end to the growing season allowed us to perfectly ripen all the grape varieties and pick them at optimal ripeness.
BLEND
Merlot: 64%
Cabernet Sauvignon: 36%
The grapes are hand-picked and sorted, then destemmed and crushed at the winery. Each block is  fermented separately in temperature controlled stainless steel tanks.
AGING
12 months in medium toast French oak barrels. We use 6-7 different cooperages to perfectly  accompany the ageing on the wines.
$38.00 – $39.99 available at bishopscellar.com and liquormarts.ca
2020 TIME Evolve

"The name alone invokes thoughts of a special moment in time Momento is the perfectly crafted red blend to celebrate special moments that spontaneously evolve into another beautiful connection."  TIME Wines
42% Merlot, 58% Cabernet Franc
This approachable wine is a blend of 58% Cabernet Franc, 42% Merlot; aged separately in American and French oak for 14 months before being blended. Moments are created when we share in great wine and great friends.
Winemaking
Hand harvest, sorted and fermented on skins with daily pump-overs for the duration of the ferment. Aged separately in French and American oak barrels until blended.
Tasting Notes
Colour: Medium ruby
Nose: Blackberry, raspberry, vanilla
Palate: Red currant, blackberry, cedar, moderate body, dry with a smooth finish
Food Pairings: Roast chicken, sausage casserole, bolognese pasta
*Bronze Medal winner: 2022 All Canadian Wine Championships | Red Blends*
$24.99 available online and at the winery
Tinhorn Creek Oldfield Reserve Rosé 2021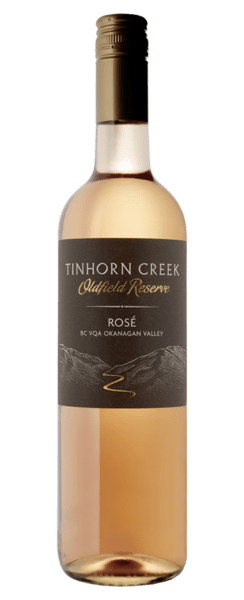 The 2021 vintage of our Rosé is 72% Syrah, 17% Cabernet Franc and 11% Merlot. Each of the three blocks, Merlot, Cabernet Franc and Syrah, were harvested with the aim of achieving perfect balance between sugar, acidity, and flavors. Each parcel of fruit was whole bunch pressed, aiming for a light color extraction that would match the elegance of this wine. The juice was fermented in stainless steel barrels and tanks, keeping the ferment temperature between 14C and 16C to preserve the aromatic intensity. After primary fermentation, the wines were cold settled and prepared for blending. The final blend was aged for three months on fine lees before bottling, to impart further complexity and textural elements and richness A perfect wine for spring and Summer!
Silver Medal – 2022 WineAlign National Wine Awards of Canada
$24.99 available online or at the winery
Meyer Family Vineyards McLean Creek Road Pinot Noir 2020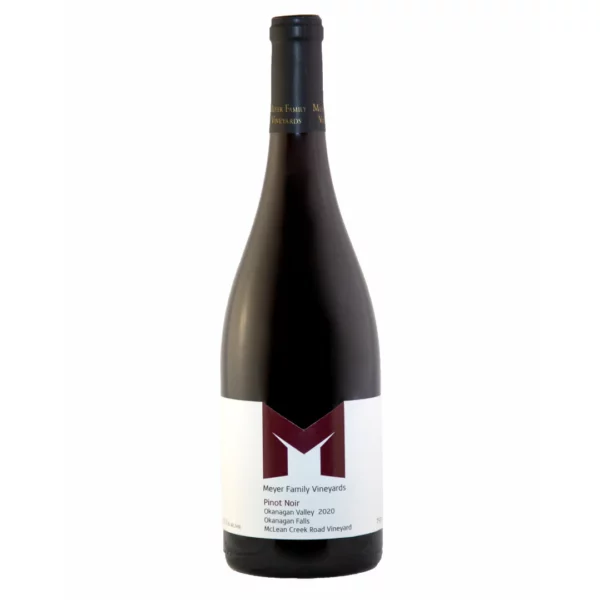 From our home site in Okanagan Falls, McLean Creek Road Vineyard lies within the Okanagan Falls sub-geographical indication (sub-Gi) which was designated in 2018 and recognized as being geologically unique in the production of wine grapes. With a predominantly steep southerly aspect, the soil contains alluvial and glacial deposits making up a mix of gravelly and sandy loams.
The wine is made with a hands-off approach allowing the true characteristics of the variety and terroir to shine through. We produced only 900 cases of this wine. Drink now or allow it to cellar for 7-10 years.
Winemaker Notes
At the winery the fruit was gently de-stemmed via gravity into small open top fermenters and allowed to cold soak. After cold soaking, an indigenous yeast fermentation began lasting two weeks and peaking at 32 degrees Celsius, with gentle hand plunging of the must done throughout. After a post-maceration period the wine was transferred to 100% French oak barrels (25% new) where it remained for 11 months. A natural malolactic fermentation occurred in late spring. In keeping with our philosophy to maintain, as much as possible, a hands-off approach in the cellar to allow the true expression of terroir, this wine is unfined and unfiltered.
Vineyard Notes
Our family owned "McLean Creek Road Vineyard" is in Okanagan Falls, British Columbia. The vineyard has a predominantly steep southerly aspect with the soil comprised of alluvial and glacial deposits making up a mix of gravelly and sandy loams. The Pinot Noir blocks are planted with a Pommard clone (91) and 4 Dijon clones (114, 115, 667, 777) and are planted in three distinct blocks on the 20-acre property (16-acres planted). The largest of these blocks has a steep southerly aspect to capture the full range of the sun, the second block has a gently sloping westerly aspect giving a slightly higher temperature from the afternoon sun, and the third and coolest of the blocks has a gentle northwest aspect. Our philosophy is to manage each block separately and treat each vine individually. Although we are not certified organic, we practice organic/sustainable farming principles.
$37.48 available online or at the winery
Phantom Creek 2019 Estate Merlot

To create a classic South Okanagan Merlot, we selected blocks of fruit that displayed great varietal expression from our estate vineyards on the Black Sage and Golden Mile Bench. Our 2019 Merlot is fresh and vibrant with elegant soft tannins and bright acidity. The nose showcases aromas of dried red berry fruit, notes of eucalyptus, with subtle hints of cocoa and graphite. On the palate, a fresh fruit core of cherry, raspberry, and red currant mingle with minty herbaceous notes and white pepper.
WINEMAKER NOTES
A cooler April in 2019 was quickly followed by warm conditions in May and June resulting in perfectly timed bud break in the vineyards. Summer brought more warmth to the valley but temperatures were average and this allowed the vines to fully develop. Harvest started with warm and dry conditions and the early ripening varieties were harvested on schedule. However, by the end of September, a slight change in weather conditions brought cooler temperatures and small amounts of rainfall to the valley. October was warm and had minimal rainfall allowing for more flavour development and acidity retention in the grapes. Harvest 2019 was challenging and required extremely precise vineyard management, however the result of all that hard work is well balanced wines with vibrant fruit characters and freshness.
VINEYARD NOTES
This wine comes from our Estate vineyards located on the Black Sage Bench and Golden Mile Bench. Our vineyards on the Black Sage Bench produce finessed, elegant wines while the southerly aspect of our Golden Mile Bench vineyard allow the vines to bask in the early morning sun. On gravelly soils, wines from this vineyard are known for being mineral-driven, well structured, with a balanced ripeness and fresh acidity.
Featured on the wine lists of: Atlas Steak & Fish (all locations) and Elisa Steakhouse
$42.00 available online and at the winery
Please note that there will be differing deadlines for delivery depending on the winery. Please order promptly if you will be ordering online.
Wine notes and bottles shots courtesy of the wineries.