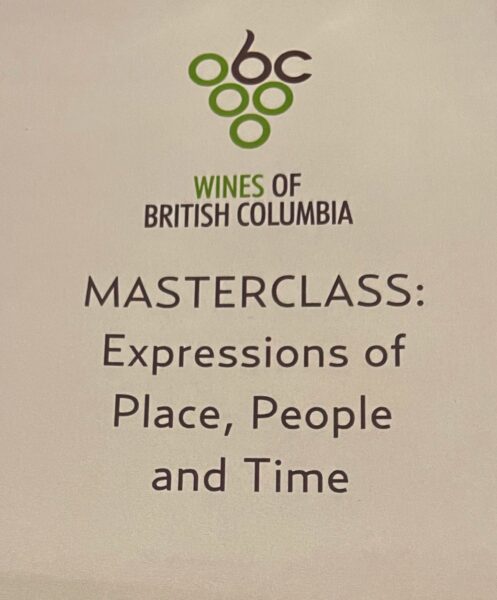 Wine grape growing and wine making are not for the faint of heart.  To succeed, you need unwavering passion, optimism, and lots of money to start.  Agricultural land that is suitable for grape growing is not cheap, nor is all the necessary equipment.  It is hard work being a farmer.  The land tells you when you can take a day off.  Then you can throw in the variability of often unpredictable weather and you have to wonder why some people continue to pursue it.  But pursue it they do and wine drinkers are all the richer for it.  BC's wine industry is small, very small when compared to other wine regions around the world but we are blessed with some of the best conditions anywhere and our wines reflect this quality.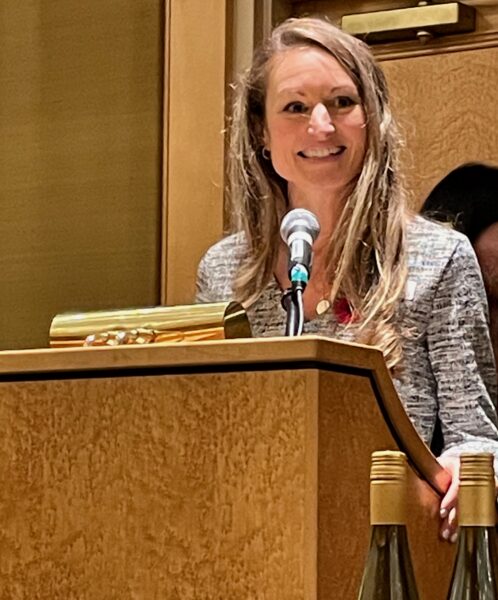 I am always eager to listen to winemakers, to hear their stories and how they deal with the challenges they are faced with vintage after vintage.  So, I was delighted to receive an invitation from Wine Growers of BC to attend a master class titled "Expressions of Place, People, and Time" that was held prior to the "Swirl Around BC" trade tasting event.  The session was moderated by Maude Renaud-Brisson and featured a panel representing various wine regions around the province.
Maude reminded people that BC is considered a 'cool climate' growing region, though we have longer hours of sunlight in the summer thanks to our northerly latitude so we can ripen grapes.  And the northerly latitude ensures cool nights which helps ensure proper balance in our wines.
The maritime climate on the island results in a shorter growing season.  It is less cold but wetter which can mean problems with mildew.  This favours grape varieties that ripen early.  The interior, by contrast, has a continental climate and is well suited to grapes that ripen later.  She also went over the 'Vintage Guide' that has been developed by the BC Wine Institute.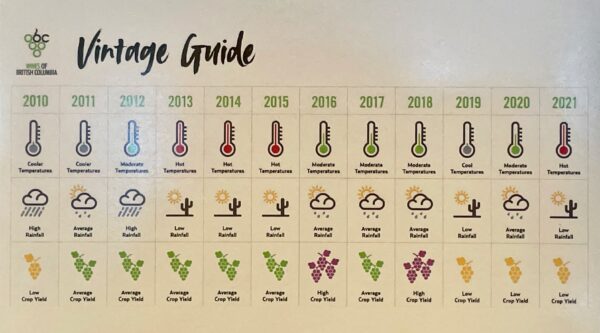 While late spring budding or early fall frosts can certainly impact grape growing, what matters most is the number of growing degree days.  2010 and 2011 were cool vintages while 2012 was a moderate year with an average number of growing degree days.  2013 – 2015 were hot years.  2015 had been one of the hottest years on record up until the heat dome of 2021.  2016 through 2018 were more moderate temperatures with higher crop yields.  2019 – 2021 saw low yields due to a variety of challenges.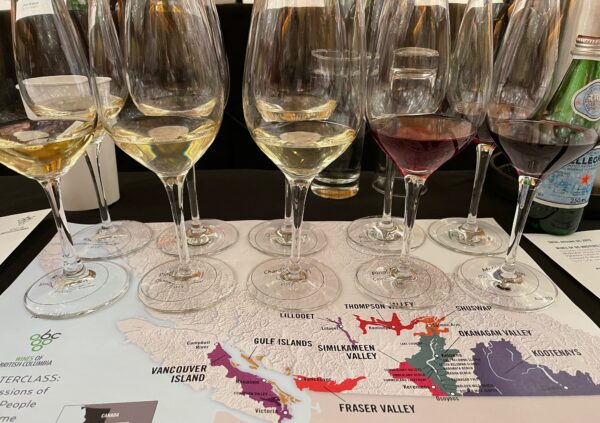 We tasted ten wines, two from each winery that reflected vintage variations.  Besides some quick notes I scratched down about each wine, I have included the alcohol, pH, titratable acidity, and residual sugar levels for my fellow wine geeks.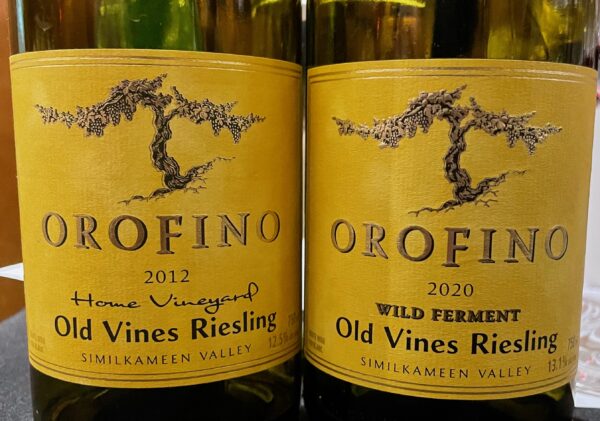 Similkameen Valley
John Weber from Orofino Vineyards in Cawston
2020 Home Vineyard Riesling – 13.3% ABV / 3.04 pH / 7.7 TA / 12 g/l RS
Bright mouth-watering lemon, apricot, minerality and honey on the nose, a slightly sweet entry, good balance and body, the flavours follow the nose followed by a medium finish.  Very good.
2012 Home Vineyard Riesling – 12.5% ABV / 9.0 TA / 20 g/l RS
Crisp lime, minerality, well-balanced, slightly sweet entry, mouth-watering fruit on the palate and a medium-plus finish.
Very good.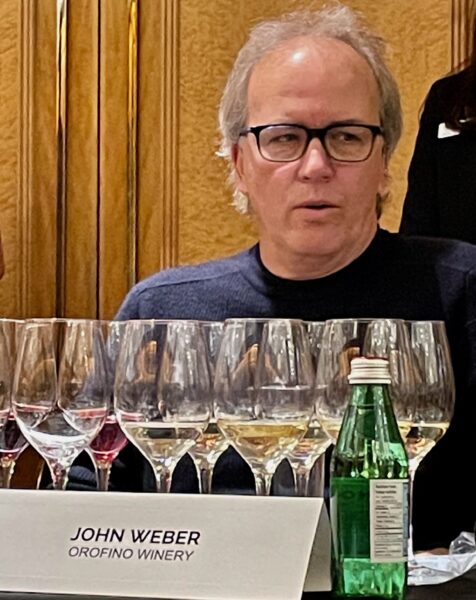 John mentioned that 2020 produced excellent quality but terrible quantity. 2019 also produced a low crop yield though the grapes were of excellent quality.  Harvest started on Oct 10 and finished on Oct 28th resulting in a long crush period.  He couldn't remember much about the 2012 vintage so it was likely a perfectly typical year with no extremes and it produced a good yield. It was their first year for single vineyard Rieslings. He has some 2006 wines in his collection that are still good.  John recently tried some 2009 wines and found that it was time to drink them.  In 2013 Orofino had a bumper crop.  2012 harvested 3 weeks later (and produced twice the crop) than in 2020.
The Similkameen Valley is about 24 km in length.  It could be divided into 5 sub-GIs, but defining sub-regions is an expensive process.  He feels it will be a few years before the Similkameen Valley becomes a strong brand with the wine-drinking public.   There is a lot of variation in the Similkameen.  Just five kilometres can make a huge difference.  On Hwy 3 they picked at 20 Brix, while another vineyard not far away had grapes at 24 Brix 3 weeks earlier.  John is a firm believer in Single Vineyard Bottlings.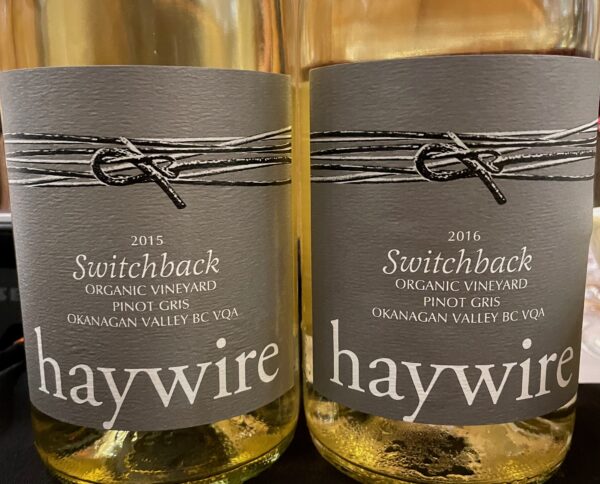 Okanagan North – Summerland Lakefront
Christine Coletta from Okanagan Crush Pad / Haywire Winery
2015 Haywire Switchback Pinot Gris – 13.6% ABV / 3.6 pH, 5.4 TA, 0.8 g/l RS
Laser focussed reflecting the terroir, not your average Pinot Gris, honey, stone fruit, minerality, very good balance, subtle on the palate with a medium-plus finish.
Very good.
2016 Haywire Switchback Pinot Gris – 13 % ABV, 3.3 pH / 6.2 TA / 0.5 g/l RS
Focussed, with pronounced lime, apple, steely, and a hint of toasty smoke, very good balance, stone fruit, citrus, and apple on the palate followed by a medium-plus finish.
Very good.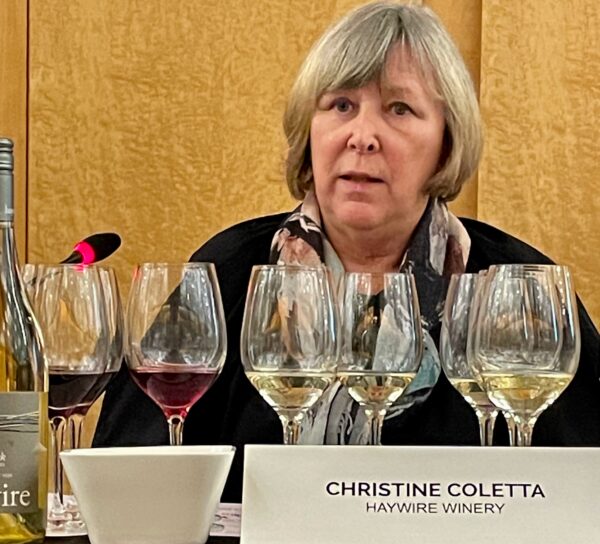 Christine Coletta gave an update on the Summerland Sub GIs.  The proposed seven regions became three, though it was a challenging process.  Okanagan Crush Pad (OCP) has vineyards in all three GIs.  They used clone 52 from Alsace for their Switchback Pinot Gris vineyard which was planted in 2006.  They also have a native yeast that they have called OCP 41.  The wines were made in concrete tanks and sat for 10 months on their lees.  Both 2015 and 2016 had hot springs.  The texture of a wine is very important to OCP and its mission is to make vineyard-designated wines.
They also have extensive plantings in the Garnet Valley – Pinot Gris, Pinot Noir, Gamay, and Chardonnay all of which grow well in Summerland.  Christine feels that in the next ten years, a distinctive style will emerge but at this point, it is too early to tell exactly what that will be.  She mentioned that their 2009 Pinot Gris is still tasting great.  As for the 2022 vintage they are still in the middle of it.  It was a scary year at first but then September shone and things are finishing up fine.  Yields were up as well.
Lillooet
Heleen Pannekoek from Fort Berens Estate Winery
2017 White Gold Reserve Chardonnay – 14 % ABV / 3.4 pH / 7.0 TA / 2.25 g/l RS
Buttered popcorn, ripe yellow delicious apple, hints of baking spice, lilac, and toasty oak, good balance with a creamy texture, mouth-watering ripe fruit on the palate, and a medium-long finish.
Very good.
2021 White Gold Reserve Chardonnay – 13.7 % ABV / 3.52 pH / 6.5 TA / 3.23 g/l RS
This is a California-styled wine.  A fruit bomb with pineapple, apple, lime, cream, floral, honey, coconut, and hints of toast and smoke, with good balance and texture, the flavours mirror the nose, with very concentrated fruit on the palate and a medium-long finish.
Very good.
For Fort Berens, 2017 started with a cold spring and they had to deal with rust mites right after bud break.  Yields overall were about 2.8 tons per acre (TPA) but they only got 2.5 on the chardonnay. 2021 was a year of extremes, with the driest spring ever.  They only had 0 .8 ML of rain between February and July.  Lillooet's temperature peaked at 26 degrees while Lytton, 60 kilometres to the south, hit 50 degrees in the summer.  This was followed by the wettest fall ever with many roads being washed out.  Finally, that year saw the coldest winter with the mercury dipping to -25 on December 26th.  What a crazy year!  Fortunately, the mature vineyards fared well and showed little stress.  Overall, they achieved 4.7 TPA which was pretty good given the challenging conditions.  In 2021 they were able to harvest 4.8 TPA on their Chardonnay which was almost double the 2017 yield.  And finally, 2021 saw the arrival of their new winemaker Alex.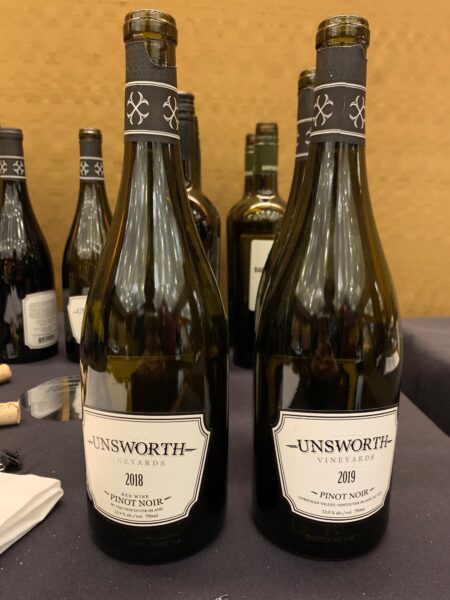 Vancouver Island – Cowichan Valley
Chris Turyk from Unsworth Vineyards
2018 Pinot Noir – 11.2 % ABV / 3.53 pH / 6.8 TA / 1.8 g/l RS
Slightly darker and bigger than the 2019, classic Pinot nose with aromas of ripe cherry, strawberry, forest floor, earth, and game.  Good balance.  The flavours echo the nose followed by a medium-long finish.
Very good.
2019 Pinot Noir – 12 % ABV / 3.69 pH / 5.4 TA / 0.15 g/l RS
Delicate cherry, strawberry, floral, spice, and a hint of oak, good balance, medium body, delicate fruit on the palate, and a medium finish.  A very tasty wine, great to serve chilled on the patio or with salmon.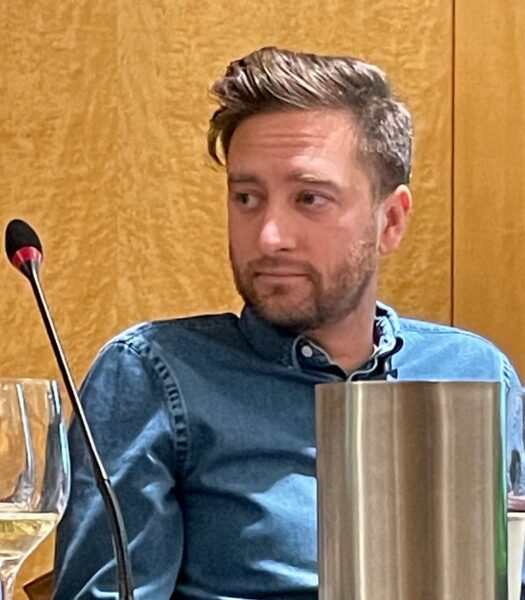 Chris pointed out that the island has more moderate conditions with few of the swings seen elsewhere.  Their first vintage was in 2011 when they had a poor summer.  2015 was their hottest year.  If you omit the extremes of 2011 and 2015 there is little yearly variation.  Typically, they get 5 days over 30 degrees, though lately, Unsworth has seen several over 30 and some over 35.  These conditions make them well suited to growing grape varieties such as the Blattner hybrids as they are disease resistant.  In recent years, however, they are able to farm the Chardonnay, Pinot Noir, and Pinot Gris the same as their hybrids.  2019 was a little wetter overall than 2018.  There was a big dump of rain in April 2018, but then it dried out. In 2019 they got about 300 ml of rain over the growing season.  In 2018 they had some smoke but it had little effect, just blocking out the sun a bit.  It was sunny in September and overall, they saw about 200 ml of rain over the season.  2019 had a dry April which gave them some bright acidity in their wines.  2020 saw some smoke cover but it did not affect the grapes, it just reduced the sun exposure.
Sid Cross commented from the audience that the wines had lots of flavour though little alcohol.  Then he asked, "Which clones are working best for you?"  Chris replied, "115, 777, 678, 828 and one unknown clone. Unsworth is continuing to experiment with clones and location.  Chris likes 777 for its fruit while 667 and 828 add layers of flavour.  Overall, for crop load and reliability of ripeness, he'd opt for 828 as one of the best.
Okanagan Valley South – Oliver
Michael Bartier from Bartier Brothers Vineyard and Winery
2019 Merlot Cerqueira Vineyard – 13.5 % ABV / 3.67 pH / 5.3 TA / 0.2 g/l RS
Concentrated nose, bright fruit, plum, cherry, bramble, boysenberry, spice, good balance with firm tannins, the flavours reflect the nose followed by a medium finish.  This wine needs some time to age to truly shine or serve with some rich protein if drinking now.
Very good.
2011 Merlot Cerqueira Vineyard – 14.7 % ABV / 3.51 pH / 6.9 TA / 1.5 g/l RS
This wine is 86% Merlot and 14% Cabernet Franc.  The colour shows some age, inviting ripe, juicy, red and black berries, spice, and vanilla on the nose and palate, with a medium-plus finish.  A very nice example of an aged BC red.
Very good.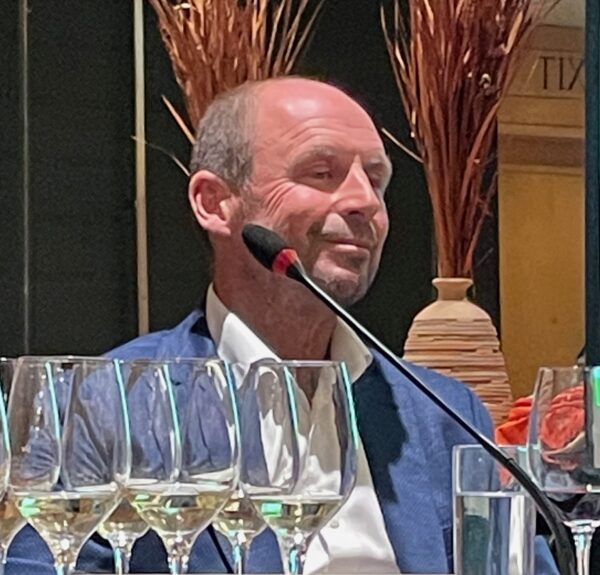 Michael noted that the ocean around Vancouver Island helps with moderating temperatures while on the Black Sage Bench there is no moderating water.  It gets very cold in the winter and very hot in the summer with temperatures reaching into the 40s.  2022 got very hot.  They harvested Cabernet Franc before Syrah which is unusual as Cabernet Franc tolerates heat better than other varieties.
2011 and 2019 are Michael's two favourite years with 2019 being his best vintage.  2011 was a controversial year, but good for his Pinot and Merlot.   It started very slow through April and May, followed by a moderate summer and then a beautiful September.  In Oliver when they need rain, they have to use irrigation.  Bartier Brothers have recently invested a lot in a sophisticated irrigation system with a monitoring and feedback system.  Rainfall there has a negligible effect on the vines as it is minimal.  They use two rootstocks and their own-rooted vines.  They have experimented a bit with utilizing just the right amount of water at the right time.  They make use of both drip and overhead irrigation.
2019 saw a cold April followed by a warm May, moderate summer and a great September.  2019 Syrah is his favourite wine.  Lots of flavour, intense balanced.   Their Merlot is balanced and can definitely go the distance.
Michael feels that good wine is good wine whether it is old or young though it does change.  However, if a wine isn't good at release it is not going to improve with further aging.
A member of the audience asked the question of all panellists, "Do you hold back any inventory for library wines?"
Michael Bartier – we hold back for our own understanding.  14 – 28 cases and occasionally have library releases.
John Weber – lots of holdback for club members.  Feels they offer great value for his customers.
Christine Coletta – Haywire has a good collection of back vintages, but storage is a challenge.
Heleen Pannekoek – costs associated with aging are difficult.  We need to invest because we are young and need to prove these wines are age-worthy.  Occasional release of back vintages and vertical flight events.
Chris Turyk – since we've been under new ownership we've started holding back wines, though mostly for club members at this point.
I have always enjoyed the Master Classes that have been sponsored by the Wine Growers of British Columbia and this one was no exception.  It was enjoyable and informative.
(All photos, except as noted – Sam Hauck)