Join us for an exclusive premium Italian wine tasting experience with 360° views of the city at the top of Vancouver's Harbour Centre.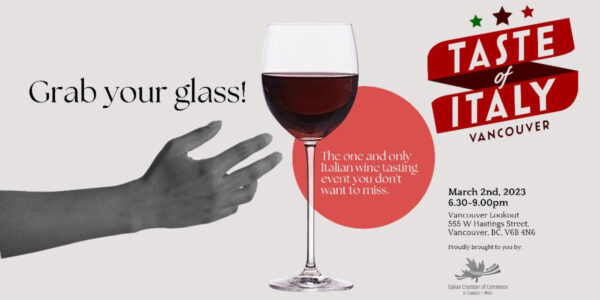 This unique event includes:
A selection of rare, premium and limited edition Italian Wines, including new arrivals
'Meet and Greet' with visiting Italian producers
A complementary selection of Italian food sampling
New! On-site pop up wine store where you can 'buy after you try'. (courtesy of West Coast Liquor Company)
Tickets:
Regular Ticket: $99 + GST
Ticket ICCC-West Member: $89 + GST
All prices include: access to wine tasting area.
To learn more about ICCC-West different levels of membership and perks reserved to members click HERE
Tickets are not refundable.
Please note that the online sale ends on March 1st, 11pm PT. If you wish to buy tickets after this date please call us at 604 682 1410, or email Ilaria at ilaria@nulliccbc.com M-F, 9am-5pm.
Share the news for a chance to win!
Help us spread the word and win 3 bottles of selected Italian wines!
Step1: Follow us on IG: @iccc_west
Step2: Use the images in the media kit or your own content and tag us @iccc_west and use #tasteofitaly
Step3: Double entry if you make a reel (video) to help us spread the word.
Contest closes on February 28th, 11pm PT
Bottles will be available at the event or at the Chamber's office in downtown Vancouver.
Contact Information:
Italian Chamber of Commerce in Canada West
1209-409 Granville Street, Vancouver BC
iccbc@nulliccbc.com
Tel. 604 682 1410 (M-F, 9am-5pm)
Learn more about Taste of Italy Vancouver HERE
Learn more about Taste of Italy Houston HERE