Recently I had the pleasure of returning for another fabulous meal at State Bird Provisions, in San Francisco.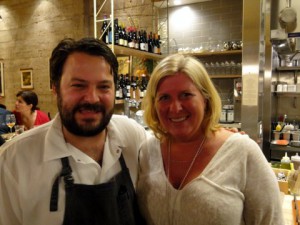 This restaurant is almost 2 years old & gets better all the time. It is one of the hottest dinner reservations to secure anywhere.
Having just expanded slightly, to 60 seats .. half are for reservations ( 60 days in advance ) & half are for walk-ins. Yes, the line up for walk-ins started at 3:45 for the 5:30 opening ~ those in line were smiling and could not wait !
State Bird Provisions is so innovative and so creative !! The majority of the California & Globally-inspired menu is served dim sum style on trays or carts. Think of these as the 'provisions' that are coming out of the kitchen.
The open kitchen provides a kitchen stage for the tastes & treats. The waiters are a very important part of this culinary theatre, as they introduce you to each surprise & delight of the night.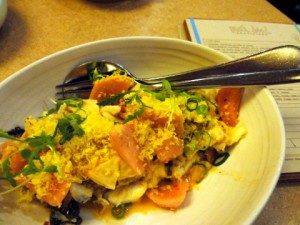 Go hungry – there can be dozens of tastes that come from the kitchen each night. Sharing is part of the fun of being at State Bird Provisions.
"It's like a dinner party in the kitchen – and is that not the best kind of party", says owner Stuart Brioza.
Stuart and his wife, Nicole Krasinski, have been the talk of the culinary world with numerous awards & praise coming their way. Some of the most memorable are being named, The Best New Restaurant from The James Beard Awards ( the Oscars of the food world ) & then presented with the honour of a star from the Michelin awards of food excellence.
If you are headed to San Francisco – don't miss out on the incredible tastes at State Bird Provisions.