2011 was not a warm year in the Okanagan and Similkameen Valleys.  In fact, it may have been the coolest vintage in recent memory. We had a cold, wet spring which delayed bud break and flowering on the vines, forcing grape growers to significantly thin their crops.  Fortunately for us local wine lovers, Mother Nature smiled on us later in the season.  We had plenty of sunshine and heat between August and October, perhaps the most critical time for ripening grapes.  What resulted were some spectacular cool climate reds, generally lower in alcohol and higher in acidity than in our warmer vintages.  My favourite 2011 reds are juicy, refreshing, balanced and awesome partners to food.  Here are a few that I have enjoyed lately. Cheers!
Blue Mountain Pinot Noir 2011 Okanagan Falls $24.90

This delicious, elegant wine has scents of cherry, ripe strawberry and black tea, with hints of vanilla and mocha.  The palate is dry, medium bodied with silky tannins and pleasant acidity. We love to pair this at the restaurant with elk tartare.  I also love it with sautéed wild mushrooms and bacon on toast topped with a fried egg.
Orofino Passion Pit Cabernet Sauvignon 2011, Similkameen Valley $29.90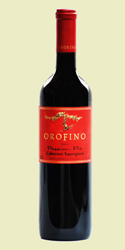 John and Virginia harvested these grapes on November 6! Needless to say, these grapes had plenty of time to fully ripen. This wine is a prime example of how Cab can ripen even in a cool BC vintage!  I find deep, dark plum and cassis fruit notes with hints of pencil shavings.  The palate is dry with bright acidity and black cherry, plum, vanilla and baking spice notes.  This is a full-bodied yet elegant wine that would be great paired with rack of lamb, roast beef, or braised short ribs.
Fairview Cellars Bucket of Blood 2011, Oliver Syrah/Cabernet Sauvignon $24.90
Super aromatic! Black currant, plum, spicy black pepper and vanilla on the nose that almost leap out of the glass.  The palate is dry and fresh, with medium yet fine tannins, medium plus acidity, bold fruit notes and fresh cracked pepper as soon as the wine hits your palate. A long finish makes this easy drinking wine a great after work red or a perfect partner for grilled pork chops or the elk meatballs we serve at the restaurant.
Bartier Brothers Syrah 2011, Oliver $27

Riverstone Merlot 2011, Oliver $20

This wine shows aromas of dark cherry, cocoa, and red plums on the nose with hints of vanilla and dried sage.  The palate is dry, with well integrated tannins, mouth-wateringly fresh acidity, fresh, fruity notes of cherry, raspberry and a touch of spice.  Delicious! Try serving it with pan roasted duck or chicken breast.
Nichol Cabernet Franc 2011, Naramata $30
Red currant, sour cherries, crushed raspberries, sweet tobacco and dried sage on the nose.  This wine is dry with quite high acidity and bold tannins while still relatively light bodied.  The palate shows juicy fruit flavors of cranberry and raspberry and a long finish.  This delicious wine will certainly benefit from some time in the cellar, so pick some up and forget about it for a couple of years.  You can thank me then.