North Vancouver is not a place I venture to often. Sure, it's only a 20 minute sea bus ride away from downtown but what's out there anyway? Grouse Mountain, Capilano Suspension Bridge, and Lonsdale Quay. Chef Paul Mon-Kau showed me that it's worth the extra time to head across the water. 
My partner and I started our adventure at The Little District.  "Hi, I'm with MyVanCity.ca,  I'm here to meet Chef Paul" We were greeted by our server, Brendan, and were given free reign to choose our desired spot. Walking through the ambient narrow restaurant, there were old photos on the brick wall and sweet blues playing in the background. It felt like a secret gem of a restaurant and only myself and the other patrons knew about it.  Brendan recommended the bone marrow and the cod fritters. We agreed and spent time admiring the decor. From the hanging lights to the typographic walls, we started to get excited.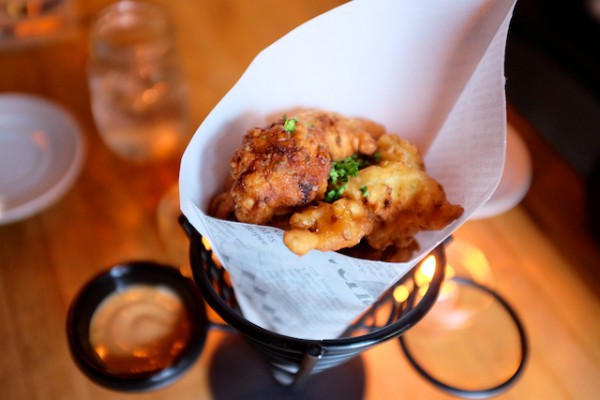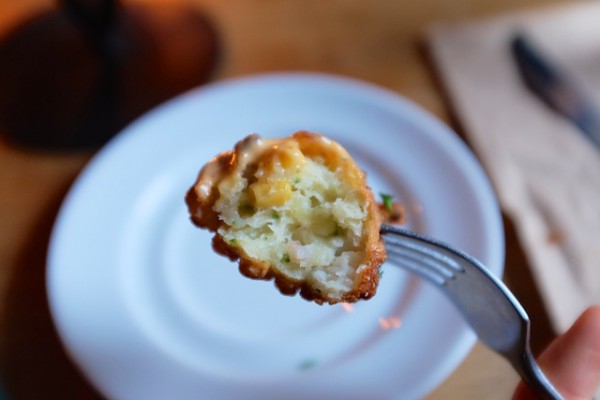 Cod fritters came first and they were fantastic. The sweetness of the corn added a delightful flavour to the cod. The balance of texture and the soft pillowy density with flaked cod in the middle reminded me of hushpuppies. The kick of spice given from the chipotle mayo added a nice finishing touch.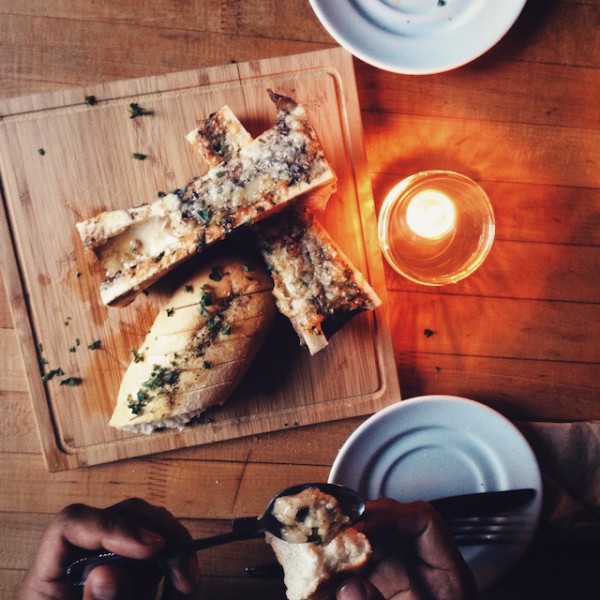 Although the sexy bone marrow takes 30 minutes to prepare, it is worth your time. Why rush through dinner? Covered in cheese, herbs and garlic, the marrow was still bubbling. Parmesan nuttiness from the soft bread balances the heaviness of marrow. As the juices roll down the bone and I find myself scraping for the last remaining morsels, I couldn't be happier. When comparing it to other restaurants, it isn't as heavy and with a hint of fat on the outside, reminds me of chicharons, this dish makes my mouth water as I'm thinking about it.
Hailing a cab, we made our way to El Matador. As we walked down the small hill where the cabbie dropped us off, we see a large Spanish flag. At that moment, it felt like we were in another city altogether. Greeted with the chill music and buzz of the patrons, Stephanie and Paul welcomed us and sat down to tell us about their inspirations. Paul wanted to bring tapas to the North Shore and at the time, there wasn't anything authentic. He and his business partner decided to take a 4 day trip to Spain, full of drinking and eating, to experience the culture and bring their inspirations back to Vancouver. 
We were given a background of the inspiration behind their three restaurants: The Little District: Pub food that's close to Stephanie's heart, fried with a healthy option
The District: Belgium and Dutch background influences, which is part of Chef Paul's original repertoire.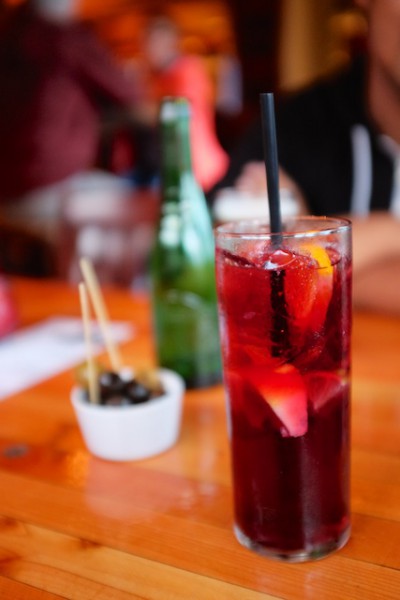 Spiced olives and sangria or a beer Alhambra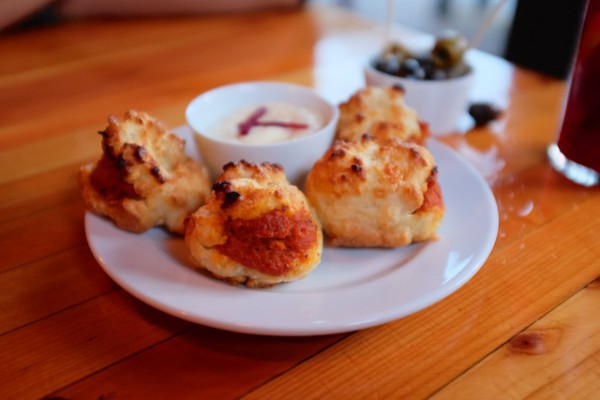 Cheese and chorizo puff with garlic aioli. Tomato inside and a lot like the pillowy cod fritters. Along side was a fantastic garlic dip. Like a play on French cheese puff, gougeres. With a little bit of kick but a sweetness like paprika, the fantastic texture and flavours are definitely addictive.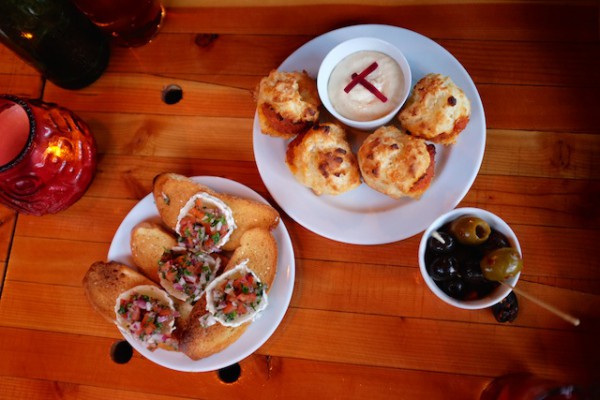 The peppered goat cheese on bruschetta and salsa
Nutty goat cheese with a hint of black pepper contrasted with the crunchy bruschetta but not mouth cutting crunchy. Beers perfect playmate.
Ending our night and barely enough room in our stomach, we sat down in the buzzing space that is The District. With quick and knowledgable service, the server brought over our plates.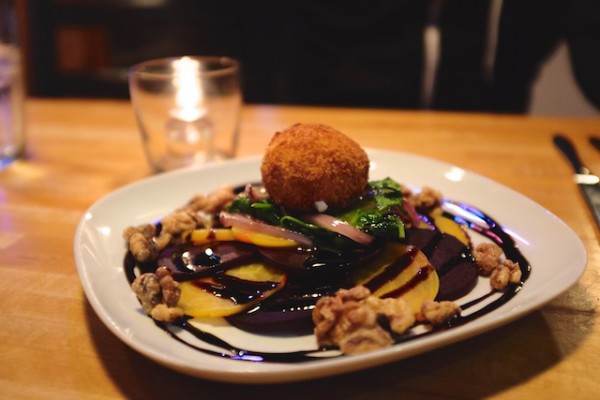 Panko fried goat cheese and warm beet salad with balsamic. Soft creamy cheese with the earthy sweet beets and the acidity of balsamic. Textures are fantastic. Soft and collected.  Balanced.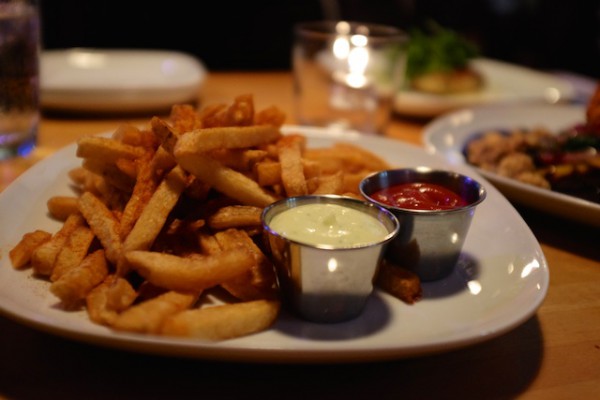 Patat frites with garlic tarragon mayo:
Crunchy and soft. With a hint of coconut oil. Soaked first to rid the starch overload and fried at different temps to achieve perfect texture.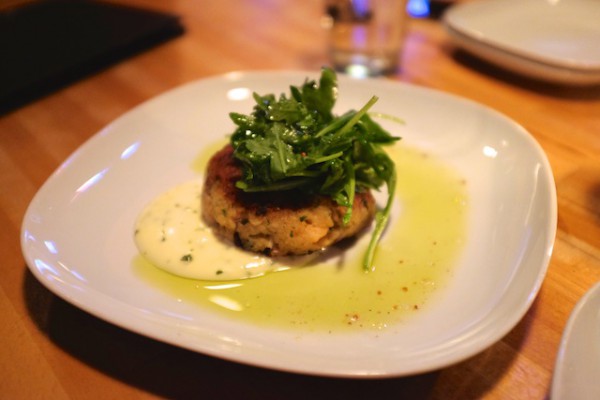 Crab and shrimp cakes with 14 ingredients. Panko is the third main ingredient and it's soft and worth the money. Not dry. Moist. Peppery arugula in house pesto dressing with candied lemon mayo
Overall, the experience at the three restaurants by Chef Paul was phenomenal. He is ridiculously personable and I say we had a lot to chat about, especially about the perfect beet salad. Our favourite was The Little District for it fantastic ambience, music and special touches to the usual pub food. With this adventure, I would definitely return and make the "trek" to North Vancouver.