Beef Ribeye & Braised Cheek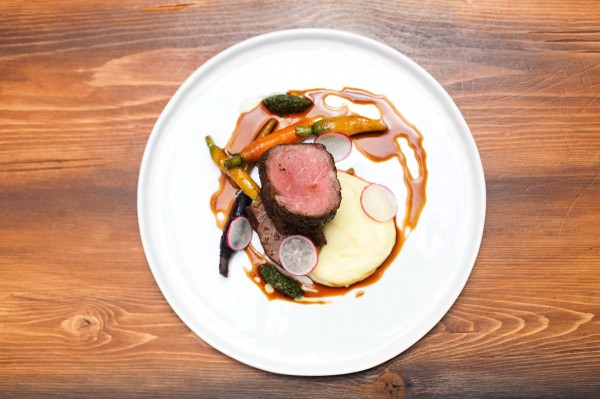 Roasted beef ribeye and braised beef cheek, creamy potato purée, glazed heirloom carrots, and chimichurri
Yield: 4 servings
Ingredients
Beef Cheeks and Jus
½ lb beef cheeks
small pinch salt
2 tbs vegetable oil
1 small carrot, cut into chunks
1 stalk celery, cut into chunks
½ an onion, cut into chunks
¼ cup red wine
1 tbs tomato paste
2 cup beef stock
1 clove garlic, crushed
3 sprigs thyme
3 black peppercorns
Ribeye
1.5 lbs ribeye
3 tbs vegetable oil
salt and pepper to taste
Glazed Heirloom Carrots
2 bunches multicolour baby heirloom carrots, trimmed and scrubbed
½ cup chicken stock
1 garlic clove, crushed
2 tbs butter
1 sprig thyme
Potato Puree
2 Yellow Large Potatoes, peeled and cut into large chunks
1 tbs Kosher Salt
¼ c cream
1/4 Sprig Fresh Thyme
1 small piece of lemon zest
2 tbs butter
Chimichurri
½ clove garlic, peeled and chopped fine
¼  Shallot, peeled and chopped fine
¼ bunch fresh parsley, stems removed and chopped fine
1 small pinch dried oregano
2 tbs sherry vinegar
3 tbs extra virgin olive oil
salt and pepper to taste
Garnish
2 radish, sliced thin on a mandolin
4 small sprigs chervil
Method
Beef Cheeks and Jus
Preheat oven to 300°F
This would be best done the day before serving
Season cheeks with salt (be careful to not over-season as the braising liquid is heavily reduced).
Heat a few tablespoons of oil in a heavy oven-safe pan or Dutch oven.
Place the cheeks in the pan and sear on all sides until golden brown
Remove beef from pan, turn down the heat and add the carrots, onion and celery
Cook the vegetables until golden
Add the tomato paste and let the tomato paste caramelize slightly
Deglaze the pan by adding the red wine and scrape any pieces of meat that are stuck to the pan and stir.
Add stock, garlic, thyme and peppercorns
Cover and place the pan in the oven
Cook until tender but not falling apart (approx. 4-5 hours)
Remove cheeks from the pot and let cool
Reduce the braising liquid (this will become the sauce)

Strain out the vegetables, thyme and garlic
Skim off any excess fat
Reduce the liquid over medium heat until it is a sauce consistency and can coat the back of a spoon
Set aside

Trim cheeks and slice into 4 pieces
Ribeye
Preheat oven to 375F
Trim most exterior fat from the ribeye and truss with twine
Season and sear the ribeye:

Heat a cast iron skillet over high heat
Rub the roast with vegetable oil and season with salt and pepper
Sear the beef on all sides until golden brown

Roast beef  in oven until internal temperature reaches 120F

Let rest for 10 minutes before slicing into 6 oz portions
Glazed Heirloom Carrots
In a medium saucepan combine the chicken stock, garlic clove, thyme and salt, bring to a boil
Add carrots and cook until tender over medium heat
Let the liquid reduce and turn into a thick glaze, continue basting carrots as the liquid reduces
Keep warm
Potato Puree
Put the potatoes in a pot and cover with cold water and add salt
Bring to a boil
Turn down heat and simmer until potatoes are tender
Meanwhile, put cream in a small pot with thyme and lemon zest, heat over low heat to infuse flavours.
After 20 minutes, remove and discard thyme and lemon zest from cream
Once potatoes are tender, push through a ricer into a bowl
Add butter and cream and mix, keep warm
Chimichurri
Mix all ingredients together
Season to taste
Assembly
Serve the 1 slice of beef cheek and 1 slice of beef ribeye per person, with potato puree and carrots.
Garnish with radish slices and chervil leaves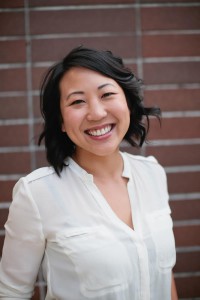 Chef Taryn Wa, Savoury Chef Foods
Facebook: /SavouryChef
Twitter: @SavouryChef
Instagram: @SavouryChef
Website: www.savourychef.com
As co-founder and culinary director of Savoury Chef Foods, Taryn Wa's abiding passion for food and commitment to culinary excellence is every bit as authentic as the enduring family recipe from which it's derived.
Born in Vancouver, Taryn found third-generation inspiration half a world away in South Africa's multicultural mosaic and further accentuated a palate already steeped in Asian tradition with subtle hints of Indian, British and Portuguese influences.
Since its inception in 2006, Savoury Chef has carved out a niche as one of Vancouver's premier catering and full-service event coordinators. Taryn and her staff have entertained an array of celebrities, royalty and two former U.S. Presidents, and acted as exclusive caterer to the Cirque Du Soleil tours in Vancouver as well as Canada Northern House during the 2010 Vancouver Olympics. Taryn won the People's Choice award for "Best Food" at Taste BC 2012 and both People's and Judge's Choice awards at the Chef's Table Society Curry Cup in 2014. She is also an active member of Les Dames d'Escoffier.