Roasted Carrot Salad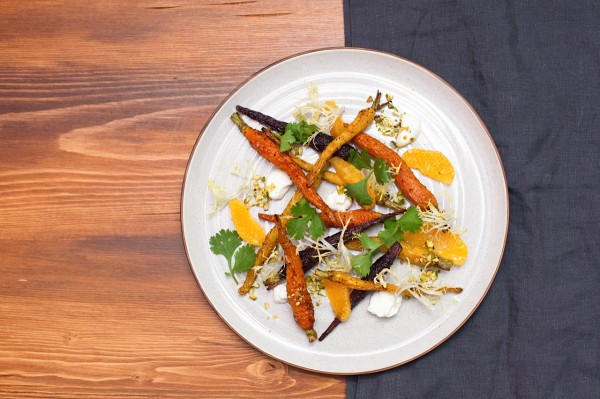 Cumin roasted baby carrots with orange segments, frisée, cilantro, yogurt & toasted pistachio nuts
Yield: 4 servings
Ingredients
2 bunches baby carrots
4 tbs extra virgin olive oil
1/2 tsp ground cumin
1 tsp kosher salt
1 pinch ground black pepper
½ a lemon
2 tbs cilantro leaves
1 head frisée lettuce, washed and dried
4 tbs plain full fat Mediterranean style yogurt
1 tbs toasted pistachio nuts, roughly chopped
½ orange, peel cut off and cut into segments
Method
Trim the greens off carrots and scrub.
Blanch carrots:

Bring a pot of heavily salted water to a boil
Place carrots a bit at a time into the boiling water, being careful not to crowd them. Keep the water at a consistent boil.
Remove carrots after approximately 5 minutes and put into an ice water bath.
Toss carrots with all of the cumin and half of the olive oil, salt and pepper.
Roast in the oven at 375F until cooked through and some pieces are caramelized.
Let cool to room temp
To assemble:
Lay the carrots on individual plates or a platter
Drizzle with yogurt.
Garnish with frisée, cilantro, orange segments and pistachios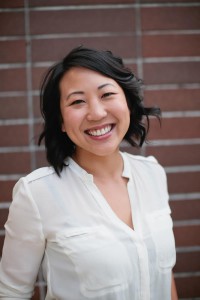 Chef Taryn Wa, Savoury Chef Foods Facebook: /SavouryChef | Twitter: @SavouryChef | Instagram: @SavouryChef | www.savourychef.com
As co-founder and culinary director of Savoury Chef Foods, Taryn Wa's abiding passion for food and commitment to culinary excellence is every bit as authentic as the enduring family recipe from which it's derived.
Born in Vancouver, Taryn found third-generation inspiration half a world away in South Africa's multicultural mosaic and further accentuated a palate already steeped in Asian tradition with subtle hints of Indian, British and Portuguese influences.
Since its inception in 2006, Savoury Chef has carved out a niche as one of Vancouver's premier catering and full-service event coordinators. Taryn and her staff have entertained an array of celebrities, royalty and two former U.S. Presidents, and acted as exclusive caterer to the Cirque Du Soleil tours in Vancouver as well as Canada Northern House during the 2010 Vancouver Olympics. Taryn won the People's Choice award for "Best Food" at Taste BC 2012 and both People's and Judge's Choice awards at the Chef's Table Society Curry Cup in 2014. She is also an active member of Les Dames d'Escoffier.