Mussels and White Asparagus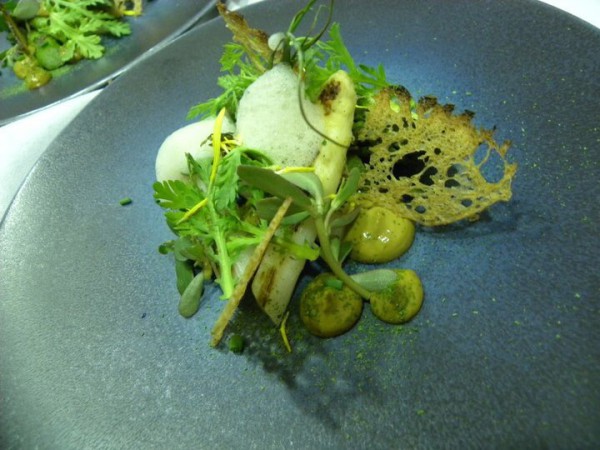 Roasted white Asparagus, mussel aioli, croutons and wild herbs Suitable for 4 people
500g Quadra island honey mussels
500g white asparagus
Approx 100g day old piece of bread
100ml grape seed oil
15g Dijon mustard
Assorted foraged or cultivated herbs and salads
10g salt
5g black pepper
Mussel Aioli,
Heat a large skillet and add cleaned mussels, cover with a lid until all mussels are opened and cooked. Once they have cooled down strain juice from mussels and transfer mussels into a high speed blender, add mustard a pinch of salt and 40 ml grape seed oil. Blend on high speed for 1 minute and pass through a fine sieve. Set aside in the fridge.
Asparagus,
Trim and peel the white asparagus, blanch in a pot of boiling salted water for 2 minutes. Once blanched add to a non-stick skillet and gently sauté until they have turned golden brown. Remove from the pan and set aside while plating.
Croutons,
Slice the day old bread as thin as possible, place on a baking tray with a drizzle of oil and a pinch of salt and pepper. Cook in a 350 degree oven for about 10 minutes or until golden brown.
Finishing the dish,
Begin by placing a few spoons of the mussel aioli on the bottom of the plate, then arrange the pieces of asparagus in the centre of the dish. Stick a few pieces of the croutons into the spaces between the asparagus. Finally place a few herbs and or salad leaves in and around the plate, you don't need to season the salad as the aioli will do the job, Enjoy!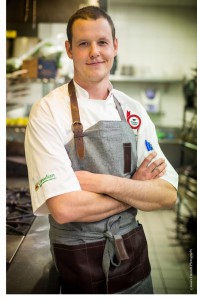 Chef Paul Moran originally from Kelowna, British Columbia, Red Seal certified, fluent in both French and English with a passion for ingredients, connecting with his surroundings and cooking to please and peak the interest of clients.
Chef at K2 Heli Ski Lodge, Nakusp, BC
2013 Winner of the first annual Hawksworth Young Chef Scholarship award, judged by Canada's top chefs at a national level
Executive chef at the Outpost, a West Coast Fishing Club lodge. Managing and executing five star dinning for guests on a three to four day stay basis. Including all meals for 15 live in Staff.
2013 Invited chef for BON APPETIT BANFF at the Juniper Hotel and Bistro, Banff
2012 – 2013 Restaurant consulting at TABLE in Paris and SOURCE in Vancouver.
2010-2012 Executive sous chef, restaurant SATURNE (Omnivore prize 2011&2012) Paris.
2009-2010 Tournant, restaurant LAURIE RAPHAEL Montreal.
2008-2009 Chef de Partie, HOTEL NEGRESCO Nice, France
2008-2009 Chef de Partie, JUMEIRAH BEACH HOTEL Dubai.
2004-2008 Junior sous chef, WEST Restaurant Vancouver.
Recipient of over 10 medals in Local and International Culinary Competitions. Including a Vancouver Rising Star gold medal.
Invited chef for SECONDS ARE FIRST. A dinner highlighting sous chefs of outstanding restaurants.
In attendance for Rene Redzepi's MAD food camp 2011 and 2012,
Invited chef Omnivore Festival 2011 and 2012,
Bocuse Dor in 2010, Alba truffle festival in 2009
Co star for "Morel Episode" on Food Networks Glutton for Punishment food series.
Paul is an extremely passionate Traveler and Outdoorsman, who enjoys Mountaineering, Snowboarding, Tennis, Wine, Swimming, Farming, Fishing, Hunting and Foraging.