Wine pairing for Chef Castro Boateng's Seared Qualicum Bay Scallops recipe
For the scallop dish:
Conventional wisdom would happily lead one to Chardonnay with a bit of oak to add weight, California would do nicely. But i'm going off the beaten track here and recommending a white Rhone blend. These wines can pair quite nicely with Chardonnay friendly dishes but have the added bonus of also pairing well with the more exotic, in this case curry and vanilla. Check out the..
Moon Curser – Are You Afraid of the Dark – Roussanne, Viognier & Marsanne – Osoyoos, BC, Everything Wine & Legacy Liquor Store $22
In case you missed it here is the recipe from #TasteofThursday
Seared Qualicum Bay Scallops Butternut squash risotto, Vanilla curry oil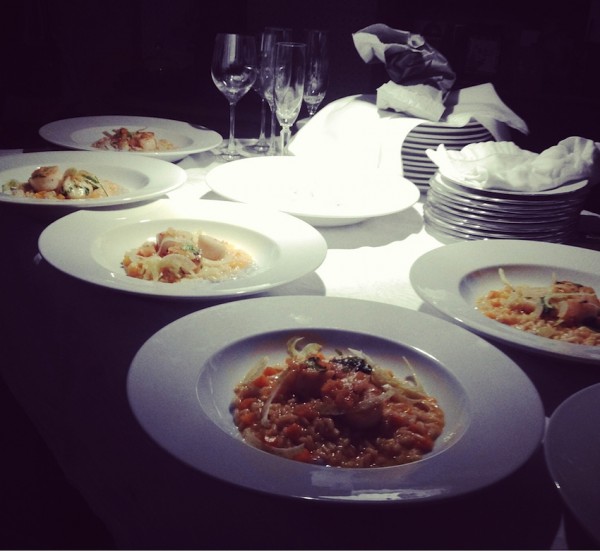 Serves: 8 portions
Vanilla curry oil
1 tbsp Shallots' (chopped)
125 ml vegetable oil
1 1/2 tbsp curry powder
1 vanilla bean
1 lemon (diced)
1/2 grapefruit (diced)
Sauté shallots in 1 tbsp of oil over low heat, add curry powder and continue cooking on low heat, add another tbsp of oil if needed. Cook curry for at least 4 minutes to tone down some of the raw (powdery) flavour of the curry. Slice the vanilla bean in half then scrape the seeds into the curry mixture. Add the remaining oil and simmer for 2 more minutes. Take the pan off the heat to cool, set aside until cool
Add diced citrus to curry oil
Risotto
2 tbsp butter
1 tbsp vegetable oil
1/4 onion (diced)
2 cloves garlic (minced)
250g Arborio Rice
200 ml white wine
Sprigs of thyme
1bay leaf (fresh if possible)
salt & pepper to taste
1 litre shellfish stock or chicken stock or vegetable stock
¼ medium butternut squash (diced)
To taste Parmesan cheese
16 scallops
Place a saucepan over medium heat, add 2 tbsp butter and oil in the pan
Sauté onions & garlic for 1 minute, add rice making sure it's well coated with melted fat, add thyme, bay leaf, then season with salt & pepper
Deglaze with wine and reduce until all the wine has evaporated
Add enough stock to cover rice and keep stirring to bring out starch.  Lower the heat, as the rice is cooking it will absorb all the stock,  you will need to add more stock and continue to stir during the cooking  process.
It will take the risotto 15 -20 minutes to par cook.  Once the rice has softened but still crunchy, take off the heat and spread on a baking tray to cool, this can be done ahead of time.
If you want to cook the rice from beginning to end, it will take about 25 minutes. The finished product should have a slight crunch and risotto should be loose and not clumpy.
After 20 minutes add the diced butternut squash and cook for 5 minutes, continue to stir. Add the remaining butter and finish with parmesan cheese
If the scallop hasn't been cleaned, remove the mussel from each scallop. Season scallops with salt & pepper
On medium high heat, place the  scallops in a sauté pan for one minute on each side, place the pan in the oven for 2 minutes. When the scallops come out the oven, add a few tablespoons of  vanilla curry oil, butter & lemon juice.
Serve risotto in a bowl, top with scallops and garnish with some more of the vanilla curry oil.