Okanagan Spinach and Paneer Pakora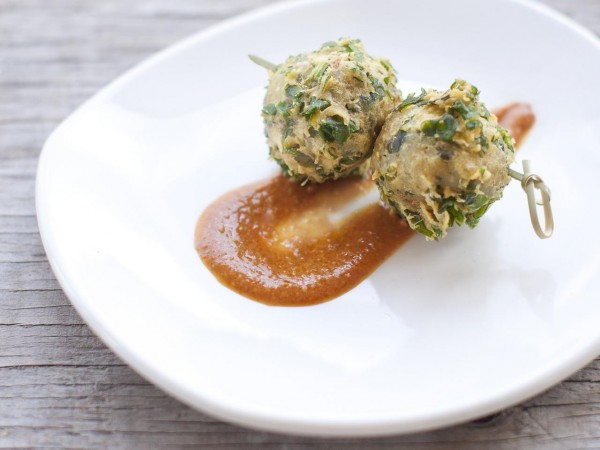 RECIPE (makes approx. 10 balls)
Description:
 a light appetizer that combines soft savoury Indian flavours from the paneer and a crunch from local spinach. A perfect party snack. 

Jas Dosanj, Poppadoms – Taste India!
Ingredients:
100g grated paneer (Indian cheese) 

1x large local white potato, boiled then grated 

1tsp. Chopped ginger, peeled and chopped 

1x local Thai green chilli, finely chopped (seeds removed) 

1/2 tsp. salt (or to taste) 

1tsp. Poppadoms garam masala 

100g local spinach leaves, roughly chopped


Batter ingredients:

100g chickpea Flour (gram flour) 

150ml still water 

A pinch of Poppadoms garam masala 

1/4tsp. salt 

100g local  Spinach leaves, roughly chopped 

Vegetable Oil for frying


Method:

Heat the vegetable oil in a frying pan or fryer until it reaches 300F. 

Mix all the ingredients for the pakora together to form a smooth dough type texture. 

Using your hands, divide the mixture into 10 equal-sized bite-sized balls. 

In a mixing bowl, make a batter combining the chickpea flour, water and salt. Then place the roughly chopped spinach leaves onto a separate tray. 

Coat the balls with the batter, then roll into the local spinach leaves. Set aside. 

Once oil is heated, fry a 5 pakoras at a time for roughly 3 minutes until golden and crispy. 

Drain on kitchen paper and serve hot with a cool Raita dip (cucumber yoghurt).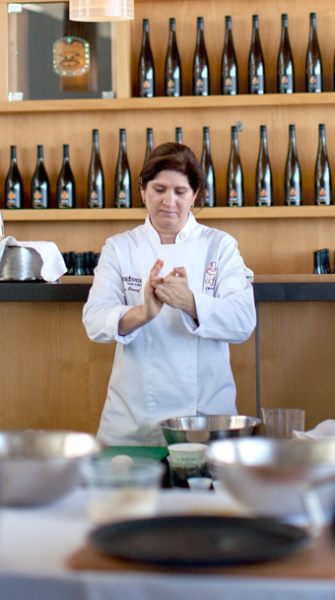 Chef Jas Dosanj (Chef Mum) is the owner and chef at Poppadoms, a family-run Indian restaurant in Kelowna that believes in seasonal and local. A self-taught cook, Jas is known for wholesome, healthy Indian cooking, with house-roasted and ground spices. Chef Jas has been humbled to receive two invitations for the Gold Medal Plates, and has collaborated with some of the top chefs in the Okanagan.
Facebook.com/poppadoms.ca
Twitter: @poppadomsca
Instagram: @poppadoms
Photo credit: Jasmin Dosanj