TORAFUKU SHINES BRIGHT WITH SEASONAL ADDITIONS
The "Lucky Tiger" restaurant launches new menu items, fit for the cooler months
After a welcoming summer launch, Clement Chan and Steve Kuan are spicing up the menu for the cooler months at their modern-Asian restaurant Torafuku (958 Main Street). The duo has introduced new winter dishes starring seasonal ingredients and flavours that really help to take off the chill.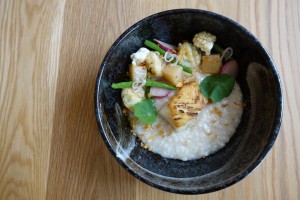 "In the fall and winter, our focus is on produce and ingredients that can really create that cozy and comfort feel, after one bite," explains Chan, chef and co-owner of Torafuku. "For example, congee is a very common Chinese dish normally served in the morning to help warm the soul. We've definitely put a Torafuku stamp on it."
Chan's new congee dish features a dashi base, seasonal vegetables, and seafood such as miso sablefish and fried snow crab. Other menu additions include:
"Nice to Meat You" bang bang sweet and sour pork ribs with spicy peanut brittle and cucumber salad;
"Snap, Crackle, Pop" is a fun take on the traditional Chinese stew with assorted local eggplants, rainbow chard, trumpet mushrooms, and puffed, crispy rice cakes;
Wannabe Carbonara is a creamy pasta dish with housemade bucatini, local squash, sage, bonito, double smoke bacon, and parmesan reggiano; and
Peter Piper's Peppers makes you want to eat more than just one of the smoked sweet peppers, toasted almonds, and housemade "kewpie" gribiche.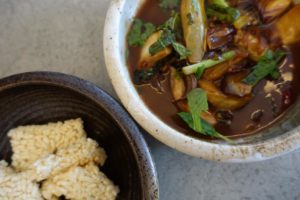 Dishes that have become Torafuku classics, such as Rye So Messy Chicken Wings, Kickass Rice 2.0, Calamari The Way I Like It, Vegetarians Only mochi, and Dirty Birdy Fried Rice, remain on the menu.
Bar Manager Max Borrowman has also refreshed his cocktail list with some new libations. Diners can share The Knockout featuring three rums, Falernum Liqueur, pineapple, and coconut water. The award-winning The All England Club is a strawberries and cream negroni concoction that is meant for sipping. Ordering the hot Comfort High apple spiced drink with Ron Zacapa is a great way to end a meal.
Torafuku is open seven days a week, Monday to Sunday for dinner, starting at 5:30 p.m. Seating is first come, first serve. For more information, please visit www.torafuku.ca.
Fall/Winter Menu photos available here.
Torafuku | 958 Main Street | www.torafuku.ca | Facebook: /torafukuyvr | Twitter: @torafukuyvr | Instagram: torafukuyvr
About Torafuku
Meaning "lucky tiger" in Japanese, Torafuku (958 Main Street) is the new modern-Asian restaurant by Le Tigre food truck owners Clement Chan and Steve Kuan. The menu is designed for sharing. Dishes are playful yet skillfully prepared, delivering bold interpretations on flavours traditionally found in Japanese, Taiwaness, Korean, and Vietnamese cuisine. Every plate features seasonal ingredients, straight from local farmers. www.torafuku.ca