Haywire offers limited-release wines for Year of the Monkey
Okanagan Crush Pad's Haywire Winery returns for the third annual release of Lunar New Year Red and White wines, this time in celebration of the Year of the Monkey.
The 2016 Lunar New Year Red ($19.90) and 2016 Lunar New Year White ($18.90) are available in limited-supply, with only 60 cases. This seasonal release is perfect for gifting and pairing with a Chinese dinner with friends and family.
Order online or via the winery, direct from Kristina Neilsen at 250-494-4445.
A blend of Gewürztraminer and Chardonnay, with small amounts of Pinot Gris and Viognier, the Lunar White exhibits fresh lifted aromatics of spice and floral notes. It is a harmonious pairing with fresh steamed seafood, seafood soup, fried rice or on its own.

Made from Gamay Noir and Syrah, the Lunar Red is fresh and juicy on the palate with slight carmel notes. Loaded with meaty, white pepper aromas and a long, earthy finish, this wine is best enjoyed with stir fried vegetables, grilled sable fish or BBQ duck.
Reflecting the cheerful and clever personality of the Monkey, the 2016 Haywire Lunar New Year wine label features an artistically designed Chinese symbol of "monkey" on colours of gold and red for success, prosperity, good luck and happiness.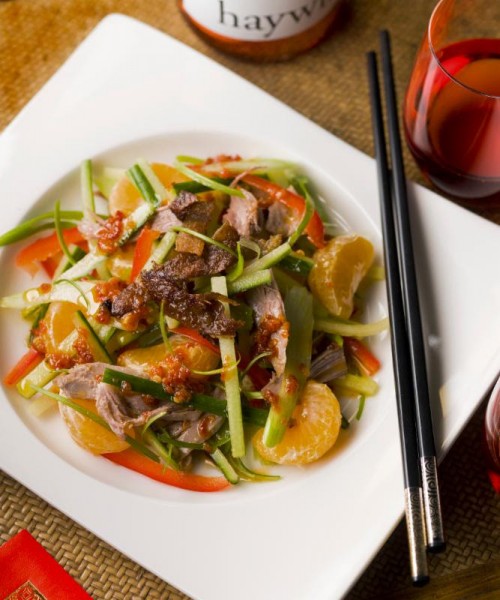 "The Haywire Lunar New Year Wines are designed to connect the Asian community with the bounty of BC wines. These wines bring communities closer together and offers harmonious flavours that are worth celebrating, especially during the most important holiday in the Asian community." – Christine Coletta and Steve Lornie, owners, Okanagan Crush Pad
Learn more about do's and don'ts for pairing. Lunar New Year inspired recipes are available for download here.
About Okanagan Crush Pad:
Okanagan Crush Pad, producer of Haywire and Narrative, has quickly built a reputation as a premium winery and has received unprecedented awards and accolades with chief winemaker Matt Dumayne at the helm. Christine Coletta and Steve Lornie built Okanagan Crush Pad in scenic Summerland, BC, on Switchback Organic Vineyard, a site that is home to roaming sheep, chickens and ducks. Dumayne crafts natural wines using state-of-the-art concrete tanks, native yeast and minimal additives. The wines reflect the region's unique high mountain/northern desert setting noted for its intensely hot, short growing season with hallmark cool evenings. In their constant pursuit of innovation, the team added a line of wine-based spirits under the Narrative label in 2015. Visitors discover a guest center, built into the heart of the winery, offering a rare glance into the art of winemaking and a place where they can sample and purchased a wide range of wines and spirits.
Okanagan Crush Pad | 250.494.4445 | www.okanagancrushpad.com