Nota Bene is, arguably, one of the best known red wines produced in BC and one to get fans, of this flagship offering from Black Hills, drooling. Nota Bene appeared on the scene in 1999 and has had something of a cult following ever since. Some people may be surprised that a BC red wine that sells for over $50 consistently sells out soon after its release.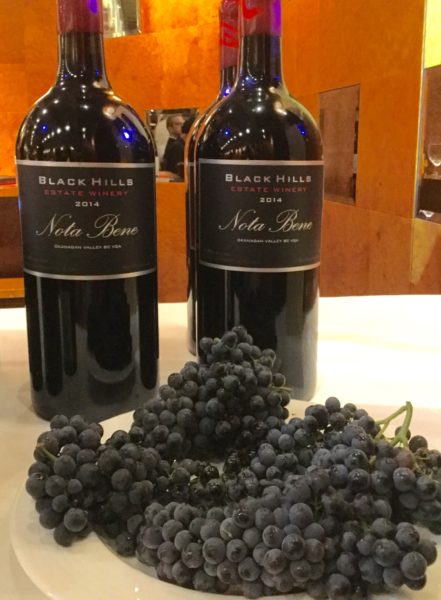 Nota Bene is a Bordeaux-styled wine or Meritage (North American equivalent). In this case, a blend of Cabernet Sauvignon, Merlot and Cabernet Franc. While certainly drinkable upon release, at two years of age, this is a wine worth aging and if you have the temperament, patience and proper storage, you will be amply rewarded. If I had deeper pockets, I'd buy a case and open one after 5, 8, 10, and 15 years.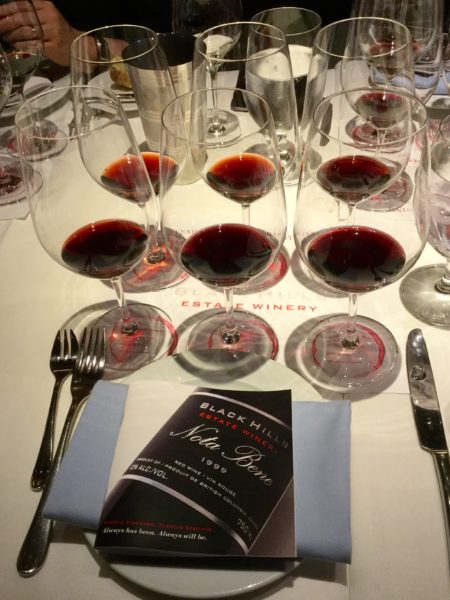 I had the great pleasure of being invited to the beautiful Blue Water Café in Yaletown to try six vintages, which spanned 15 years. I was greeted at the door and offered a nicely chilled glass of Viognier. It was clean, crisp, dry and refreshing with a delicate nose of apricot, honey and citrus.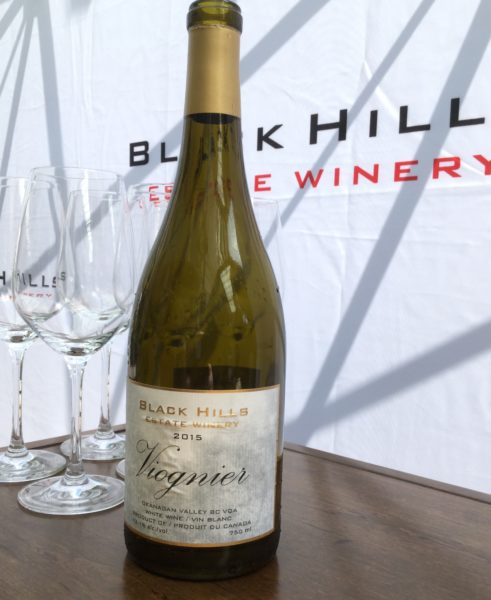 Inside, Black Hills President, Glenn Fawcett, was there to welcome the invited guests and to give a brief history of this Oliver winery on the Black Sage Bench. In 1996 Bob and Senka Tennant, along with another couple, bought 34 acres near Oliver BC.   At the time the land cost $5000 an acre; now it is closer to $160,000. The land was an abandoned labrusca vineyard when it was bought, so the first order of business was to rip out the old vines.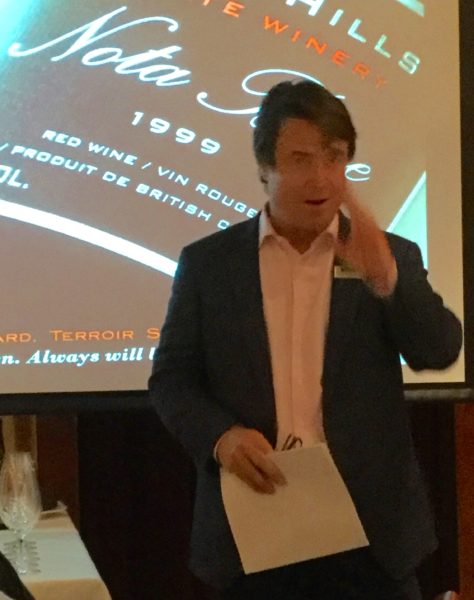 With the first crop, in 1998, they sold all the grapes to other wineries. In year two, most grapes were sold off once again, but they also held back some to make their own wine. Rusty Figgins, who is a relative of the Leonetti Winery family in Washington, was visiting and suggested that they could make excellent wine from the grapes there, and he was in fact, the Black Hills winemaker for the first three vintages. Senka called the red blend Nota Bene ('take note' or 'take notice') as a tip of the hat to her Latin teacher. They made 1600 cases that first year.
Noted CBC Vancouver broadcaster and wine aficionado, Jürgen Gothe, an early fan of the wine, wrote about Nota Bene in his Georgia Straight column, Uncorked and people began to take notice. Senka took over winemaking responsibilities in 2002. By the next vintage, the word was out and the wine became eagerly sought after. To meet this increasing demand, Black Hills began selling less and less to other wineries.
In 2006, they moved from the original Quonset hut facility into the new purpose-designed, architectural award-winning, winery in the middle of the vineyard.
In 2007 the winery was sold to a limited partnership of 400+ members, headed by Glenn Fawcett. These were made up primarily of former long-term customers (one being BC actor Jason Priestly). Production increased to 3900 cases.
After spending a year mentoring with Senka, Graham Pierce took over as the winemaker and brought in the 2008 vintage. Over the next two years, the winery sees capital investments made in the vineyard and in the winery.
Even though they grown the equivalent of 5000 to 6000 cases of Bordeaux style grapes, in 2010 the decision was made to cap production of Nota Bene at 3300 cases to ensure optimum quality. The extra wine, blended with Syrah, is used in a second tier wine, Cellar Hand, which was released two years later.
In 2011, they purchased the neighbouring Gloria Martin 15 acre property, which had been planted with the same grapes and clones. They christened the land the Double Black vineyard.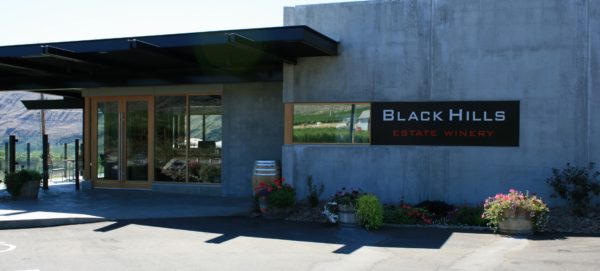 2012 saw the completion of a large expansion to the winery as well as the opening of an impressive tasting room and wine shop, close to the road, called the "Wine Experience Centre". Now let me make it clear, this is no ordinary tasting room. Guests pay for a premium sit down tasting which features very healthy pours served in varietal specific Riedel glasses all accompanied by a personal wine educator. It is a very relaxed experience and you are given lots of time between pours to enjoy and contemplate each wine and jot down any notes you'd like on the flight tasting sheet provided.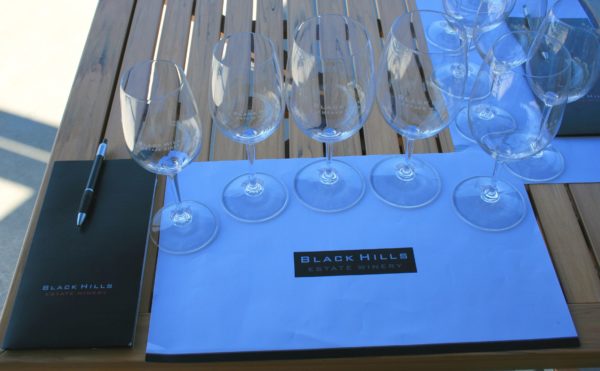 When I last visited, the weather was sunny and I sat outside, near the pool and enjoyed the relaxing sound of the water feature and the beautiful view of the valley. I highly recommend you plan a leisurely stop here. This is not a place to rush things.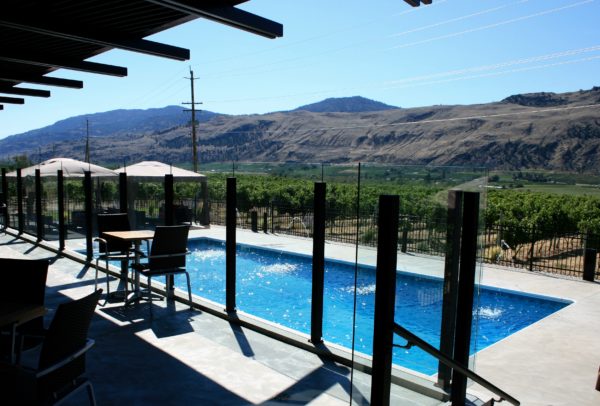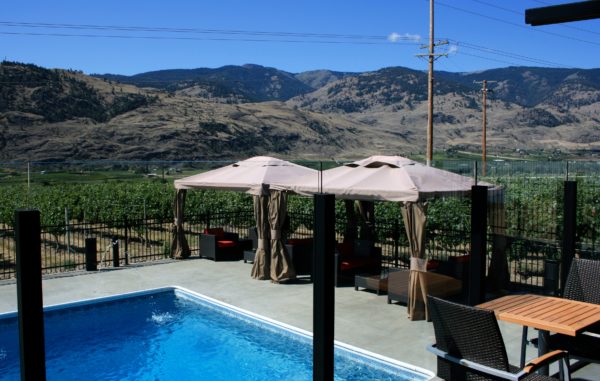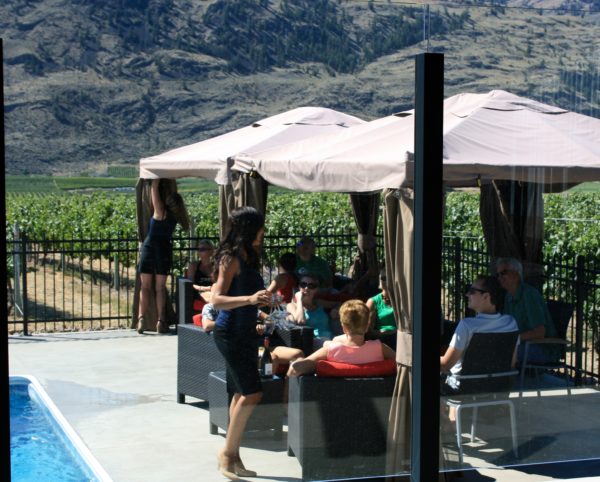 With the release in 2012, of the Cellar Hand label, Black Hills was able to focus on selecting only the finest barrels of wine for the Nota Bene blend and the remaining wine could be made into the very affordable Cellar Hand.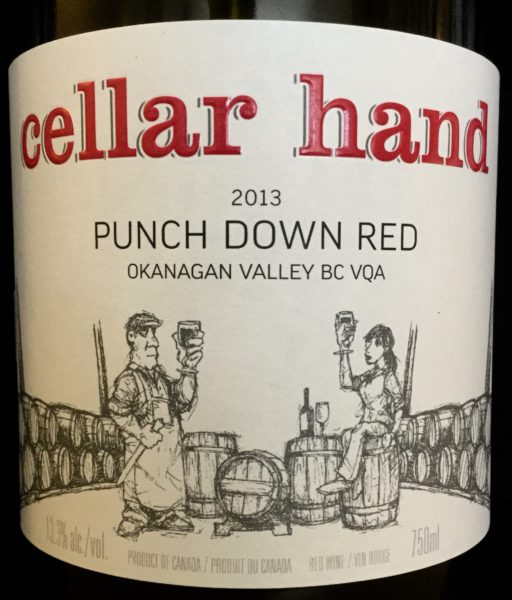 One reason the most recent 2014 release is so impressive, is that was the year they made the decision to extend the barrel aging another six months which has resulted in a bigger, more layered wine with greater depth. This means that they are even better at release, yet will age beautifully for at least another ten years. 2016 is the 20th anniversary of the planting of the vineyard and the 16th vintage of Nota Bene.
Graham Pierce, who comes from a culinary background, spent 8 years as winemaker at Mount Boucherie before coming to Black Hills. Steve Carberry is the vineyard manager. He's been 11 years at Black Hills and Cooper is their assistant winemaker.
Nota Bene is made completely from estate grown grapes that are handpicked at harvest and carefully sorted. Terroir is the key. Their 10 acres of Bordeaux grapes consist of Cabernet Sauvignon with four clones, four clones of Merlot and two clones of Cabernet Franc. Black Hills uses about 1/3 new oak each year, 80% of which is French oak, which they buy from 10 different coopers, which again, adds complexity to the wines. The American oak is first used for their Syrah.
Each clone is picked and fermented separately which gives Graham complete control over the final blend. This means that the final wine is a blend not of three wines, but of ten. This is one part of the reason for Nota Bene's success. With so many wines at his disposal, he can tweak and adjust each year's blend until it is the very best is can be. To illustrate the point, a quick glance at the tasting notes shows that the percentage of Cabernet Sauvignon varies from year to year – 52, 46, 48,46,43,47, 48,47,57, 50, 57, and 52. While it is true that each year is different, there is no arguing that the quality is consistent.
The first wine made by Black Hills was Nota Bene and later they developed a complimentary white Bordeaux-styled wine called Alibi, which is made, as one might expect, from Sauvignon Blanc and Semillon. They now offer six wines besides Nota Bene and Alibi including, Per Se* (Cabernet Franc and Syrah), Alias* (Riesling, Pinot Gris dominant blend), Viognier, Syrah, Cellar Hand Red, and Ipso Facto* (Syrah based blend). The asterisk indicates wines that are available to club members only.
McIntyre Bluff just to the north of Oliver is the northern tip of the Sonoran Desert. The land in the southern Okanagan can sometimes reach 40° C and yet drop to 12° at night, which helps to preserve acidity in the grapes, ensuring good structure. Even when the summer temperatures are not as desired, the rocky mountains to the east reflect their stored heat back on to the vineyard. As a result, the Sharp Rock vineyard acts as a 'heat dump', which is perfect for ripening finicky cabernet sauvignon grapes. This site is ideal for the grapes grown with sandy soil that is 280 feet deep. About ten acres are planted in cabernet sauvignon, four in merlot and two in cabernet franc. Grapes are hand picked and hand sorted, just one of the many quality control steps taken to ensure a quality product. The wine was originally made in a Quonset hut and it wasn't until 2001 that the new temperature controlled winery opened up.
Each year Black Hills adjusts what they do, based on last year's experience, so it is not surprising that with every vintage, the wines continue to evolve and improve. Their goal is that each vintage is the very best it can be.
Passion. Passion is what defines Black Hill wines. Glenn Fawcett borrowed a line from an old TV commercial for an electric shaver when he said, "I liked the product so much that I bought the company."
Passion is also what has driven Graham Pierce for the last eleven years. He believes in allowing the grapes to shine through the wine and his dedication is to follow the vision Bob and Senka Tennant first started. Graham believes the winemaker is a part of the terroir.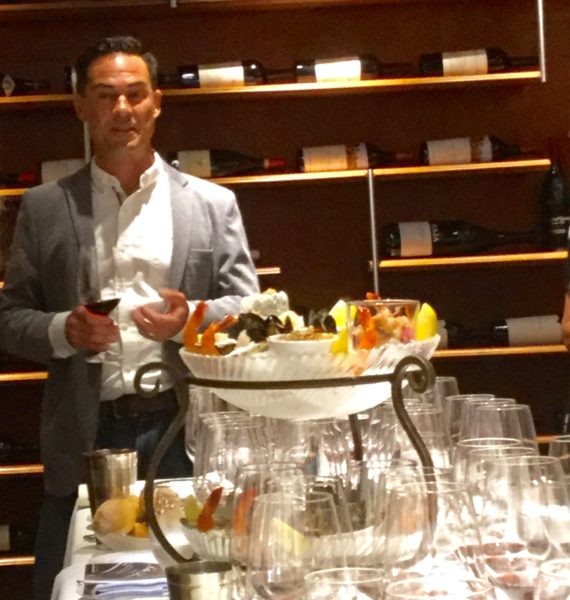 The six wines, spanning the years from 1999 to 2014, showed different qualities partially due to the different vintages and partially due to the slightly different blends.   When asked to pick a favourite, Graham commented that it was like asking a parent which is their favourite child. Each one has something special about it. Each one, though different, has its good points.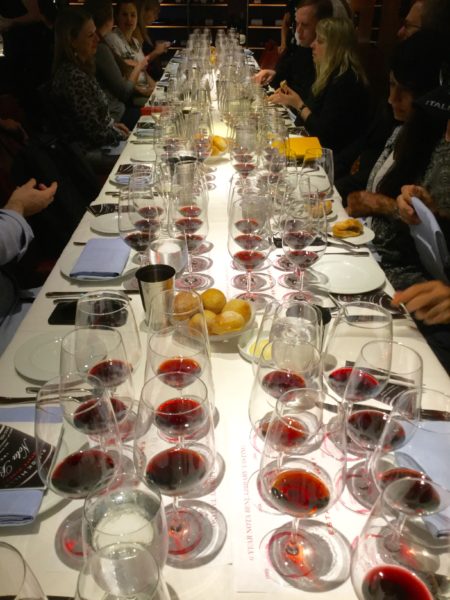 Before we started the tasting we were treated to a fabulous seafood tower on our table and later we were served a beef brisket stroganoff followed by a plate of charcuterie and cheeses. These were all delicious with the wines.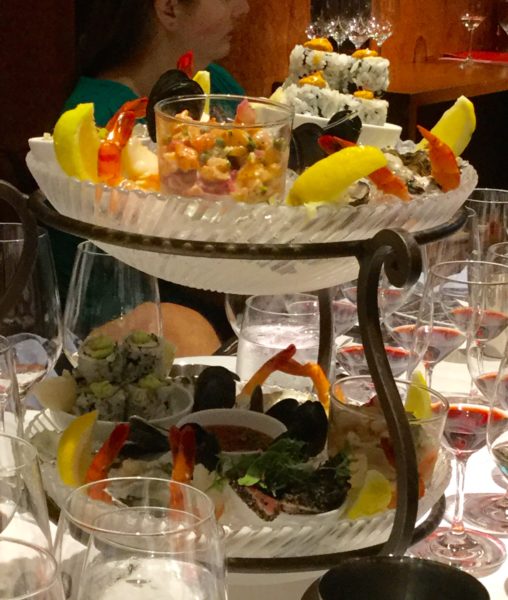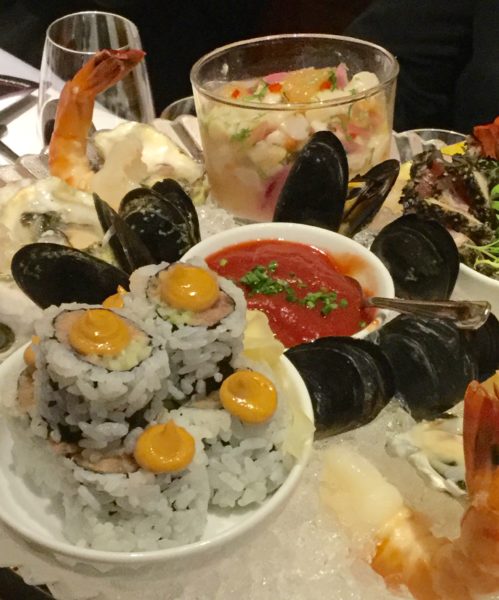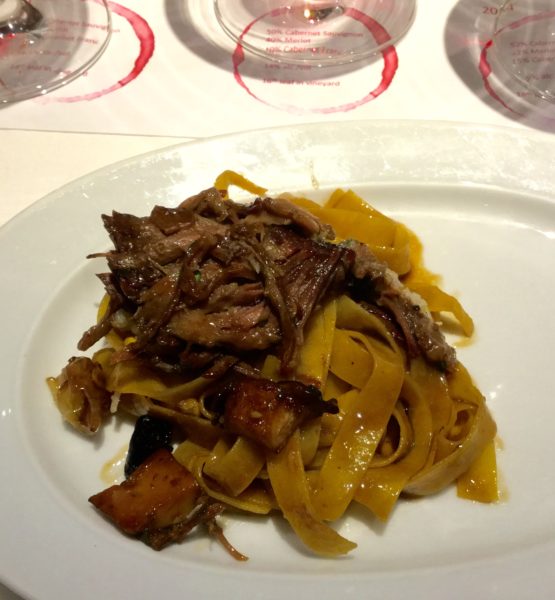 The wines we sampled were as follows:
I've included the wineries descriptions followed by my brief notes in parentheses.
1999 Nota Bene          64% Merlot / 26% Cabernet Sauvignon / 10% Cabernet Franc
"The 1999 Nota Bene has a level of opulence and style that is shared only by its Bordelais counterparts. With a pronounced aroma of black olives, it is loaded with tremendous cherry and truffle flavours, underlain by vanilla and Asian spices. A beautiful Pomerol-style blend, this wine easily succeeds in expressing the Black Sage terroir."
(Loved this wine. Garnet red tinged with brick and transparent to the core. The nose is layered and complex with floral notes, red and black fruit and berries, menthol, leather, cedar. Subtle and elegant with a long lingering finish. Excellently aged. Light enough to enjoy with sushi.)
2004                          46% Cabernet Sauvignon / 36% Merlot / 18% Cabernet Franc
"Aromas of kirsch cherry, herbs, tobacco and light toast, frame a vibrant structure that yields flavours of Santa Rosa plums echoing through a smooth round finish."
(Excellent. Heavier and more complex, heavy on the secondary aromas, with a hint of port. Still age worthy.)
2006                        47% Cabernet Sauvignon / 37% Merlot / 16% Cabernet Franc
"Appealing for it's layers of dark fruit with a hint of spice, olives and cedar on the nose. Full bodied and balanced with silky velvety tannins and a great lengthy rich finish."
(I found the nose somewhat subdued. Very good, will further improve, given more time. I'd hang on to this one for a while longer.)
2009                         46% Cabernet Sauvignon / 38% Merlot / 16% Cabernet Franc
"The 2009 growing season gave us ripe fruit with the great flavour and smooth developed tannins. The nose exhibits bright red fruit with plum and cassis. The rich palate displays complex black cherry, strawberry and dark cocoa. This wine has great balance, soft silky tannin and a smooth long finish. Can be decanted and enjoyed now and has great aging potential."
(Garnet red, green herbal notes, medium body, still just a little tannic. Cellar this one for a while longer, perhaps 5-8 years)
2011                         50% Cabernet Sauvignon / 40% Merlot / 10% Cabernet Franc
"This complex and delicious blend comes barging out of the glass with a bouquet of blackberry, cherry and chocolate. The palate delivers rich dark fruits with a hint of sage brush and notes of fine cocoa tannins. Notable for its beautiful balance, it should cellar well through 2020 or decant and drink now. A great pairing with rich braised or grille meat."
(Bramble, medium bodied, tannins noticeable, may be going through a bit of a dumb stage -muted nose. I am sure this will show better later.)
2014                         52% Cabernet Sauvignon / 33% Merlot / 15% Cabernet Franc
"The 2014 season has proven to be another outstanding vintage in the South Okanagan. This new release of Nota Bene shows it's tantalizing signature of raspberries, plum and fruit leather complimented by dusty, mushroom and earthy components. Rich, velvety smooth tannins coat the palate resulting in a well-balanced, elegant and delicate lingering finish of raspberries & spice. Medium-full bodied with well integrated tannins and a lengthy weight that could pair most perfectly with fresh rack of lamb, elk and ratatouille. Start drinking near the end of 2016 or cellar up to 12 years to reveal more clove spice, leather and pipe tobacco aromas."
(Wow. Impressive. Red fruit dominant, red berries, spice and vanilla. Very drinkable right now and only going to get better.)
As a bit of a winemaker myself, I'd loved to have had the opportunity to play around with these wines and do a little vintage blending. I'd have started off with the 1999 as a base and then tried about 5 to 15% of the 2014 . . . . . . . . .exquisite!
*Thanks to John Schreiner and his Okanagan Wine Tour (Fifth edition 2014) for additional information.
(All photos by Sam Hauck)