Valentine's Day Apple Dessert (serves 4)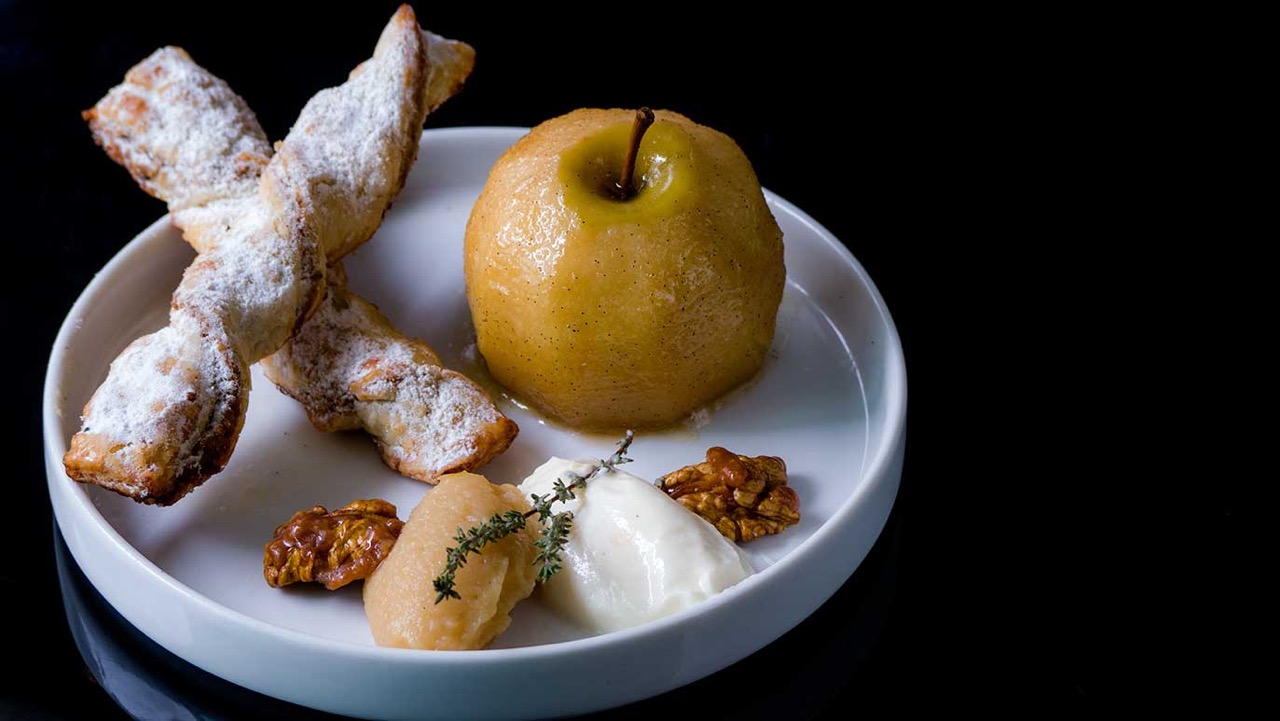 introduction :
This apple-based Valentine's Day dessert idea is actually a combination and reinterpretation of a few of my latest January and February recipes. One recipe or technique simply led to another … I had dear friends from France and Canada who were visiting for a few days, at a last-minute's notice, so I needed to whip up something for which several elements could be prepared in advance (partly or in full). The only prerequisite was that it had to be alcohol-free so no poaching in wine (which gives the apples a lovely deeper color and taste) and something that I could (as well as you could) "assemble" at the last moment. The idea behind this dessert is that it represents a deconstructed apple-walnut pie that you reconstruct, in the same way that, over time, we reconstruct, build on and develop love. Here's the result … Enjoy !
ingredients :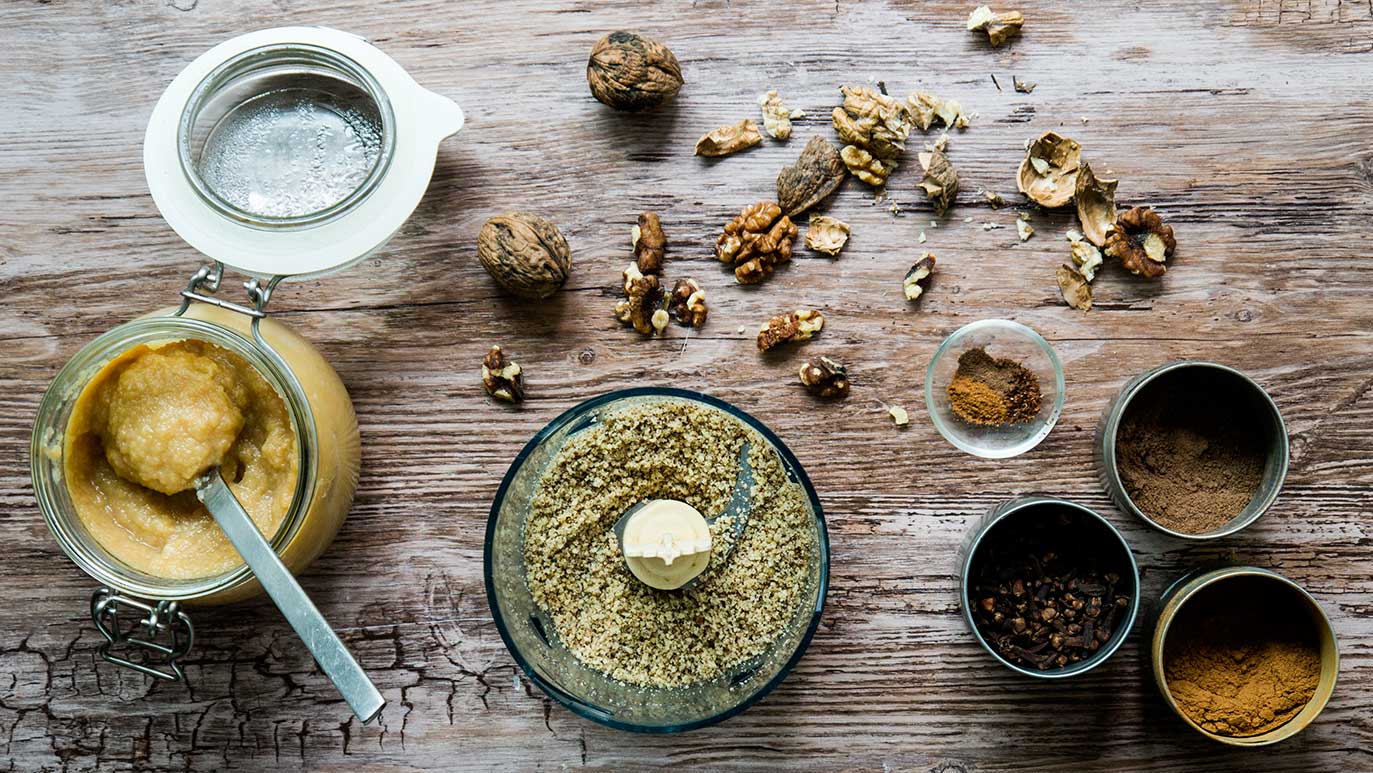 poaching liquid
240 ml (1 cup) water  
240 grams sugar (1¼ cup)
240 grams (1 cup) butter
1-2 vanilla pods (split lengthwise & scraped)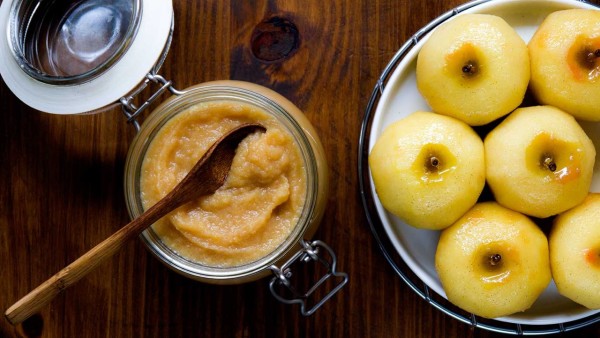 poached apple compote (½ cup for serving + ¼ cup for puff pastry twists)
720 ml (3 cups) poaching liquid
2 granny smith apples (about 2 x 150 grams each when peeled and cored)
1 tbsp lemon juice
2 tbsp extra butter
2 tbsp extra granulated sugar
whole poached apples
4 granny smith apples (4 x 150 grams each when peeled and cored)
2 tbsp lemon juice
720 ml (3 cups) poaching liquid
2-4 sprigs of thyme (+ extra thyme sprigs for the final garnish)
apple walnut puff pastry twists
250 grams rectangle of puff pastry (store-bought or see my recipe on the blog)
70 grams (¼ cup) apple compote
70 grams (½ cup) ground walnut powder
2 tbsp + 2 tbsp granulated sugar
1/4 tsp cinnamon powder
1/8 tsp ground allspice
1/8 tsp ground cloves
egg wash (1 egg yolk + 1 tbsp milk)
garnish : 3-4 tbsp icing sugar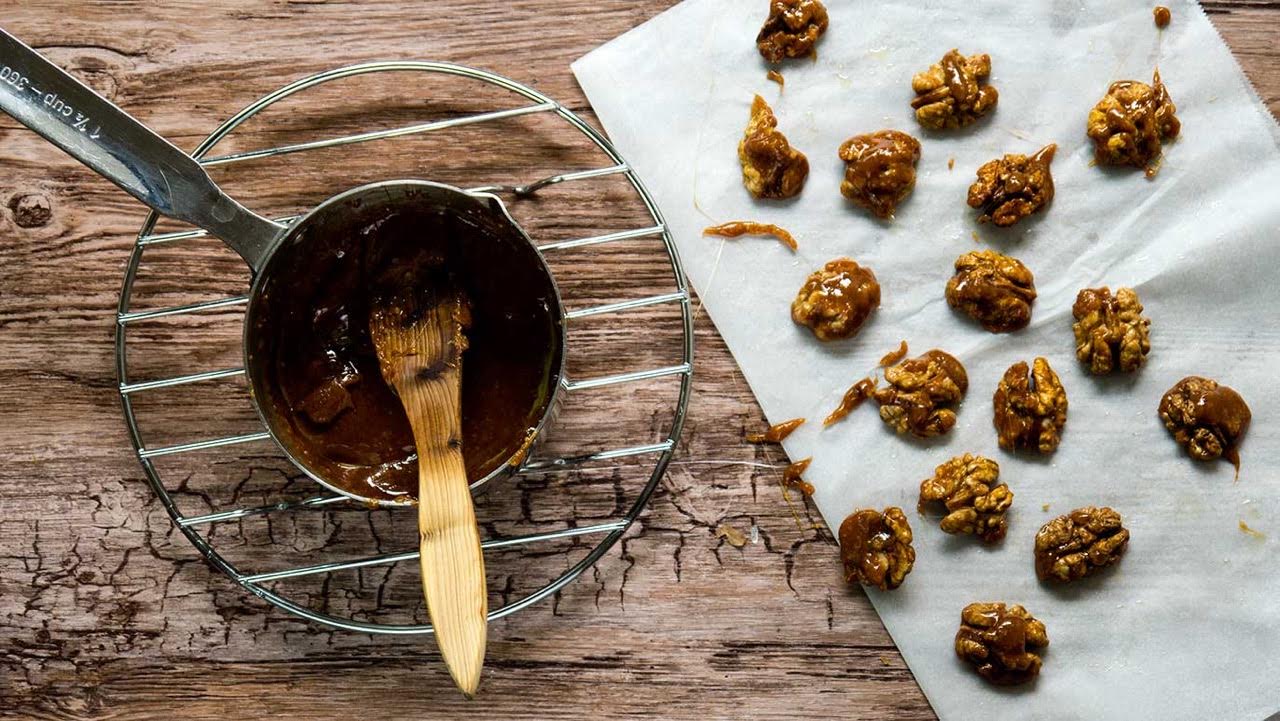 caramelized walnuts
4-6 whole walnuts (shelled & halved)
4 tbsp granulated sugar
1 tbsp butter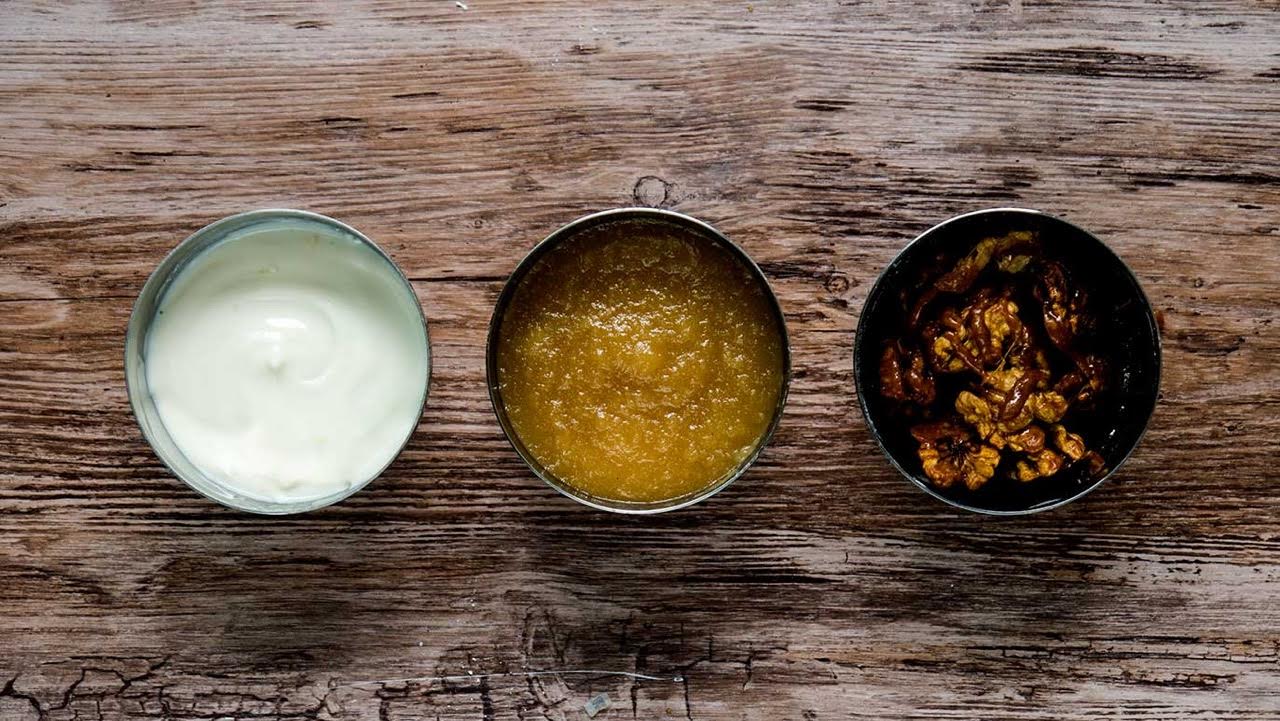 tart ricotta cream
½ cup ricotta
2 tbsp icing sugar
2 tbsp softened butter
½ tsp vanilla extract
¼ tsp lemon juice
1/8 tsp lemon zest
instructions :
poached apple compote
make the poaching liquid by combining the water, sugar, butter and vanilla pods in a large pot, bring to a boil then lower heat to medium
peel and core the 2 apples for the compote, cut them in quarters and sprinkle with lemon juice (to avoid rapid browning) then add them to the poaching liquid
increase heat to a boil, then reduce immediately to medium-low and let simmer for 15-20 minutes until apple quarters are softer (but not falling apart)
remove poached apple quarters and drain excess liquid, place inside a food-processor and mix until smooth
measure out ½ cup of apple compote (keep the rest for the apple-walnut puff pastry twists), transfer to a small casserole, add 2 tbsp butter and 2 tbsp sugar, bring to a boil and then simmer at medium-low heat for 5 minutes to reduce and thicken, while continuously stirring
transfer to a container and after the compote has cooled, store in the refrigerator and then in the freezer for 1 hour before serving (it will be easier to serve firm spoonfuls that retain their shape when very cold)
whole poached apples
add the thyme sprigs to the remaining poaching liquid and reheat until simmering
peel the 4 apples (with stems still on) and core from the bottom only half-way through so you can still pick the apples up from the stems) and cut a thin slice off the bottom of each so that the apples sit flat
immediately sprinkle with lemon juice then place all 4 apples inside the simmering liquid and let simmer for 10 minutes, moving them around gently so they cook evenly on all sides, then turn off heat and let rest for 5 minutes until slightly more translucent, yet still firm
remove the apples from the simmering liquid, let excess liquid drain off and serve warm (or refrigerate and then warm up again for several minutes in the warmed poaching liquid, right before serving).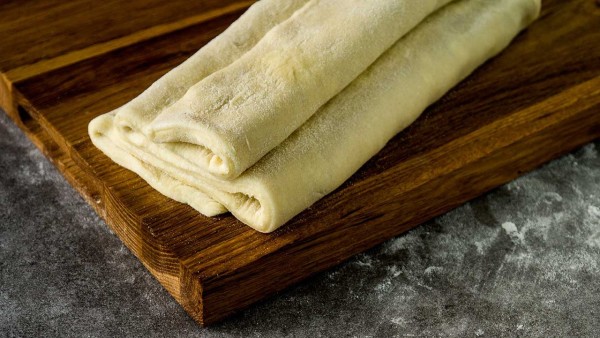 apple walnut puff pastry twists
make your own puff pastry dough by following my recipe (divided by half) or use a store-bought version and form into a square, measuring 25 X 25 cm, about 3-4 mm thick, cover and refrigerate until ready to use
grind walnuts into a powder in a food-processor and combine (in a mixing bowl) with ¼ cup apple compote, 2 tbsp sugar and ground spices, mix well and chill in the refrigerator
cut dough in half (12,5 cm x 25cm), spread out a layer of apple-walnut filling onto one rectangle of puff pastry dough, leave the top and bottom longer edges/borders (of 1 cm) free of filling and brush the top and bottom longer edges/borders with egg wash, cover with second rectangle of puff pastry dough and press down to seal
cut ten 2,5 cm wide x 12,5 cm long sections of dough with filling (you'll only need 8 but make 2 extra, just in case), brush with egg wash, sprinkle with 2 tbsp more granulated sugar and either leave flat or twist and place on a baking paper covered baking sheet and chill (before baking)
preheat oven to 210°C and bake puff pastry twists for 10-12 minutes
remove from oven, let cool completely and sprinkle with icing sugar.
caramelized walnuts
shell and halve the walnuts, heat the sugar and butter in a small casserole, add walnuts and gently keep stirring until the caramel forms and starts darkening and coating the walnut halves
remove caramelized walnut halves and place separately on a piece of waxed paper and reserve
lemony ricotta cream
combine all ingredients and mix well with a whisk, then refrigerate for several hours and place in the freezer 1 hour, right before serving (it will be easier to serve firm spoonfuls that retain their shape when colder)
final assembly (per serving)
1 warmed poached apple
2 puff pastry twists
1 large heaping tablespoon of apple compote
1 large heaping tablespoon of tart ricotta cream
2-3 caramelized walnut halves
1 thyme sprig, dipped in the warmed poaching liquid, as garnish
note : additional visual aids are available on the www.icookstuff.com website for the ultra-quick & easy food-processor puff pastry dough recipe, the basic poached apples and compote recipes as well as the apple-walnut puff pastry twists recipe. The full visuals for the Valentine's Day Apple Dessert recipe will be published on the website on the weekend
George TSAKLIDIS (or g-tsak the blogger)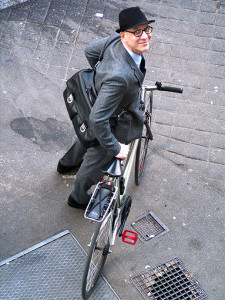 I was born to Greek parents who love to cook and eat wholesome food (that's just the way it is). After being raised in Montreal (with a brief stay in Greece as a baby) and followed by a return to Montreal and degrees in interior design and electrical engineering, came my first departure as a young adult to Ottawa for a final degree in industrial design (combining the aspects of the first two) and in the middle of that, pushed to go to Paris with a scholarship for that same degree and my first design award. After several years of design work, headhunters whisked me away to be a collaborator with the French Diplomatic Corps. I spend half of my time in a suit and tie, with a briefcase, the other half in pyjamas (yes, people do still wear them) in my kitchen, most often covered in flour … Being a do-it-yourselfer by nature and perhaps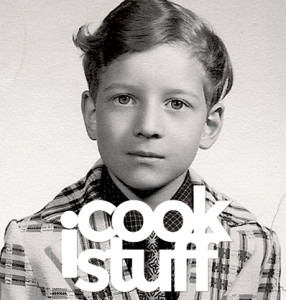 needing a new creative outlet, the icookstuff blog/website was born less than one year ago, on the suggestion of loved ones, who also shared a passion for cooking and food, and of course my friend's encouragement and support, who also happened to be a web-developer and designer and who created the website. Did the world need another food blogger? Not really ! Did people need to get back in touch with cooking and everything homemade ? Perhaps, if time, personal schedules and routines permitted it. "Know what you eat" is my motto. The blog isn't only about cooking stuff. It's about experimenting with food, trying to eat in a more wholesome and understanding manner and using everything you can, while wasting nothing and quite often using and including stuff as ingredients that are often discarded. Am I obsessed with my blog? Yes and no. I don't cook for the blog. I cook out of curiosity and appreciate everything that's "made from scratch". The blog also represents a need to put some order in my recipe scribblings, since I own no cookbooks (the former books on my library shelves have given way to cooking utensils). I realized that I also loved photographing everything, not just the final finished results, but the ingredients, process and steps too. The blog is about sharing and trying to create my own recipe inventory, to which I refer to often, which is proof that it was a good idea to start off with (at least for my own personal use). I hope that it's the case for others too, like I've said many times before, I'm not a "chef" and I respectfully tip my hat to those who are, "I just COOK STUFF, so you can cook stuff too" … 🙂
Twitter: @icookstuffcom 
Facebook: icookstuff
Instagram: @icookstuffcom
tumblr : icookstuffcom
pinterest : icookstuffcom