rhubarb & ginger tarts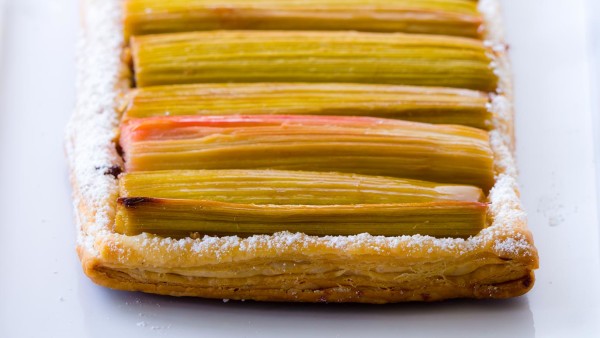 3-4 rectangular tartlets
It's rhubarb season ! This unusually tangy vegetable is used for sweet as well as savoury dishes during the months of April and may and sometimes June. My friend and neigbour was kind enough to bring me about two and a half kilograms of rhubarb stalks from his parents' farm, north of Paris last week so it was time for me to prepare 3 dishes with it ! I started with the simplest and most common, a dessert, a rhubarb tart or tartlet, but with a touch of spicy ginger (instead of strawberries). I've always loved this combination whether for sweet or savoury rhubarb dishes. Next on the menu, rhubarb syrup and then roast pork with rhubarb … I hope you like it and give it a try too !
ingredients :
750 grams rhubarb
500 grams (2 sheets) rectangular puff pastry
50 grams (or ¼ cup) granulated sugar
1 vanilla bean, seeds removed & scraped (or 1/2 tsp vanilla extract)
2 tbsp ginger root, peeled and finely grated
125 grams (or 1¼ – 1½ cups) almond powder
70 grams (7 tbsp) muscovado (or dark raw cane sugar) + 20 grams (2 tbsp) for sprinkling
1 tbsp melted butter
2 tbsp icing sugar
instructions :
peel the rhubarb and cut into 8 cm long sticks
in a large bowl, toss the cut rhubarb with 50 grams of regular sugar then place in a colander over a bowl and let rest 1-2 hours until it loses its water
roll your puff pastry thinly and divide into four 22 x 11 cm rectangles
place a piece of baking or parchment paper on your baking sheet and brush with butter
place your puff pastry on the parchment paper and brush the top surfaces with butter also and poke small holes everywhere except the borders (leave a 1,5 cm border)
cover with plastic film and place inside the fridge as you wait for the rhubarb to lose its water
in a bowl, combine the almond powder with the 7 tbsp of muscovado sugar, the vanilla seeds (or extract) and the grated Ginger, mix well and crumble with your fingers
take the puff pastry rectangles out of the fridge and sprinkle on top with the almond, sugar, vanilla, ginger crumble, leaving the 1,5 cm borders intact
preheat your oven to 200°C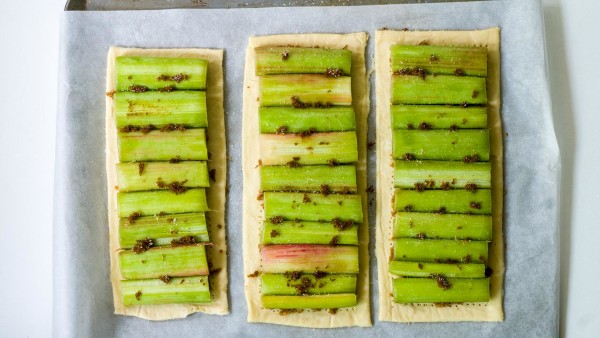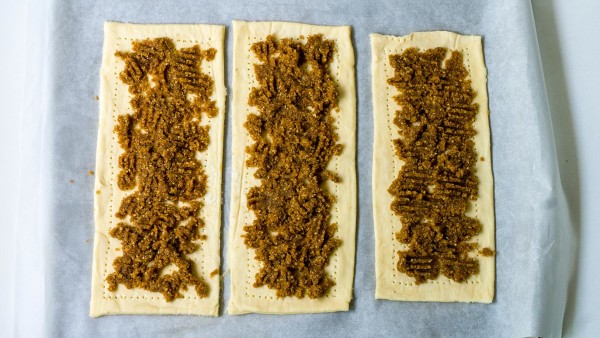 tightly arrange the rhubarb sticks on top and sprinkle with an additional 1/2 tbsp muscovado sugar on each tartlet
*ideally, you should chill everything in the refrigerator again for 10-15 minutes before baking it in the oven (if possible)
bake for 30 minutes and remove when the edges are golden
when cooled, sprinkle the borders with icing sugar and serve.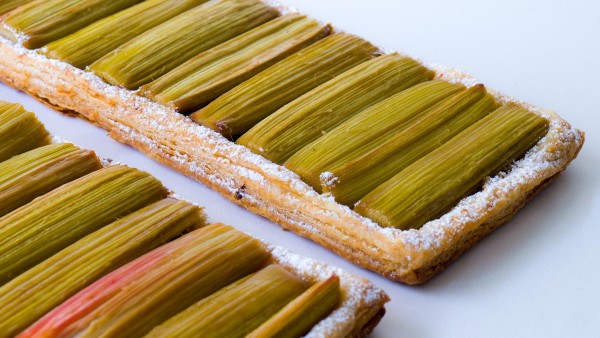 note : additional visual aids are available on the www.icookstuff.com website for the ultra-quick & easy food-processor puff pastry dough recipe, the basic poached apples and compote recipes as well as the apple-walnut puff pastry twists recipe. The full visuals for the Valentine's Day Apple Dessert recipe will be published on the website on the weekend
George TSAKLIDIS (or g-tsak the blogger)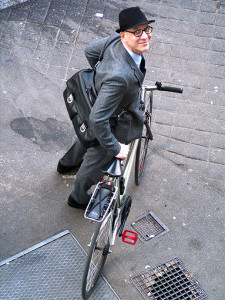 I was born to Greek parents who love to cook and eat wholesome food (that's just the way it is). After being raised in Montreal (with a brief stay in Greece as a baby) and followed by a return to Montreal and degrees in interior design and electrical engineering, came my first departure as a young adult to Ottawa for a final degree in industrial design (combining the aspects of the first two) and in the middle of that, pushed to go to Paris with a scholarship for that same degree and my first design award. After several years of design work, headhunters whisked me away to be a collaborator with the French Diplomatic Corps. I spend half of my time in a suit and tie, with a briefcase, the other half in pyjamas (yes, people do still wear them) in my kitchen, most often covered in flour … Being a do-it-yourselfer by nature and perhaps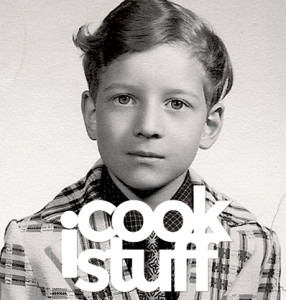 needing a new creative outlet, the icookstuff blog/website was born less than one year ago, on the suggestion of loved ones, who also shared a passion for cooking and food, and of course my friend's encouragement and support, who also happened to be a web-developer and designer and who created the website. Did the world need another food blogger? Not really ! Did people need to get back in touch with cooking and everything homemade ? Perhaps, if time, personal schedules and routines permitted it. "Know what you eat" is my motto. The blog isn't only about cooking stuff. It's about experimenting with food, trying to eat in a more wholesome and understanding manner and using everything you can, while wasting nothing and quite often using and including stuff as ingredients that are often discarded. Am I obsessed with my blog? Yes and no. I don't cook for the blog. I cook out of curiosity and appreciate everything that's "made from scratch". The blog also represents a need to put some order in my recipe scribblings, since I own no cookbooks (the former books on my library shelves have given way to cooking utensils). I realized that I also loved photographing everything, not just the final finished results, but the ingredients, process and steps too. The blog is about sharing and trying to create my own recipe inventory, to which I refer to often, which is proof that it was a good idea to start off with (at least for my own personal use). I hope that it's the case for others too, like I've said many times before, I'm not a "chef" and I respectfully tip my hat to those who are, "I just COOK STUFF, so you can cook stuff too" … 🙂
Twitter: @icookstuffcom 
Facebook: icookstuff
Instagram: @icookstuffcom
tumblr : icookstuffcom
pinterest : icookstuffcom