Okanagan Crush Pad (OCP) winery is pleased to announce that Rebecca McKinney has joined their team as Director of Sales & Promotion. Rebecca, who will be based at the winery's North Vancouver office, joins the existing sales force, Rebeka Erickson, Amy Hollenbach and Mike West, and will work closely with owner Christine Coletta to continue to strengthen customer relations and strategically grow sales.
"We are extremely thrilled to have a seasoned professional with Rebecca's enthusiasm and passion for wine join our team to help support our BC sales channels and to take our wines beyond BC boarders", noted Christine. "We are now exporting our Haywire and Narrative wines and need more hands to manage our sales efforts".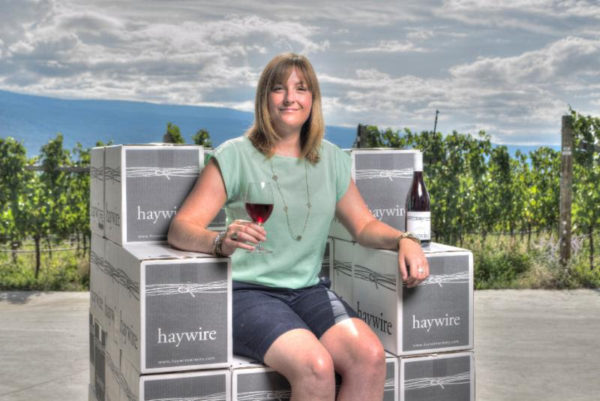 Rebecca was born and raised in Australia. She moved to Canada fifteen years ago and started work in the hospitality sector before moving to the wine industry. She spent the last ten years with a large multi-national company, most recently in the position of senior manager of strategic on premise accounts. Rebecca has established strong relationships throughout the beverage alcohol channels and has a track record of achieving results and high performance.
"I'm really excited about joining the OCP team and to work with a group I have a lot of respect for", Rebecca stated. "The commitment to high quality products which starts by farming organic grapes and crafting pure Okanagan wines is admirable and the energy that the team has is infectious. In my new position I'll be able to touch many pieces of the business that will benefit from my experience in addition to responsibilities that will be new to me which will allow me to grow and learn".
About Okanagan Crush Pad:
Christine Coletta and Steve Lornie built Okanagan Crush Pad in scenic Summerland, BC, on Switchback Organic Vineyard in 2011. The facility, producer of Haywire and Narrative, has quickly built a reputation as a
premium winery receiving unprecedented awards and accolades with chief winemaker Matt Dumayne at the helm. Dumayne crafts natural wines using organically farmed grapes in state-of-the-art concrete tanks, native yeast and minimal additives. The wines reflect the region's unique high mountain/northern desert setting noted for its intensely hot, short growing season with hallmark cool evenings. In their constant pursuit of innovation, the team added a line of wine-based spirits under the Narrative label in 2015. Visitors discover a guest center, built into the heart of the winery, offering a rare glance into the art of winemaking and a place where they can sample and purchase.
Okanagan Crush Pad | 250.494.4445 | www.okanagancrushpad.com