Gastown Hotspot Pops the Cork on Select Bottles of Champagne and Sparkling Wine Now Available at Special Pricing During Saturday, Sunday Brunch Services
The latest addition to the popular weekend brunch menu at L'Abattoir is bubbling over, thanks to a select list of Champagne and sparkling wines now available at special pricing exclusively on Saturdays and Sundays at the Gastown hotspot.
Providing a perfect toast to L'Abattoir's lineup of eclectic, French-inspired West Coast dishes, L'Abattoir Wine Director Lisa Haley will feature an ever-changing variety of bubbles — some of which will only be available during brunch service — with savings equivalent to 25 to 50 per cent off each bottle.
With a focus on 'grower' bubbles — wines produced by the same estate that owns the vineyards from which the grapes are grown — "Bubbles at Brunch" features such notable Champagnes as Lanson 'Black Label' Brut ($65, 375 mL), Pierre Paillard Pinot Noir + Bouzy Grand Cru Brut ($82, $750 mL) and Diebolt-Vallois 'Blanc de Blancs Prestige Brut' ($100, 750 mL), French sparkling wine such as André & Mireille Tissot '11 Chardonnay + Extra Brut Crémant du Jura ($99, 1500 mL) as well as sparkling wine from celebrated Okanagan Valley vineyards including Okanagan Crush Pad's Pinot Noir + 'Baby Bub' ($25, 375 mL), Bella Vineyards' 2015 Gamay Noir 'Cavada Vineyard Rosé' ($45, 750 mL) and Blue Mountain's 2008 Chardonnay 'Blanc des Blancs', ($60, 750 mL), with new labels added to the list each week.
Available each Saturday and Sunday from 10 a.m. to 2 p.m., L'Abattoir's brunch menu offers delicious favourites such as Poached Eggs with Smoked Pork Belly, served with Cheddar Sabayon and a Homemade English Muffin ($17); Roasted Corn and Tomato Quiche, served with Salad and Warm Bacon Vinaigrette ($14); Crêpes stuffed with Ricotta and Lemon Zest, served with Fresh Berries and Crème Diplomat ($14); and Steelhead Salad, served with a Poached Egg, Smoky Buckwheat Pancake and Hollandaise ($18), among others.
"I'm excited to not only provide guests another reason to visit us for weekend brunch, but also to excite their palates with a unique selection of Champagne and sparkling wine that highlights both the Old-World and the best that B.C. has to offer," says Haley.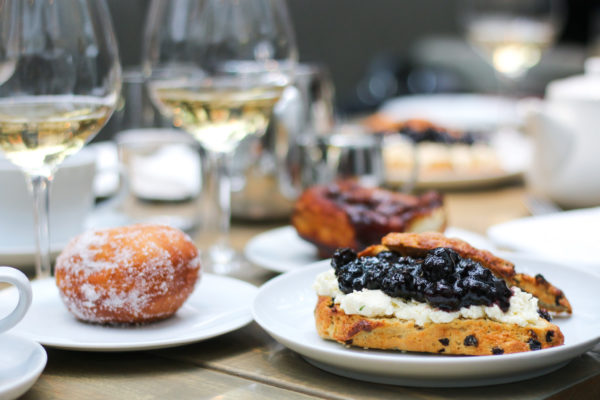 ABOUT L'ABATTOIR | Located in the heart of historic Gastown since 2010, L'Abattoir is situated in a refurbished 19th-Century heritage brick-and-beam building that pays homage to its history as the site of Vancouver's first jail in the city's main meat-packing district. Today, L'Abattoir has staked its claim as one of Canada's best restaurants with a diverse array of French-inspired West Coast fare focusing on locally sourced, seasonal ingredients along with an ever-changing selection of classic and signature cocktails and a broad list of B.C. and imported wines. Whether in its front-of-house bar and lounge, elevated dining room and private, glass-and-steel-accented atrium, L'Abattoir offers dinner from Sunday to Thursday from 5:30 p.m. to 10 p.m. and Fridays and Saturdays from 5:30 p.m. to 10:30 p.m., weekend brunch on Saturdays and Sundays from 10 a.m. to 2 p.m., Happy Hour daily from 5:30 to 6:30 p.m. and bar service until midnight seven days a week.
217 Carrall Street, Vancouver, BC  V6B 2J2 | 604-568-1701 | labattoir.ca
Facebook: /labattoir | Twitter: @LABATTOIR_VAN | Instagram: @labattoir_van