Mount Pleasant Osteria Marks Wildly Successful First Year, Best New Restaurant Nod by Featuring Umbrian Pasta Dish With Proceeds Donated to The Central Italy Earthquake Relief Fund
Osteria Savio Volpe is extending a dinner invitation to 'friends, family and strangers alike' on Tuesday, Nov. 15 as it celebrates not one, but two big milestones: its first anniversary and recent accolade as one of enRoute's Best New Restaurants in Canada.
The Italian taverna-inspired neighbourhood joint, which opened its doors last November, was honoured last week with 10th place on enRoute's 2016 list of Canada's Best New Restaurants, an annual competition judged by a national panel of culinary and hospitality industry leaders and experts. Savio Volpe was one of only 36 restaurants across Canada — and nine in BC — to be shortlisted for the prestigious award.
To celebrate both achievements, Savio Volpe is giving thanks to its guests, while also giving back. During a special anniversary evening on Nov. 15, a complimentary, celebratory glass of Prosecco will be offered upon arrival, while the kitchen will be cooking a special Umbrian dish, Strangozzi Al Tartufo Nero, or fresh, handmade pasta with black truffles. One hundred per cent of proceeds from the sale of each strangozzi will be donated to The Central Italy Earthquake Relief Fund (CIERF), which offers support to the Italian communities hardest hit by the recent earthquakes.
"We travelled to Umbria this past August just before the first earthquake and were blown away by the warmth of the people and the richness of the history and culture," says Savio Volpe Co-owner Craig Stanghetta. "Having made friends in the region over memorable meals (like the traditional strangozzi we learned to make there), we were compelled to contribute in some small way — to show our gratitude for a truly life-changing experience."
Savio Volpe is a partnership between Paul Grunberg (co-owner of Gastown's award winning L'Abattoir, with previous management positions held at such Vancouver institutions as Chambar, Market by Jean-Georges, and Bao Bei); Stanghetta (principal at Ste Marie, the studio responsible for the design of a number of acclaimed rooms, including Homer Street Café, Ask for Luigi, Meat & Bread and Bao Bei); and Mark Perrier (previously executive chef at CinCin Ristorante + Bar, sous chef at Cibo Trattoria and chef de partie poissonnier at Le Gavroche in London after apprenticing under distinguished local chef David Hawksworth at West.)
"This is a really special occasion for all of us at Savio Volpe, not only to celebrate earning a spot on enRoute's list but more importantly, to raise a glass to our first year in this incredibly welcoming neighbourhood," says Grunberg. "We are extremely honoured and humbled by both accomplishments — this has been a labour of love and we wholeheartedly thank all of our friends, families and loyal guests for their support, not to mention our incredibly dedicated team — the entire extended Savio family — for their tireless efforts over the past year."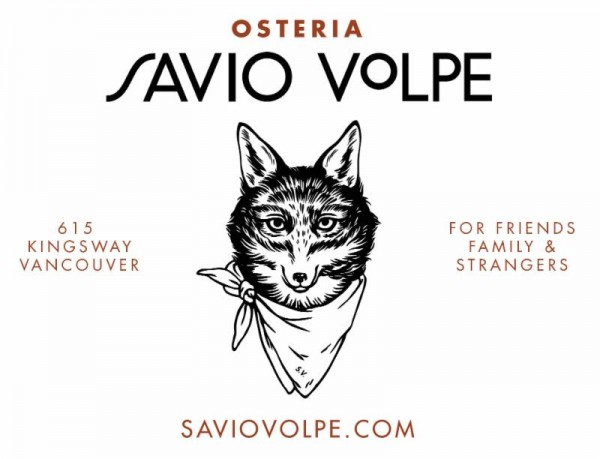 ABOUT OSTERIA SAVIO VOLPE | Opened in Vancouver's Fraserhood-Mount Pleasant neighbourhood in 2015, Osteria Savio Volpe is a restaurant styled after the classic osteria — featuring rustic fare in the Italian tradition of freshness and regionality, using ingredients gathered from the nearby lakes, oceans, farms and fields. Everything is prepared in the simplest, most flavourful way, with pasta handmade fresh every day — fatto a mano in casa — and meat, poultry and fish kissed by smoke over the wood-fired grill and rotisserie. The 75-seat osteria also features a long list of friendly Italian wines and old world coffee to inspire conversation and good cheer among friends, family and strangers alike. Above all else, Savio Volpe celebrates liveliness, warmth and hospitality. Viva la convivialità!  
615 Kingsway, Vancouver, BC  V5T 3K5 | 604-428-0072 | saviovolpe.com
Hours: Sunday to Wednesday 5 p.m. to 10 p.m. | Thursday to Saturday 5 p.m. to 10:30 p.m.
Facebook: /osteriasaviovolpe | Twitter: @savio_volpe | Instagram: @savio_volpe
ABOUT THE CENTRAL ITALY EARTHQUAKE RELIEF FUND | Organized by Italian Canadian organizations, businesses and community leaders, The Central Italy Earthquake Relief Fund is a registered charity established to provide a legacy in support of the people and communities affected by the massive earthquake in central Italy on Aug. 24, 2016.  The devastation brought by the earthquake is massive and will require the mobilization of a coordinated, large-scale response. The focus of the Central Italy Earthquake Relief Fund is to provide a lasting contribution that will have a positive and profound impact on the hardest hit communities, their economies and residents.
For more information on the CIERF, or if you would like to donate please visit the website at www.centralitalyearthquakerelieffund.com.