The Robin Ridge estate vineyard includes 18 acres of well drained soils on the Similkameen Bench near the Junction of Hwy 3 and Hwy 3A in Keremeos.  The organic vineyard was established in 1997 and expanded in 2012.  The gravelly loam soil ensures the vines struggle and encourages them to produce very small yields of intensely flavoured grapes.  The Cottrill's have chosen to use the labour intensive Geneva Double Curtain trellis that aids in exposing the fruit to the intense Similkameen sunshine.  Being certified organic they allow nature to speak through the terroir to produce naturally intense flavoured grapes and wines while respecting the soil and environment around them.
The rugged mountains cradle the Similkameen Valley and the Robin Ridge Vineyard that basks in the hot sun creating intensely flavoured wines.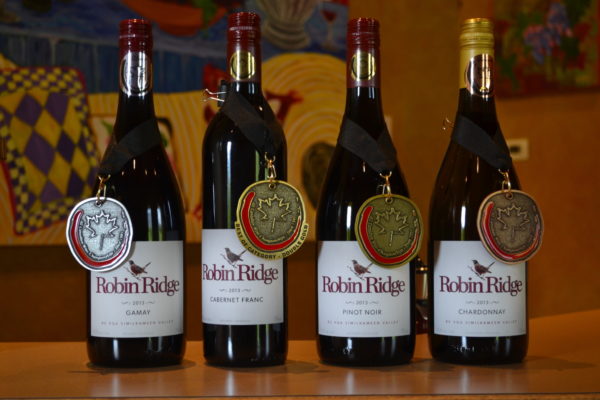 Robin Ridge creates a broad spectrum of wines for you to enjoy.  From the varietal expressive Gewurztraminer and the easy going, off dry rosé, Flamingo, to the complex, brooding Meritage, they strive to give you a taste of the Similkameen and their terroir in every glass.  Best known for their signature wine, Gamay, Robin Ridge also produces award winning Chardonnay, Riesling, Pinot Noir, Merlot and the traditional Sparkling Finch.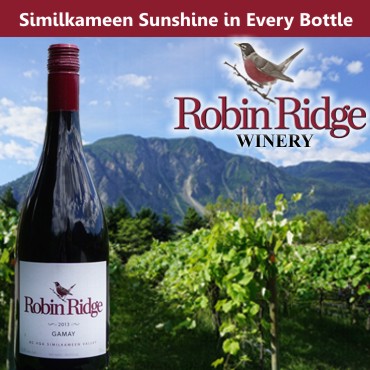 While visiting the Tasting Room take a moment to soak in the beautiful mountain views from the patio, take photos of your friends amongst the vines and sample the grapes bordering the patio while they are in season.
The small family operated winery is happily located in the stunning Similkameen Valley 30 minutes west of Osoyoos or southwest of Penticton.
Robin Ridge Winery