The Wines of British Columbia will be in the Seattle spotlight during a multi-chef collaborative BC VQA Wine-paired dinner in partnership with Ocean Wise sustainable seafood at Tavolàta Capitol Hill restaurant on June 8.
This 100 percent BC wine and seafood dinner brings together the creative talents of winemakers and chefs to celebrate the best of BC wine and cuisine. Seven BC wineries from the Okanagan Valley have paired with four acclaimed west coast chefs to bring all things grown, crushed, raised and produced in British Columbia to Seattle.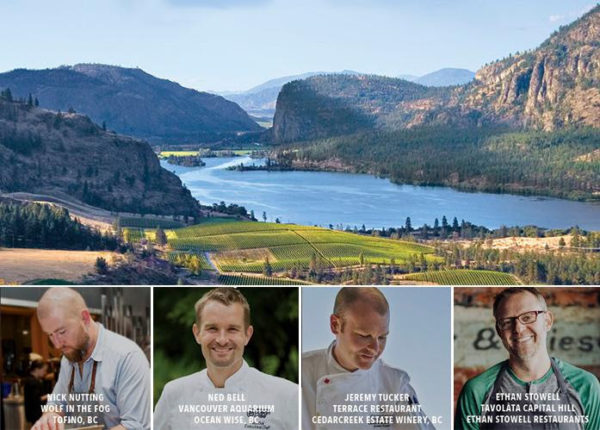 Invited media and guests will taste some of the best examples of British Columbia's diverse grape varieties and wine styles, including traditional method sparkling wines, Sauvignon Blanc, Pinot Gris, Pinot Noir, Cabernet Franc and its world-famous Icewine in a perfectly paired five course meal.
"I've been impressed with the quality of the BC wines that I've encountered when traveling north of the border," says Ethan Stowell. "Historically we haven't seen much variety make its way south and this dinner offers a great opportunity to introduce these wines to a larger audience. Ethan Stowell Restaurants have always championed everything Northwest and we are happy to now add BC wines to that list."
BC's wine and culinary landscape has been gaining momentum over the last few years and is standing on its own as a hub of exceptional local produce and notable talent. The province has flourished with winemakers and creative chefs from all over the world committed to producing quality BC products rivaling their international counterparts.
"I've had so many great meals in Seattle, I'm grateful to have the chance to share a dinner with Seattle, and to be joining this lineup of talented chefs for the occasion," notes Jeremy Tucker, Executive Winery Chef of CedarCreek Estate Winery. "We are bringing BC's best ingredients paired with our favorite BC VQA Wines to show Washington what they've been missing just north of the border!"
One of the differentiating factors that sets British Columbia apart from Washington State is the culinary experience that BC offers both in the winery itself and throughout the wine regions.
"Few wine destinations, including Washington State, have the ability to offer on-site restaurants. More than 43 wineries in BC are now serving the finest locally grown and sourced ingredients to complement their requisite swirl and sip to create wine touring experiences unparalleled to anywhere else in the world," explains Kim Barnes, Marketing Director of the BC Wine Institute. "Making BC wine touring even more attractive is that dozens of our wineries also offer accommodations, so overnighters can awake to the vineyard right outside their window."
In 2015, British Columbia wineries welcomed more than one million visitors through their cellar doors. Washington residents are currently BC's primary market from the United States with 35 per cent having visited BC twice in the past five years and 18 per cent more than twice in the past two years of which 77 per cent already have a positive impression of BC (Destination BC Global Marketing Plan 2016-2017).
"This partnership is part of the BC Wine Institute's strategic plan to increase wine exports to the West Coast USA market and drive destination awareness of our premium wine regions," says Miles Prodan, President and CEO of the BC Wine Institute. "With more BC VQA Wines available for purchase in their home market, US travelers can return from BC wine country and purchase their favorite BC wines at home."
Access to this exclusive dinner is by invitation only; guests include key wine trade, media, sommeliers, Seattle Magazine contest winners, and other VIPs interested in British Columbia Wine Country for tourism and investment opportunities.
Wines of British Columbia Participating Wineries
Bench 1775 Winery
Bordertown Vineyards & Estate Winery
Dirty Laundry Vineyard
Poplar Grove Winery
Sumac Ridge Estate Winery
Summerhill Pyramid Winery
Tantalus Vineyards
Quick Facts – British Columbia Wine Industry
Exports of BC Wine have grown from $5.7 million in 2011 to $19.3 million in 2016 – an increase of 237 per cent.
There are more than 10,200 acres (4,130 hectares) of vines in British Columbia's five geographical indications.
BC's wine industry has grown from just 17 grape wineries in 1990 to 276 today.
Approximately one million tourists visit British Columbia wineries annually.
The BC Wine Industry contributes $2.8 billion in provincial economic growth annually.
&nsp;
About British Columbia Wine Institute
Since 1990, the BCWI has played a pivotal role in taking BC's wine industry from a vision to an internationally recognized niche region producing premium wines and providing exceptional wine tourism experiences. The BCWI markets the wine and regions of BC; delivers quality trade, media and consumer tastings; and acts as the voice of BC's wine industry by advocating to government on behalf of industry that contributes $2.8 billion in provincial economic growth annually.
The BCWI represents all wineries in British Columbia to grow the premium market share for the Wines of British Columbia, while driving awareness of our world-class wines and tourism product – currently drawing 1,000,000 visitors with $600 million in tourism and tourism employment related economic impact every year.For more information about BC Wine Institute's programs and services, please visit: 
WineBC.com
.
About Chef Ethan Stowell:
Chef/co-owner of Ethan Stowell Restaurants Ethan Stowell grew up in Seattle and is self-taught. He was named one of Food & Wine's Best New Chefs in America in 2008 and has been nominated for more James Beard Awards than he cares to remember. He opened his first restaurant, Union, in 2003 and hasn't looked back. There are 15 Seattle restaurants in the ESR collection.
Funding for Wines of British Columbia Multi-Chef Collaborative Dinner has been provided by Agriculture and Agri-Food Canada and the Government of British Columbia through the BC Agrifood & Seafood Export Program under Growing Forward 2, a federal-provincial-territorial initiative. The program is delivered by the Investment Agriculture Foundation of BC.