1st Annual Dinner to Celebrate Autumn's Arrival in the Fraser Valley
Join Singletree Winery on Sunday, October 1 to celebrate the beginning of Autumn at their first annual Long Table Harvest Dinner. You will enjoy a gourmet four-course meal created by the local culinary wizard, Chef Pieter.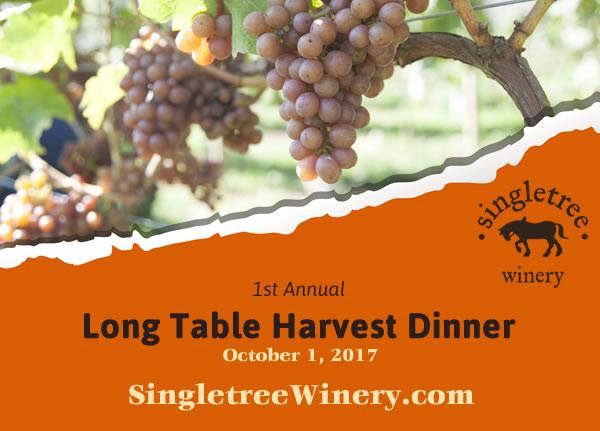 Each course will be paired with Singletree wines, and Andrew Etsell, Singletree's winemaker, will be speaking about each of the wines.
He will describe the tasting notes, winemaking techniques, in addition to why and how he chooses to make each wine. During the evening, family members Elyssa and Mendel Perkins will be enchanting guests with their musical talents on the violin and fiddle.
This will be a magical outdoor dining experience. Less than 100 tickets are available, and they are selling fast.
Event Details:
Sunday, October 1 at 5:30 pm – 9:30 pm
Singletree Winery (5782 Mt. Lehman Rd, Abbotsford B.C., V4X 1V4)
Tickets are $135.00 and available  here
Harvest Menu
Appetizer
Seafood Duo
Smoked sockeye salmon rosette, herb crostini
Citrus panko prawn
Served with avocado lime-infused cream cheese
Soup
Roasted butternut squash soup, chive crème fraîche
Entrée
Braised short rib, bourbon peppercorn jus
OR
Pan-seared sablefish, citrus trio cream sauce
Sides
Boursin whipped Yukon potatoes, grilled seasonal vegetables, mushroom ragout
Dessert
Crème brûlée, berry compote
Wine Pairings
Reception – 2016 Gruner Veltliner
Appetizer – 2016 Sauvignon Blanc
Soup – 2016 Wild Siggy
Entrée – 2015 Pinot Noir / 2016 Pinot Gris
Dessert – 2015 Late Harvest Kerner

About Singletree Winery:
Singletree Winery is in the Mt. Lehman area of Abbotsford, an emerging wine region in the Fraser Valley, the heart of agri-business in British Columbia.  The Etsell family has deep roots in the agricultural community.
With careful attention to their land, they are committed to showing the world what the Fraser Valley is capable of aromatic, crisp, and juicy wines that showcase their unique terroir. Their focused portfolio currently includes Siegerrebe (Siggy), as well as Sauvignon Blanc, Pinot Gris, Chardonnay, a Pinot Noir Rosé, a Late Harvest Kerner, a white blend called Homestead, and Harness, a Bordeaux-style red blend. New wines this year are a Wild Ferment Siegerrebe (Wild Siggy) and a Grüner Veltliner. A traditional-method sparkling wine will be released in 2018. The wines are made by second generation family member Andrew Etsell, in Summerland, under the guidance of winemaker Matt Dumayne.
The winery is now open daily for visitors, Wednesday through Sunday from 12 noon to 5:30pm.
Talk to the winery team about how to join the wine club and for more information on picnics, events, weddings and much more.