Vancouver Chef Lee Cooper Heads to New York for Dine Out Vancouver Festival World Chef Exchange collaboration dinner with Chef Jamie Bissonnette
Dine Out Vancouver Festival's World Chef Exchange, presented by Aeroplan, is popping up in New York City on October 4th!
Lee Cooper – chef and owner of Vancouver's acclaimed L'Abattoir restaurant, No. 1 Gaoler's Mews and the soon-to-open Coquille Fine Seafood – is travelling to New York to present a special collaboration dinner on October 4th with Chef Jamie Bissonnette of Toro restaurant.
The one-night-only event will be hosted in Toro restaurant's spectacular private dining room in Chelsea. It includes passed hors-d'oeuvres, a multi-course family style meal featuring flavours from both L'Abattoir and Toro, and a complimentary glass of BC VQA Traditional Method Riesling Brut from Tantalus Vineyards, made from one of the oldest vineyards in British Columbia.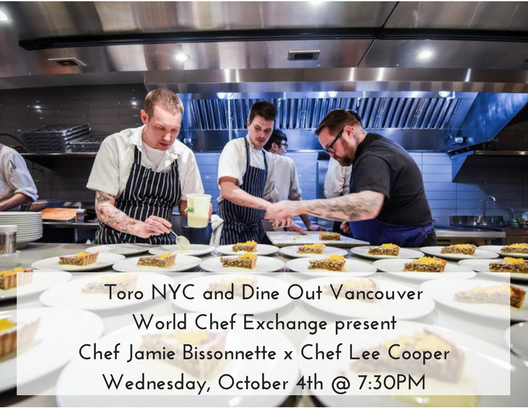 This event follows the successful team up between Chef Lee and Chef Jamie during the 15th annual Dine Out Vancouver Festival in January 2017. That event was part of the Vancouver World Chef Exchange program which saw a total of five collaborations take place over a two-week period. Vancouver chefs welcomed counterparts from Galway, Mexico City, London, Boston and San Francisco to present collaborative tasting menus for their lucky guests. The visiting chefs had a chance to experience Vancouver and trade techniques and learnings with their Vancouver hosts.
"This is an exciting opportunity to bring West Coast flavours and Vancouver's dining sensibilities to New York," said Chef Lee Cooper. "Jamie and I had so much fun working together in my kitchen in January, and I am thrilled to have the opportunity to collaborate with him once again."
Tickets to the October 4th World Chef Exchange dinner in New York cost $85 USD and can be purchased by contacting events@nulltoro-nyc.com. The dinner kicks off at 7:30 pm.
---
About the Vancouver World Chef Exchange
The Vancouver World Chef Exchange, presented by Aeroplan, Canada's premier coalition loyalty program, and sponsored by Air Canada and the Westin Bayshore hotel is a project produced by Tourism Vancouver and Dine Out Vancouver Festival designed to share Vancouver's culinary story with the world. It brings the world's great restaurant cities closer together by sharing ideas, experiences and talents through collaborative dining experiences. #VWCEx

About Dine Out Vancouver Festival
Produced by Tourism Vancouver, Dine Out Vancouver Festival is Canada's largest annual celebration of food and drink. Attracting more than 100,000 locals and visitors, the festival takes over the city with 17 days of culinary events, prix fixe menus at 270-plus restaurants (at $20, $30 or $40 price points), as well as "Dine and Stay" packages and special hotel rates. The festival promotes local and regional ingredients, the wines of British Columbia, and the city's exceptional culinary talent. Dine Out Vancouver Festival's Premier Partner is Aeroplan, Canada's premier coalition loyalty program. Festival partners are the Wines of British Columbia and YP Dine. Preferred partners include Air Canada, OpenTable, Metro newspaper and Tickets Tonight. Dine Out Vancouver Festival 2018 runs from January 19 to February 4. dineoutvancouver.com @DineOutVanFest #dovf
About Chef Lee Cooper
Executive Chef Lee Cooper brings more than two decades of industry experience to the helm of L'Abattoir, No. 1 Gaoler's Mews and the soon-to-open Coquille Fine Seafood. His French-influenced West Coast fare has gained him a legion of loyal followers – has been with the help of some of British Columbia's top kitchens, as well as Michelin-starred restaurants in the U.S and U.K.
About Chef Jamie Bissonnette
A champion of nose-to-tail cuisine and passionate advocate of supporting local, sustainable purveyors, Chef Jamie Bissonnette oversees the kitchens of acclaimed restaurants Coppa in Boston, MA, Little Donkey in Cambridge, MA and Toro New York (with locations also in Boston, Bangkok and Dubai). In 2014, Bissonnette was honoured with the title of 'Best Chef: Northeast' at the prestigious James Beard Foundation Awards.