Inspired by Tacofino's Famous Diablo Cookie, Custom Collaboration Brew Set for Release at Tacofino Locations and Strathcona Brewing Company Starting November 21
The cookie crumbles in the craft beer community this month when Tacofino joins forces with the brew crews at Superflux and Four Winds to create a new custom small-batch Diablo Cookie Porter, available beginning November 21 at Tacofino restaurants in Vancouver and Victoria, as well as Vancouver's Strathcona Brewing Company, where the enigmatic minds behind Superflux's sought-after lineup of beers currently ply their trade.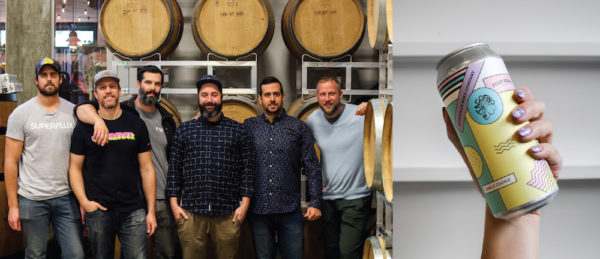 In celebration of the collaboration, Tacofino invites both beer and taco fans alike to sample the new porter at a happy hour event at Tacofino Gastown in Blood Alley Square on Tuesday, November 21 from 4 to 7 p.m. 
The result of a partnership between Tacofino and Superflux Brewing Company partners Adam Henderson and Matt Kohlen, the recipe for the custom brew was developed in concert with brewers Brent Mills and Kylo Hoy of Delta's Four Winds Brewing Company and takes its cues from Tacofino's famous Diablo Cookie, offering notes of vanilla, cayenne pepper, ginger and cinnamon in a dark chocolatey porter.
A staple on the Tacofino menu since the brand's inception in 2009, the Diablo Cookie is an original creation by Tacofino co-founder and owner Kaeli Robinsong and is available at all of Tacofino's roaming food trucks and five brick-and-mortar locations in Vancouver and Victoria, as well as the original Tacofino Cantina in Tofino.
"This collaboration began with a mutual admiration between our brands. All of us at Tacofino have been fans of the quality small-batch beer that Superflux and Four Winds are producing," said Gino Di Domenico, Managing Partner of Tacofino's Vancouver-based operations. "Both breweries have played a big role in the craft-beer movement in Vancouver and we're excited to partner with them."
To keep up-to-date on where the Diablo Cookie Porter is available, follow @superfluxbeer on Instagram. For more information on Tacofino, go to www.tacofino.com, become a fan of /TacofinoVAN on Facebook or follow @TacofinoVAN on Twitter and @tacofinovan on Instagram.
---
ABOUT TACOFINO
| Since its inception, the Tacofino brand has been celebrated for its trademark fusion of sun-dappled, surf-centric spirit and quality, fresh and affordable fare with an environmental and nutritional conscience. From its humble beginnings in Tofino, where the Tacofino Cantina was first launched at the back of the Live to Surf parking lot in 2009, the brand has now grown to include the original Cantina, a fleet of award-winning roaming food trucks, five brick-and-mortar restaurants in Vancouver and Victoria, a growing workforce of more than 250 employees and a legion of loyal fans. |
www.tacofino.com