Passionate about local food and community, Angie Quaale's first book, Eating Local In The Fraser Valley, is a celebration of the farmers, producers and chefs throughout the Fraser Valley, that bring food to our tables each and every day.
Featuring stories, anecdotes and recipes from the people behind the food, along with road trip ideas to 100 culinary destinations, such as local farms, cheesemakers, breweries, bakeries and restaurants, Angie's book encourages us to get out, get to know and explore this beautiful, bountiful region.
Wanting to learn more about the inspiration behind the book, I spoke with Angie to hear more about her passion for food in the Fraser Valley: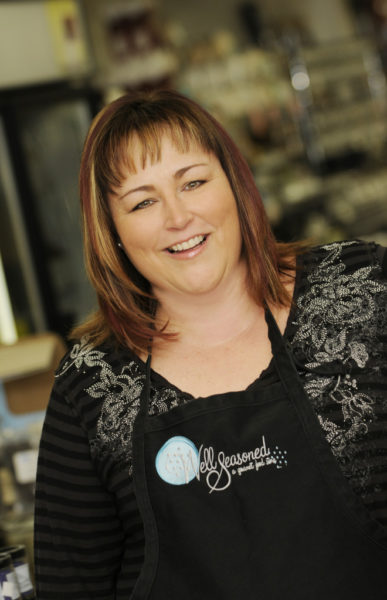 As the owner of Well Seasoned and a Councillor with the Township of Langley, how did you find time to write a book?
I've always been passionate about and believed in using food as a catalyst to bring people together for the greater good. When you are passionate about a project and presented with a truly once in a lifetime opportunity, you make time. How could I say no? Not many people are given a chance to work on a project like this, I made it a priority.
What inspired you to write a book about food in the Fraser Valley?
The Fraser Valley is my home. It's what I love and the people I love. I respect the work they do to feed our bodies and souls. The Valley is the greatest place on earth to live – we have an abundance of greatness. I want everyone to know about it and to come explore it for themselves.
What was your best experience in writing this book?
The collaboration was the best and the worst. Bringing so many chefs, producers, winemakers, cider makers, distillers and artisans together was not easy. They are all very busy people, but hearing them tell their stores and share their passion was well worth the effort. I am incredibly honoured that they took the time to be part of this project.
Over the last few years, the Fraser Valley has started to become more of a food tourism destination for those living closer to the city. What do you think has spurred that change?
Diversity. There is SO much to see and do, so many restaurants, farmgates, wineries, attractions, breweries, cideries, distillers and artisans – we are truly spoiled for choice!  People can spend a day or an entire weekend exploring and not begin to scratch the surface. It's fun to be out in the "country" exploring the farms and really seeing where your food comes from.
If you were coming out from Vancouver and only had a few hours to check out some places mentioned in Eating Local in the Fraser Valley, what are a couple you would recommend not to miss?
That really depends on the kind of places you want to visit. In the book there are tour recommendations for a Brewery Crawl, a Winery Tour, A Family Day Trip, A  Foodie Tour and a DIY – PYO (pick your own) tour. There are truly a TON of great choices. Your hardest decision will be deciding when you can come back!
As a food destination (ie restaurants, breweries) which city or area in the Fraser Valley is the most under-rated and one we should add to our must-visit list?
I think they are ALL under-rated. Hopefully this book shines an appropriate light on them and people become more aware of their overall awesomeness!  Each community has its own variation and choice depending on the make up of that community. I think Langley Township (I might be a little biased since that is where I spend the bulk of my time) has the best selection of restaurants, wineries, breweries, a cidery and a distillery….oh yeah, a great butcher and a fishmonger – Langley has it all!!
Eating Local In The Fraser Valley is set to release May 15, 2018 and is available to order via Amazon.ca or Chapters Indigo.
Interested in an advance copy? Pre-order through Well Seasoned's online store and enjoy in-store pick up on May 6th during the book launch party where Angie and a few producers from Eating Local In The Fraser Valley will be on hand to discuss their passion for local food and community.