The fun part of not overloading your schedule is the opportunity to discover something new. Here's the Thing Vineyard just opened this past May so it is definitely the newbie on Black Sage Road.
New it may be but co-owner Leah McDowell does know a thing or two about wine. Formerly the owner of a couple of BC VQA wine shops in metro Vancouver she has definitely brought with her wine knowledge and good public relations skills. Both valuable in operating a winery and meeting the public on a daily basis. Hubby Jamie, also a businessman in another life, is co-owner of Here's the Thing Vineyard. Cute name born from a note Leah wrote on a slip of paper. Big things come from small ideas sometimes.
The winery is brand new and the tasting room is delightful. Bright with large windows looking over their vineyards it is welcoming and comfortable. Saddle up to the bar or enjoy the long table away from the hustle or if you wish their covered patio is oh so comfortable and a great spot to just relax.
Leah took us through the flight of wines noting that their Viognier has already sold out but that left five very pleasant wines for tasting. Open now only on weekends note that they are still fairly busy.
What we tasted: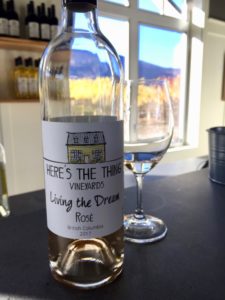 Living the Dream Rosé – we have attempted to make a Provencal-style Rosé. Light in colour, light on the palate and a dry finish all combine to give us a really refreshing summer sipper. Think patio snacks  – fresh cut salsa and chips or a bowl of nuts or olives.
$15
This was one tasty wine and hello check out the price point. Paler than you would expect but the flavour is definitely there. A summer sipper that will pair well throughout the year.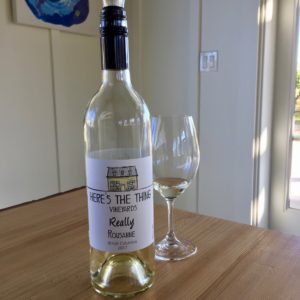 Really Rousanne – most often used for blending, we have bottled ours as a standalone Roussanne. A dry start and finish with explosive fruit through the middle, our Roussanne also has lovely texture. Think summer salmon and halibut or a cheesy vegetarian quiche.
$25
I enjoyed the Rousanne. It was crisp and fruity just the way I like my #bcwine.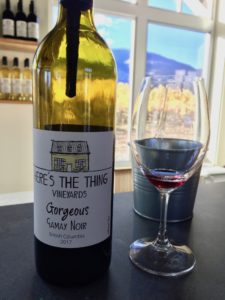 Gorgeous Gamay Noir – a beautiful garnet colour may lead you to believe this wine is light and although not super heavy, there is lovely weight with bright, cherry acidity. Think all manner of duck or, if like me, you cannot cook duck, roast a chicken or stir up some beef stroganoff.
$30
This Gamay Noir was a pleasant surprise. Not heavy but richer than many Gamay Noir I've tasted lately. The Gamay grape is somewhat elusive and I think you should give it a try. Glad that Leah and Jamie are hanging in with this varietal.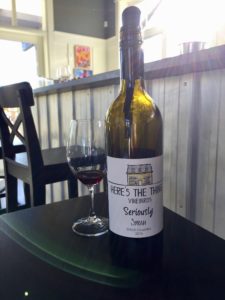 Seriously Syrah – our Syrah's heady aromas will have you taking a sniff before every sip. She is lush without being heavy and she is fruit forward but not sugary. Think any type of food at all – if you can eat it, it will pair with this Syrah. Or, if you like to drink your dessert, have a glass after the dishes are done.
$30
A sit down and put your feet up and enjoy Syrah. This will only get better with age.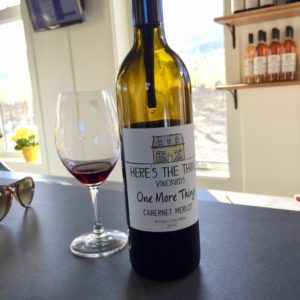 One More Thing Cabernet Merlot – this is a 50/50 blend of Cabernet Franc and Merlot. Again, big aromas invite you to smell over and over. Rich and round with a long, smooth finish, this is our heaviest wine. Think steak covered in S&P and flash grilled or big, strong cheeses or even a deep, dark chocolate cake.
$30
A right there, right now in your glass kind of wine for those that enjoy a full bodied wine. I found it quite delicious.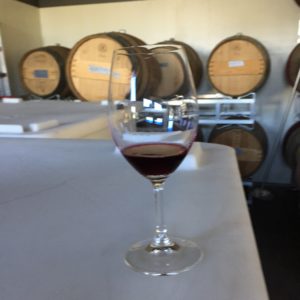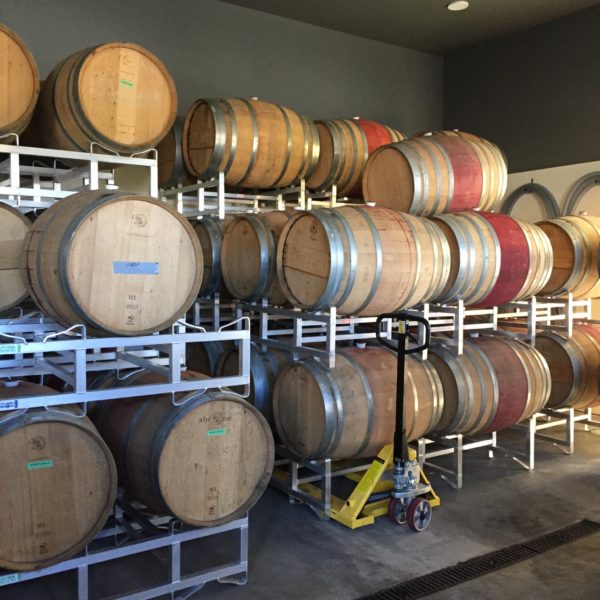 A little trip into the barrel room to try what we hope will be the stand alone Cabernet Franc. Definitely potential here.
Thank you to Leah for taking time from her busy schedule to give us a tour and a tasting. It's always a good day when you discover yet another good BC Winery. Welcome Here's The Thing.
When visiting BC Wine Country before you go: Do your homework and a bit of research about the wineries you wish to visit. Check the winery website to find out their months, days and hours that their Tasting Room is open. Know if you need to book your tasting in advance of your visit. Many wineries are now so busy there may be times that they are unable to accommodate you. It will be a much better visit if you have a confirmed appointment. Be on time. Expect to pay for your tasting, some, but not all wineries refund all or a portion of the fee if you purchase wine. Plan ahead for a designated driver or use the services of a wine tour company. Limit the number of wineries you visit in a day. A more leisurely timeline will increase your enjoyment. For the best overall experience, I like to limit my daily visits to three, maximum two wineries if a winery lunch is on the agenda.
Tasting notes: courtesy of Here's The Thing Vineyard