The Lion, the Witch and the Wardrobe Adapted by Ron Reed from the novel by C.S. Lewis
"A dream so beautiful you remember it all your life, always wishing you could get back into that dream again."
How do we make our world magical? Aslan is on the move – and on the Pacific Theatre stage in Ron Reed's acclaimed adaptation of The Lion, The Witch, And The Wardrobe. Artistic Director Reed's two-actor adaptation of C.S. Lewis' beloved tale has become something of a signature piece for Pacific Theatre, newly imagined this year by director Sarah Rodgers and actors Rebecca DeBoer and John Voth.
Peter and Lucy Pevensie may be adults now, but life in London cannot compare to their adventures in the land of Narnia, where they reigned with their siblings as kings and queens. When they revisit the Wardrobe, it doesn't take long for them to get caught up in reminiscence and relive their journey through a wintry land of terrible magic, kindly fauns, and the great lion Aslan.
Due perhaps to its imaginative two-actor staging – or to Lewis's ability to invite story-lovers of all ages into the world of Peter, Lucy, Edmund, and Susan – The Lion, The Witch, And The Wardrobe has become a Pacific Theatre holiday classic. "Narnia is magic because the audience brings magic to it," says Reed. "Without our audience, we're just a bunch of ordinary people putting on someone else's clothes and talking weird. To me, co-creation of the play is the essence of live theatre."
Sarah Rodgers, who directed last season's The Christians at the theatre, is eager to bring her own creative vision to Narnia and its denizens. "The Lion, The Witch, And The Wardrobewas one of my favourite books growing up. I think I spent most of my childhood on a quest for Turkish Delight. I am so thrilled to be guiding Ron Reed's delightful adaptation with two inventive, witty, talented actors while collaborating with Vancouver's finest designers: Lauchlin Johnston, John Webber, Julie Casselman, and Sheila White. I feel like I have entered a magic wardrobe myself."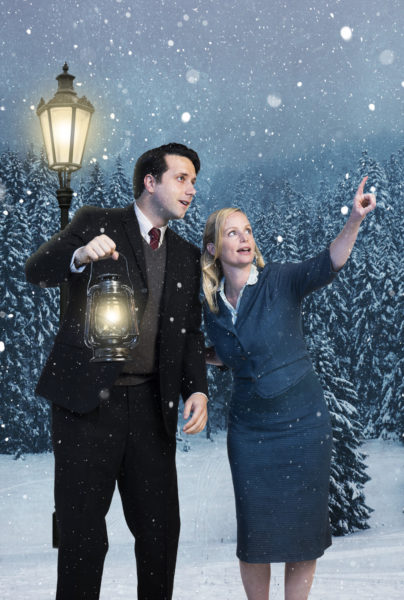 The Lion, The Witch, And The Wardrobe opens Friday, November 30th and runs until December 29th at Pacific Theatre.
RAVE REVIEWS
"It's truly astounding what can be done with two actors, minimal props, and minimal costumes."
– The Vancouver Courier
"The approach feels deeply appropriate for the story. By encouraging imagination, the audience become collaborators in creating Narnia's colourful world."
– Vancouver Plays
ARTISTIC TEAM
Directed by Sarah Rodgers. Featuring Rebecca DeBoer and John Voth. Assistant Direction by Shelby Wyminga. Set Design by Lauchlin Johnston. Props Design by Dianna Lewis. Sound Design by Julie Casselman. Lighting Design by John Webber. Costume Design by Sheila White. Stage Management by Linnea Perry.
We are thrilled to bring Peter, Lucy, and Narnia back to the Pacific Theatre stage. Our two-actor adaptation of Lewis's magical novel has been interpreted by pairs of actors and directors since our first staging in 1998, and now Sarah Rodgers, John Voth, and Rebecca DeBoer are re-imagining Peter, Lucy and the world of Narnia.
| | |
| --- | --- |
| Details: | THE LION, THE WITCH, AND THE WARDROBE adapted by Ron Reed from the novel by C.S. Lewis |
| When: | Nov 30 – Dec 29, Wed-Sat at 8pm with 2pm matinees Saturdays. Pay-what-you-can preview Nov 29. |
| Where: | Pacific Theatre, 1440 W 12th Ave (at Hemlock), Vancouver, BC |
| Tickets: | $20-36.50 (not incl. GST). To book visit pacifictheatre.org or call 604.731.5518 |