If you haven't visited 40 Knots Winery in the picturesque Comox Valley you really do need to drop by. Open Tuesday through Sunday from 11 am to 5:00 pm. They love visitors and have a really neat tasting room with bar seating and long table seating. Take a seat, meet new friends and taste some Vancouver Island wine.
So which wines are on our personally recommended list? It was hard to pare it down to just a few because we enjoyed the wines so much. There is a wide range available at the Winery and online including from the Stall Speed Collection. So head over to their website to see everything on offer. You can read some background about Ziggy and other happenings "Little Ziggy is Fighting Back". Now resolved it's still an interesting read for wine fans and dog lovers.
Auxerrois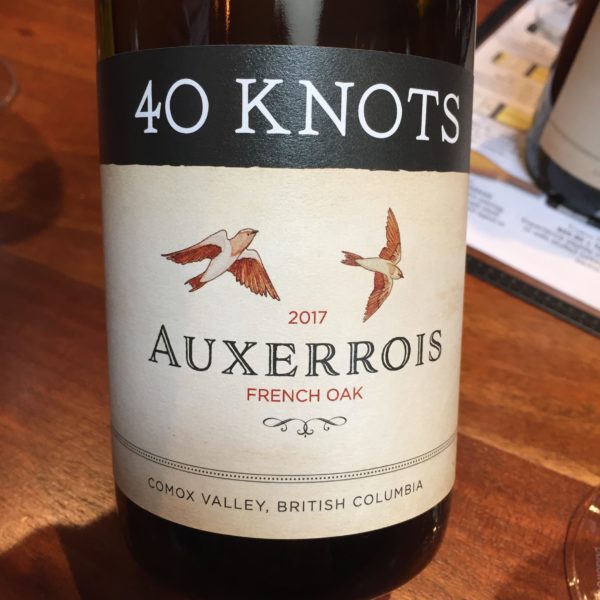 Experience this rare find with fresh seasonal cuisine.  This beautiful wine is lightly oaked, medium body and a big hit mid palate.  Alsational style with pineapple, lemon, lime and pear.  May take on a Riesling character in time.  Rich and oily.
Tasting Notes
If you love food, this juicy well-rounded Auxerrois is your soul mate. Experience this rare find with fresh seasonal cuisine.
Winemaker Notes
Juicy, balanced, big hit of acidity mid palate. Medium body. Loves Food. Alsation style of subtle pineapple, lemon, lime and pear. May take on Riesling flavors in time, of canned pineapple, green apple, tobacco and sage, possibly petrol. Rich and oily.
White Seas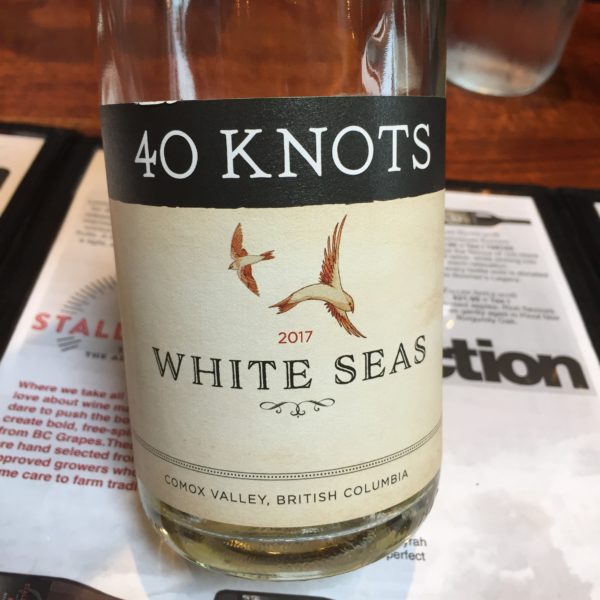 Designed as an all-encompassing white wine to showcase the delicate, refreshing, yet complex wine style only found on Vancouver Island.  Clean fruit, hand harvested and whole bunch pressed.  Slow and cool fermentation in stainless steel to retain aromatics.
Taking in all the varieties of 40 Knots vineyard on a Coastal Cool Climate terroir of glacier till soil facing the Salish Sea.  This vineyard boasts rich salt air and warmer day temperatures than surrounding areas, with beautiful cool night ocean breezes.
A focused and lengthy mouthfeel that finishes with zing.  Spicy, floral, tropical stone fruits.  A perfect accompaniment to fresh air.
L'Orange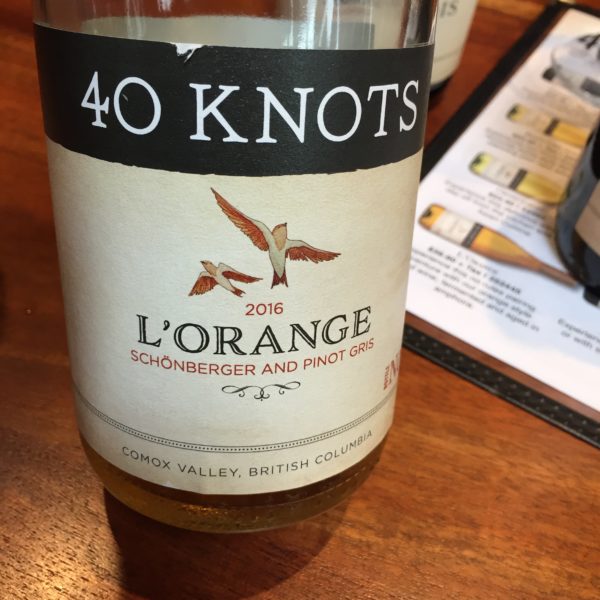 Two of the wines are definitely not run of the mill wines. I think they would make a great gift for the more adventurous wine lover on your list.
Tasting notes courtesy of 40 Knots, images MyVanCity. I received  both a selection of wine complimentary and I also purchased wine to facilitate this article. All opinions are my own.