Gourmet 'Heat-and-Serve' Dinners Available for Pick-Up or Delivery December 24, 25 & 26
Railtown Catering is simplifying the busy holiday season once again this year by bringing back their hassle-free Holiday Turkey To-Go packages, available for pickup or delivery on December 24, 25 and 26.
Prepared from scratch by Railtown Catering's award-winning team of classically trained chefs, each traditional holiday dinner serves eight to 10 guests and features a pre-carved 16-lb. sage-roasted turkey with all the trimmings – including giblet gravy, dried apricot, chestnut & brioche stuffing, Brussels sprouts with toasted almonds, mashed Yukon gold potatoes with chives – and pecan pie with Chantilly cream for dessert. Larger groups can supplement their ready-made festive feast with extra side dishes, sauces and desserts on an à-la-carte basis.
— Holiday Turkey To-Go Menu —
16-lb. Sage-Roasted Organic Turkey
Traditional Giblet Gravy
Dried Apricot, Chestnut & Brioche Bread Stuffing
Maple-Glazed Sweet Potatoes
Mashed Yukon Gold Potatoes with Chives
Buttered Baby Carrots
Brussels Sprouts with Toasted Almonds
Wild Flower Honey & Ginger Infused Cranberry Sauce
House-Made Dinner Rolls & Focaccia Bread with Sweet Butter
Organic Mesclun Greens with Candied Walnuts, Citrus Segments, Aged Sherry Vinaigrette
Classic Pecan Pie with Chantilly Cream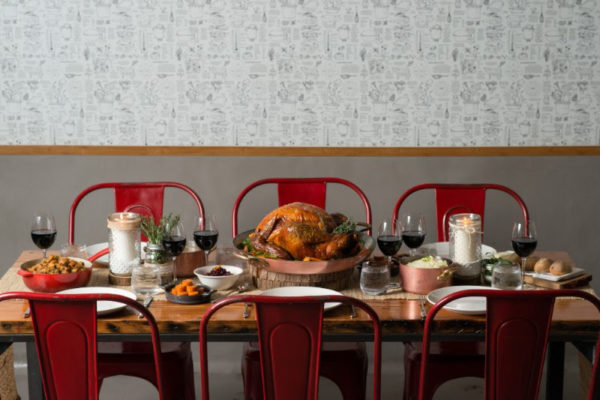 'Heat and Serve' Holiday Turkey To-Go packages are priced at $319 and will be available for pickup between 10 a.m. and 5 p.m. at Railtown Cafe (397 Railway Street) in Vancouver on Monday, December 24, Tuesday, December 25 and Wednesday, December 26, or by delivery for an additional charge. Hot 'Ready to Eat' packages are also available for an additional $50 and for pickup only between 3 to 5 p.m.
Once again, Railtown Catering will be giving back this holiday season and donating a portion of the proceeds from the sale of each Holiday Turkey To-Go package to Mission Possible, a non-profit neighbourhood organization that provides street-level care for those with immediate and critical needs in Vancouver's Downtown Eastside.
TO ORDER
Orders for Railtown Catering's Holiday Turkey To-Go packages must be received by Wednesday, December 19 at Noon and may be placed online at railtowncatering.ca/2018-holiday-turkey-to-go or by calling 604-568-8811.


ABOUT RAILTOWN CATERING | Led by Chef/Partners Dan Olson and Tyler Day and located in the heart of Vancouver's heritage Railtown District, Railtown Catering offers a signature combination of classical French technique and inspired West Coast style and provides personalized food and beverage menus for a wide array of private and corporate functions as well as daily office deliveries throughout Vancouver. Whatever the celebration or location, Railtown Catering's friendly and intuitive team of chefs, event planners and elite service staff have earned a reputation for creativity, innovation and finesse by delivering a refined, first-class experience from start to finish.
For more information about Railtown Catering, visit railtowncatering.ca, become a fan of /RailtownCatering on Facebook or follow @RailtownCaters on Twitter and Instagram.
397 Railway St., Vancouver, B.C. V6A 1A4 | Mon – Fri 9 a.m. to 5:30 p.m. | 604-568-8811
Media release and images provided by Jessica Napier, SMC Communications