Pacific Theatre presents:
C.S. Lewis'
"The Lion, the Witch and the Wardrobe"
A play by Ron Reed
C.S. Lewis's beloved fantasy, "The Lion, the Witch and the Wardrobe", has been delightfully reincarnated in Ron Reed's play of the same name, now being performed at the Pacific Theatre.
Lucy and Peter, two of the four children in the original novel, meet as adults in the 'spare room' for what they imagine will be a brief reminiscence about their childhood: the wardrobe and their adventures in the land of Narnia, which they entered through a magic door at the back of the wardrobe.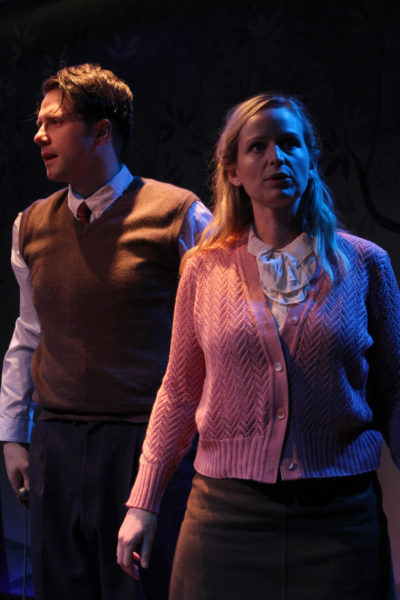 As they begin to recall the details, their memories feel so real that they are almost transported back to Narnia, recounting their encounters with Mr. Tumnus, the White Witch and Aslan, among others.
The real magic in the production is created by the two actors, Rebecca DeBoer and John Voth, who play all of the characters, imbuing each with his or her appropriate voice and personality.   It took only a second or two for costumes and personas to change completely; the story line never faltered as a professor became a beaver or one child became another.
The costumes, designed by Sheila White, were phenomenal, allowing the actors to change identities quickly, their new character being easy to identify. Each of the props, chosen by Dianna Lewis, had several different roles to play as well, and worked well in their many iterations.
"The Lion, the Witch and the Wardrobe" is a production for audiences of all ages. Children will be entranced with their first visit to Narnia, and those who are returning, as Lucy and Peter did, will be transported to the magic world again.
"The Lion, the Witch and the Wardrobe is playing at the Pacific Theatre, 1440 W 12th Ave, Vancouver, BC, until December 29, 2019. For more information and tickets, visit PacificTheatre.org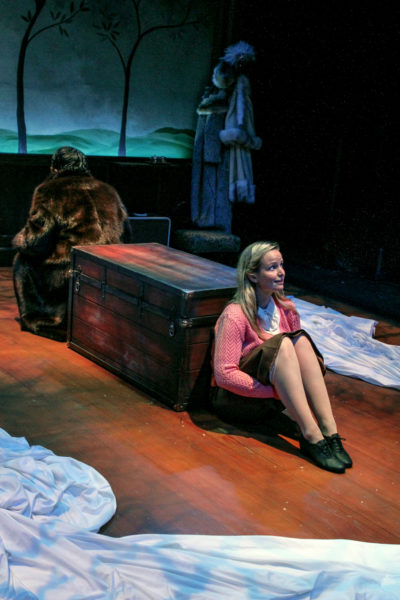 Article by Judy Robb
Photos by Ron Reed