Feathery snowflakes, harmonious carols of merriment and yuletide cheer fill the winter air with warmth and joy this Christmas. Join in the festive revelry and soak up the joyous spirits with a luxurious Night of Noel™ Set
A Night of Noel with TWG Tea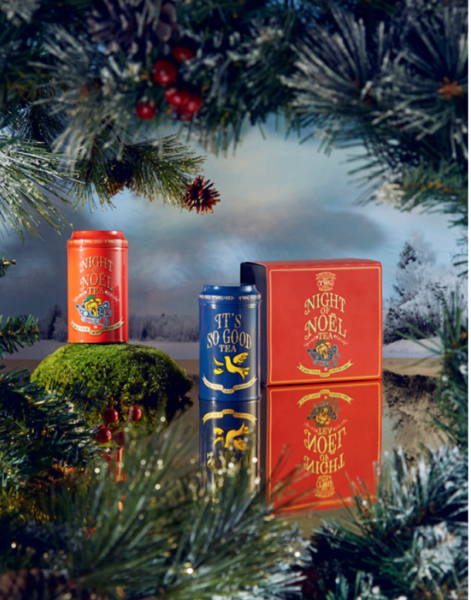 As the winter woods come alive with feathery snowflakes showering the dazzling night sky, Harmonious carols of merriment bring peace and yuletide cheer from far away, A warm midnight glow beckons on the holy night of Noel.
Heralding the Christmas season in grand style, TWG Tea lightens the joyous spirits with a limited-edition Night of Noel Tea™ Set – just in time for the season of holiday gifting.
Encased in a gift box embellished with delicate gold embossing and elegant ruby red sleeve, this precious set features an enchanting duo of Night of Noel Tea and It's So Good™ Tea. Packaged in a tin adorned with festive imagery of snowy sleigh rides, the Night of Noel Tea brings good tidings in a rich and joyous black tea blended with wild forest berries, tender caramel, and enlivened by a scattering of nutty silver needles. Reminiscent of a perfect slice of warm pie on a cold winter's afternoon, It's So Good Tea rekindles love and faithfulness in a cup of malty black tea blended with tart blossoms and melting berries.
The Night of Noel Tea Set (100g of tea per tea tin) will be available at the TWG Tea Salon & Boutique in Vancouver from 15 November 2018 and retails at $99.80.
A Bespoke TWG Tea Holiday Collection
Red Christmas Collector's Tea Tin
Showcasing the artistic collaboration between TWG Tea Co-Founder, Taha Bouqdib and French Artist RAM Aron, TWG Tea has elevated the lowly tea tin into an exquisite masterpiece with the Collector's Tea Tins. Featuring sublime creative interpretations of the most beloved TWG Tea fine harvests teas and exclusive blends, the tins are a detailed reproduction the most iconic hand-painted tea tins found in TWG Tea Salon & Boutiques around the world.
This Christmas, TWG Tea adds warmth to a cold winter's night with a gorgeously crafted ruby Red Christmas Collector's Tea Tin emblazoned with holiday cheer. This eye-catching tea tin is filled with fifty luxurious, 100% cotton teabags of Red Christmas Tea, a blend of theine-free red tea with a festival of holiday spices promising a wonderful assembly of rich flavours to be appreciated and enjoyed amongst family and friends.
TWG Tea Glamour Collection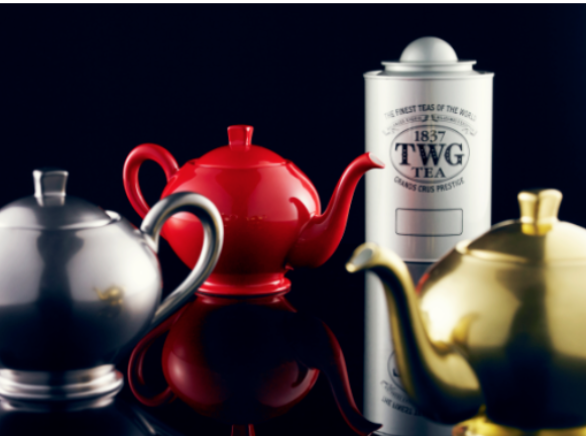 For the midas touch, the elegant porcelain Glamour Collection is simple yet refined addition to any festive cheer, a happy balance of tradition and modernity. With a milky white porcelain interior, the teapots are available in bright floral hues or in hand painted gold and platinum, perfect for any variety of tea. Reminiscent of the silhouette of a flower, a matching collection of porcelain tea bowls in rainbow hues, lined with an opalescent inlay or hand painted in precious metals, were painstakingly shaped to perfectly fit the curve of the mouth.
TWG Tea Christmas Hamper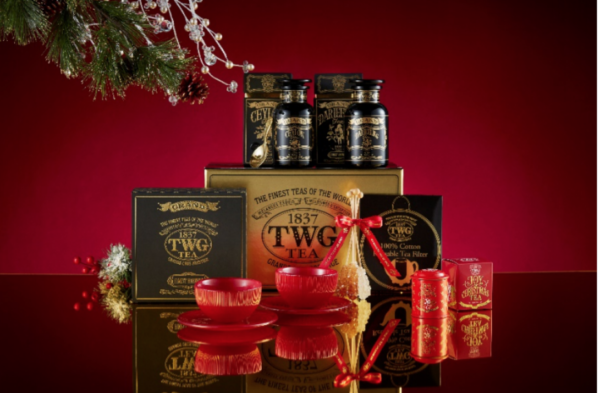 For the ultimate bespoke gift, create your own unique TWG Tea hamper by choosing from our collection of over 800 single estate, fine harvests and exclusive tea blends from 46 tea-producing regions around the world, exquisite tea accessories, gorgeous packaged teas, and tea-infused gourmet delights.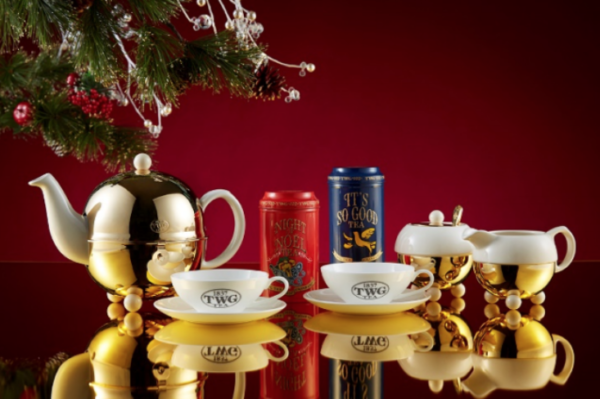 Complete the Night of Noel Tea Set with signature tea accessories from the modern TWG Tea Design Collection or the elegant porcelain Glamour Collection. The perfect Christmas gift for your family and loved ones.
Menu by TWG Tea.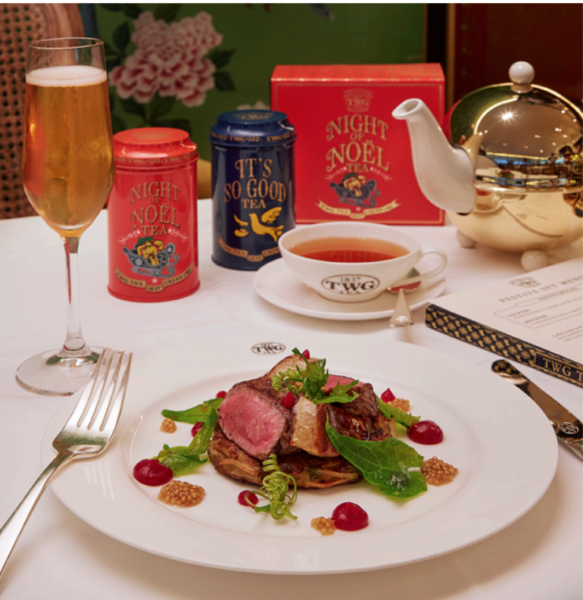 Begin the jolly festivities with a glass of sparkling white wine magically infused with Night of Noel Tea. Indulge in the luscious flavours of foie gras escalope and New Zealand lamb loin topped with a drizzle of succulent lamb jus, accompanied by a potato and chestnut pancake, and served with White ChristmasTea infused mustard seed pickles, cranberry coulis and wilted chayote leaves – an enticing main course wholeheartedly created for the festive season.
A perfect accompaniment to this delectable dish is a rich and aromatic cup of Night of Noel Tea, black tea blended with wild forest berries, tender caramel, and enlivened by a scattering of nutty silver needles.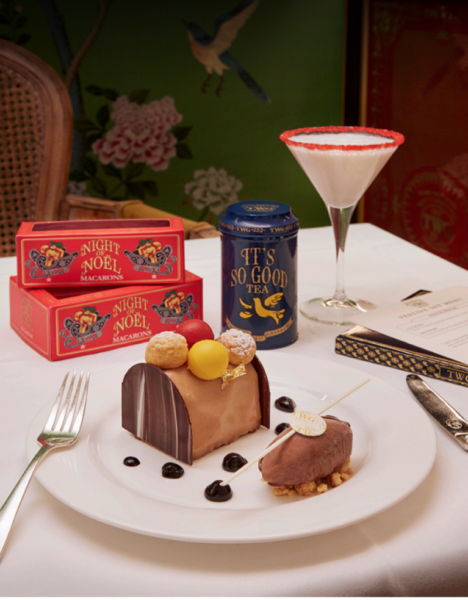 End the multi-sensory gastronomic experience with your favourite choice of Night of Noel Tea infused mini log cake. Embracing the finest ingredients of the season, rejoice with a mini log cake of chestnut sponge layered with strawberry confit and Night of Noel Tea infused Bavarian cream, glazed with red chocolate and topped with a gold leaf and a whole chestnut.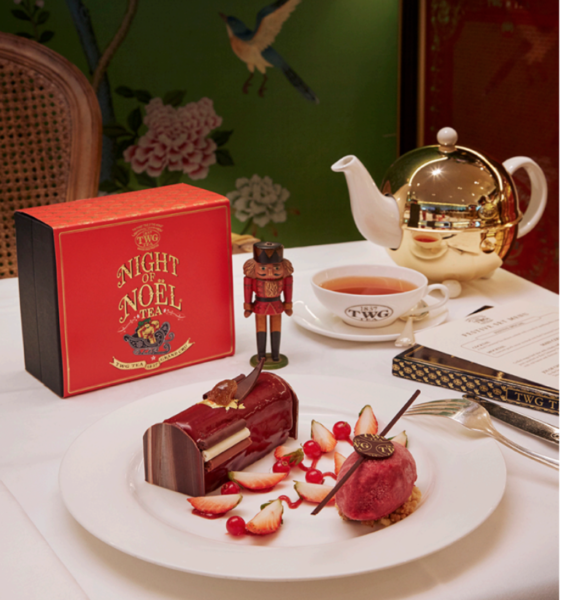 Chocolate aficionados will be serenaded by a sacher chocolate and hazelnut dacquoise mini log cake with Night of Noel Tea infused crémeux, praline ganache and mascarpone mousse, topped with mini vanilla crémeux choux puffs.
TWG Tea's full Festive Set Menu is priced at $72 for a main course, tea and dessert. Tea-infused cocktail is available at an additional $12. TWG log cakes are available in both mini (one portion) and large (eight portions) sizes and are priced at $9.50 and $78 respectively.
Available at TWG Tea Salon & Boutique in Vancouver from 3 December to 15 January 2018.King's Centre, 390 Havelock Road, #05-01, Singapore 169662 Tel: +65 6733 7997 Fax: +65 6737 9030 Singapore – Tokyo – London – Hong Kong – Dubai – Kuala Lumpur – Bangkok – Manila – Phnom Penh – Jakarta – Seoul – Shanghai – Taipei – Ho Chi Minh – Doha – Vancouver – New Delhi – New York
Limited Edition: Night of Noel Tea Macarons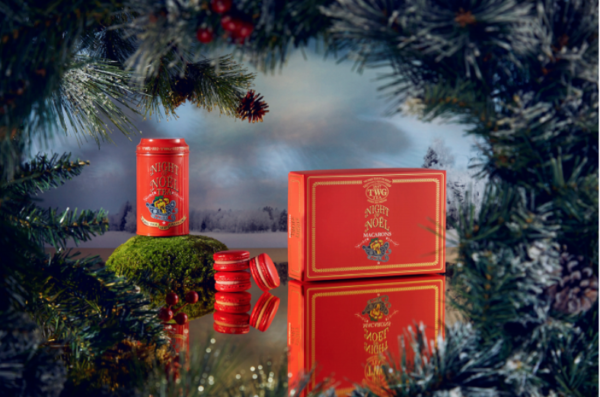 In tantalising shades of Santa Claus red and hints of gold, TWG Tea has transformed its signature tea-infused macarons into delicious jewels of bitesized confection. The limited edition Night of Noel Tea infused macaron showcases a smooth and crisp red almond shell delicately filled with a velvety smooth Night of Noel Tea infused strawberry ganache. A decadent sweet treat to delight.
View and shop the TWG Tea Holiday Collection here
About TWG Tea
TWG Tea, the finest luxury tea brand in the world, was established in Singapore and celebrates the year 1837 when the island became a trading post for teas, spices and fine epicurean products. TWG Tea, which stands for The Wellbeing Group, was founded by Taha Bouqdib, Maranda Barnes and Rith Aum-Stievenard in 2008 as a luxury concept that incorporates unique and original retail outlets, exquisite tea rooms and an international distribution network to professionals.
Committed to offering teas directly from source gardens, TWG Tea's collection is the largest in the world, with fine harvests from every tea producing country and exclusive hand crafted tea blends. Internationally recognised as a true innovator with the creation of new varieties of tea every season in collaboration with the world's most renowned estates, TWG Tea also offers exquisite signature modern tea accessories and delicate tea-infused sweets and savouries.
After launching its first Singapore tea salon & boutique at Republic Plaza in 2008, TWG Tea has opened in iconic destinations such as ION Orchard, Marina Bay Sands and Takashimaya Singapore. Expanding its presence internationally,
TWG Tea has heralded the opening of exquisite Tea Salons & Boutiques in Bangkok, Dubai, Guangzhou, Hong Kong, Kuala Lumpur, Taipei, Tokyo, Manila, Jakarta and Shanghai. In addition, TWG Tea's exclusive collection of the finest teas of the world is available from TWG Tea Boutiques in Harrods Knightsbridge, London and Dean & DeLuca Madison Ave, New York. The premier tea supplier to the finest hotels, restaurants and international airlines, TWG Tea is retailed around the world in gourmet épiceries, including El Corte Ingles in Portugal, Feinkost Kaefer in Germany, David Jones in Australia and GUM in Moscow, Russia, and served in Business Class, First Class and Suites and in the Lounges of Singapore Airlines and Nippon Airways.
TWG Teas are available in Singapore, Australia, Azerbaijan, Belgium, Cambodia, Canada, China, the Czech Republic, Denmark, Estonia, Germany, Hong Kong, India, Indonesia, Japan, Kuwait, Macau, Malaysia, Maldives, Mauritius, Mexico, Morocco, New Caledonia, New Zealand, Pakistan, Philippines, Portugal, Qatar, Russia, Saudi Arabia, Seychelles, South Africa, South Korea, Spain, Taiwan, Thailand, Turkey, Ukraine, the United Arab Emirates, the United Kingdom, the United States of America, and Vietnam. European online orders can be made at www.Harrods.com;
Online orders within the USA can be made at www.DeanDeluca.com; Canadian orders may be made online at www.VansingDG.com; worldwide online orders can be made directly from the TWG Tea e-Boutique and m-Boutique at TWGTea.com.
Follow us on social media and tag us with #TWGTeaOfficial #TWGTeaCanada #TWGTeaNightofNoel
Facebook – https://www.facebook.com/TWGTeaOfficial and https://www.facebook.com/TWGTeaCA
Instagram –@TWGTeaOfficial and @TWGTeaCA
Twitter – @TWGTeaOfficial and @TWGTeaCA
YouTube – https://www.youtube.com/user/TWGTea1837
Media release provided by Kyra Tao, Vansing Distributor Group. Images courtesy of TWG Tea.