The View Winery's Pearls Traditional Brut is one of our favourite sparkling wines.Pearls is often featured in our #FavouriteThings personally recommended wine suggestions. With Valentine's Day looming we thought we should remind you to think "bubbles" and the multi-award winning Pearls is tops on our list. Of course Pearls Traditional Brut is a year round indulgence so we suggest you pick up a few bottles just because.
Pearls Traditional Brut 2016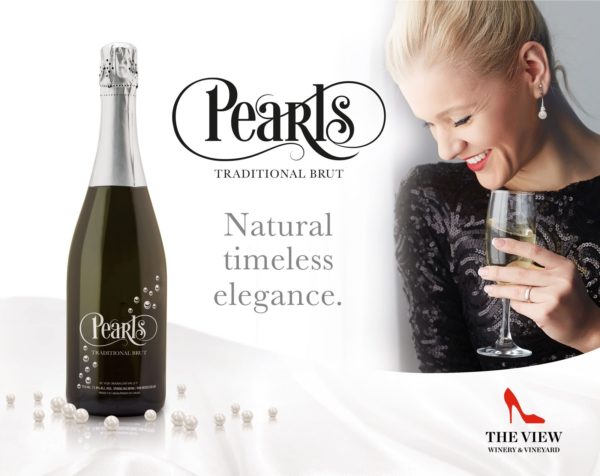 This elegant, dry, sparkling Riesling has notes of crisp green apple, citrus and subtle minerality which dance on your palate with lively effervescence. For centuries the delicate procession of bubbles in sparkling wines has been referred to as "perlage". We call it Pearls.
The 2016 vintage saw nearly idyllic growing conditions for aromatic whites in our central Okanagan estate vineyard. With these exceptional conditions we were inspired to create something different in 2016, our first traditional methode champagne style wine.  For this, we selected fruit from our 5 acre Riesling block which is situated at the highest point in our vineyard, benefiting from extended sunlight and well drained soils. Partial malo-lactic conversion softened the wine and added mid-pallet depth, before the wine was blended with 7% of our signature White Pinotage. This cuvee was stabilized, filtered and bottled on site with encapsulated yeast and its liquer d'tirage, resulting in a secondary bottle fermentation. After resting sur lees in bottle for 16 months, this wine was disgorged with just a touch of residual sugar added to balance the wine.
Pairs well with celebration! Also pasta with a buttered cream sauce, buttered popcorn, Brie chesses, shrimp or shellfish, stuffed mushrooms and fruit based desserts. Shortbread cookies are a fun and surprising pairing; the acidity in Champagne cuts through the rich butter of the cookie
Cases Produced: 277

Harvest Date: September 19, 2016

Bottling Date: End of June 2017

Grapes: 93% Riesling, 7% White Pinotage

Total Acidity (TA): 9.50 g/L

Residual Sugar (RS): 5.00 g/L

Alcohol: 11.80%

Oak Program: 9% Neutral French Oak Barrel Fermentation

Sweetness Scale: 1.00 (Dry)