Easter is a fantastic time of year for food. Dishes like ham, scalloped potatoes, hot cross buns, spring vegetables and delicious desserts cover the table as families come together to enjoy each other's company.
One of the most traditional proteins served for Easter dinner is lamb. This year, put a twist on tradition and surprise your guests with Lamb Barbacoa Tacos courtesy of Chef Alex Chen and All-Clad Canada!
The delicious seasoning blends familiar flavours like cumin, peppercorn and cinnamon with exotic spices like star anise and ancho chillies. Celebrate Easter with a twist by serving this traditional Mexican dish!
Chef Alex Chen's Lamb Barbacoa Tacos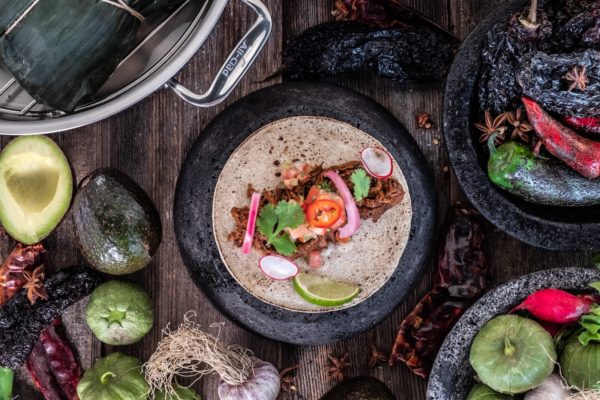 Adobo Seasoning Paste: Yields 200ml or 3 recipes worth
1 dry chipotle
2 pieces guajillo peppers
2 pieces ancho chilli peppers
1/3 of a white onion
10 garlic cloves
2 cloves
1-star anise
1/3 teaspoon cumin seeds
1/2 cup cider vinegar
1/2 teaspoon black peppercorn
1 inch piece of a cinnamon stick
Adobo Seasoning Paste

1.     Toast dry chillies over a grill on low heat for 1 minute. 
2.     Soak the chillies in hot water for 20 minutes to soften. 
3.     Remove the chillies from the water and remove all the seeds. 
4.     Grill the onion and garlic on medium heat until slightly blistered. 
5.     In a dry saucepan, gently toast the cumin, cloves, star anise, peppercorn and cinnamon stick over a gentle heat for 3 minutes, gently moving the pan around the stove to agitate the spices.
6.     Blend all ingredients together until smooth in a high-speed blender and set aside.
Lamb shoulder

3 lbs boneless lamb shoulder
Banana leaves
Butchers Twine
70 ml of Adobo
A generous amount of kosher salt
1.      Preheat oven to 325˚F.
2.     Wipe the wax off the banana leaves with a damp cloth.
3.     Overlap the banana leaves, at least 2 layers.
4.     Season the lamb with a generous amount of salt.
5.     Spread the adobo paste on the lamb until fully covered.
6.     Wrap the banana leaves around the lamb to form a tight parcel and tie with butcher's twine.
7.     Add 2 cups of water to the bottom of your HA1 Hard Anodized Nonstick Roaster and put in the roasting rack.
8.     Place lamb parcel on the rack, cover with a lid.
9.     Cook for 4 hours, checking after 3 hours – the meat should be fork tender.
10.  Add more water if needed and cook further until desired tenderness.
11.  Let rest for 30 minutes.
12.  Combine the lamb with the liquid from the bottom of the roaster in a bowl and shred the lamb into small pieces with a fork.
13.  Adjust seasoning, adding in more adobo if desired.
Pico de gallo

2 whole Roma tomatoes, diced
1/3 of a medium red onion, diced
Cilantro, chopped
1/3 of a lime's juice
Lime zest

 

Pinch of kosher salt
1 tablespoon olive oil

 

Cracked black pepper
1.     Combine all ingredients in a bowl.
Assembly

20 fresh corn tortilla shells
4 lime wedges
20 pieces shaved radish
Chopped cilantro leaves
Cooked and shredded lamb

 

Pico de gallo
1.     Grill tortilla shells spraying with water from a spray bottle to steam the tortilla.
2.     Place 1 large tablespoon of lamb on the tortilla and garnish with pico de gallo, shaved radishes and cilantro. Put lime wedge on the side.
About Chef Alex Chen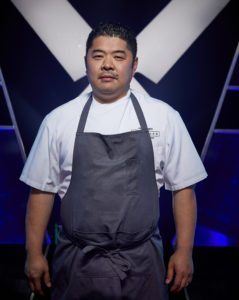 Alex Chen is one of Canada's most respected chefs and an All-Clad Canada Ambassador. Chen spent six years as executive chef at the legendary Polo Lounge in the Beverly Hills Hotel and currently heads the kitchen at Vancouver's Boulevard Kitchen & Oyster Bar.
In 2013, he led Team Canada to a top 10 finish at the prestigious Bocuse d'Or in Lyon, France. More recently, in November of 2018, Alex became the first challenger whose "cuisine reigned supreme" on the inaugural season of Iron Chef Canada when he defeated Iron Chef Hugh Acheson in the fourth episode of the Food Network Canada cooking competition television show.
Alex's culinary vision is an inspired recipe of family tradition, classical technique and an artful infusion of casual West Coast flair and international influences.
Chef Alex Chen was a regular contributor to MyVanCity #TasteofThursday feature from September, 2015 until December, 2016. You can see Chef Alex recipes here.
If you would like to experience the culinary delights of Chef Alex Chen join him on Saturday, April 28 at a collaborative dinner with Top Chef Canada contender Chef Paul Moran at 1909 Kitchen at the Tofino Resort + Marina. More info here.
Media release, recipe and images provided by Aeryn Pfaff, Butter PR. Lamb Barbacoa Tacos image photo credit: Leila Kwok.
[wdi_feed id="2″]