It is always a treat to find a "local" restaurant within your own neighbourhood. A place where you can come by for a complete dinner and or just stop for a glass of wine. Where you are always greeted by friendly faces and thoughtful staff.
Vancouver is a mecca of good dining establishments but often it is nicer to just stay in your own neighbourhood. Especially at this time of year when the sun is shining and it's pleasant to walk to your destination.
Right now Fiore has a special Sicilian menu available, including suggested wine pairings. The price is a real deal at $55.00/person, not including taxes or gratuity.
Here's what you get:
FIRST
2017 Regaleali Bianco, Sicily, IT
&
squid ink risotto
squid, asparagus, mascarpone, lemon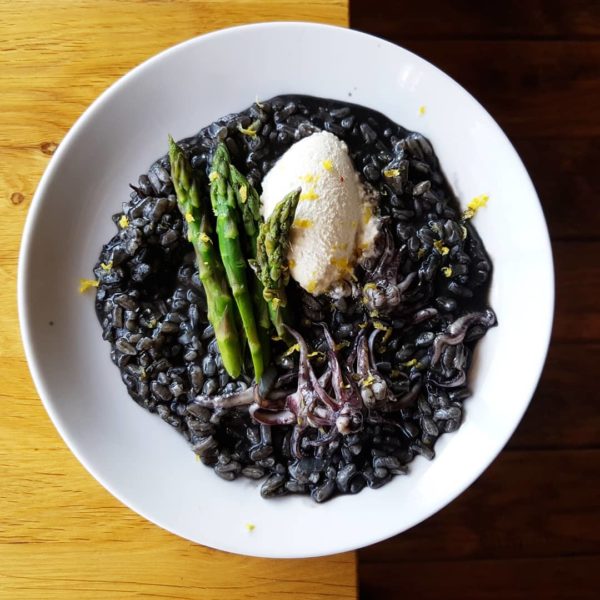 SECOND
2016 Planeta Cerasuolo di Vittoria, Sicily, IT
&
pan seared halibut
strangolapreti, spinach, shallots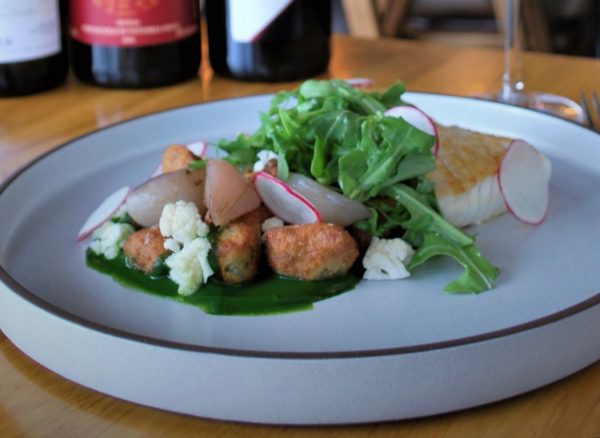 THIRD
2015 Le Casemate Peloro, Sicily, IT
&
cheese board
pecorino siciliano, apricot jam, lavosh, almonds
Fiore's al a carte dinner menu is still available if you opt out of the Three Course Sicily dinner feature. Or you want to mix it up a little and one guest orders the featured dinner and the other guest orders al a carte. Whichever you choose you will not be disappointed.
Not sure you want to vary from Fiore's regular dinner menu. We weren't sure either so here's how my guest and I did it the other night at Fiore.
Sharing! We opted to share plates and the kitchen was most obliging by either plating one dish onto two plates, or in this case two bowls. We started with the spring pea soup (v) with fired chicken, sunchokes chips, drizzled with basil oil. It was delicious. The portions of chicken was generous and the soup was so good, a perfect starter.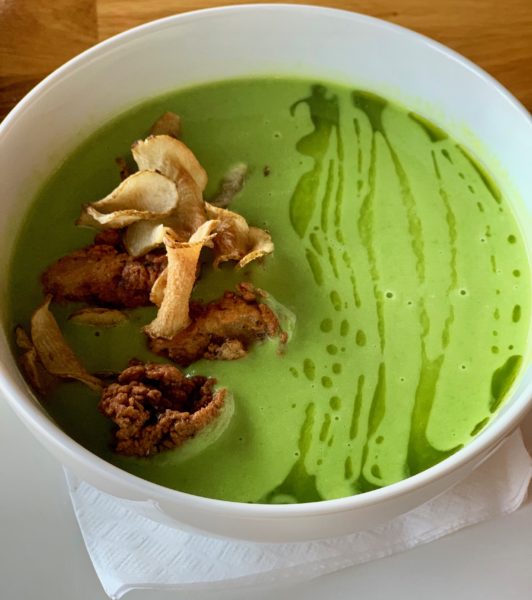 Next we ordered all four "sides" and shared. Everything was superb, so fresh and flavourful.
sides

beets (v)
apples, ricotta, coriander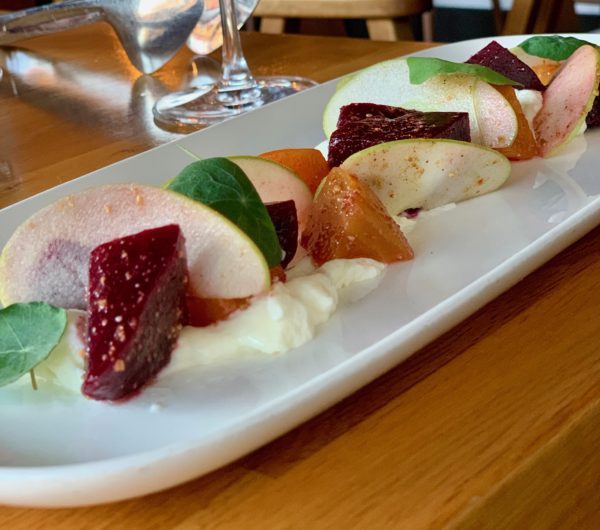 asparagus      
guanciale, parmesan , garlic bread crumbs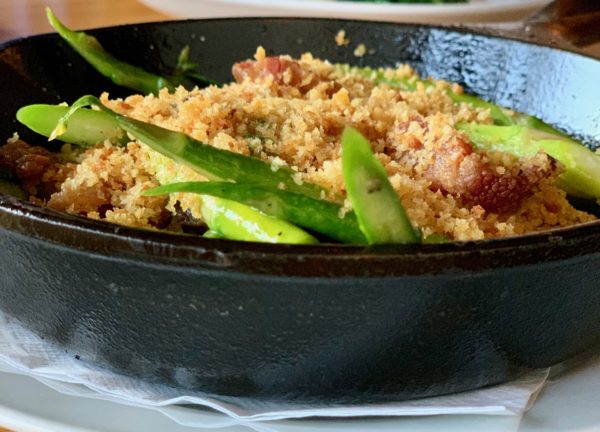 arugula  (v)
basil pistou, pecorino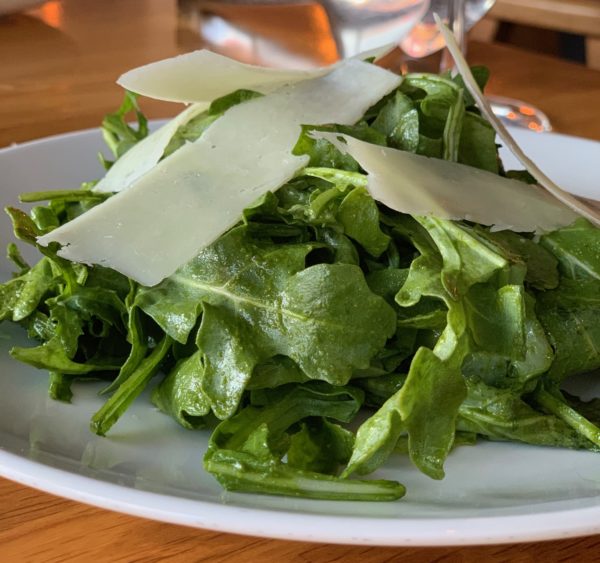 wilted baby kale
pickled rasins, pine nuts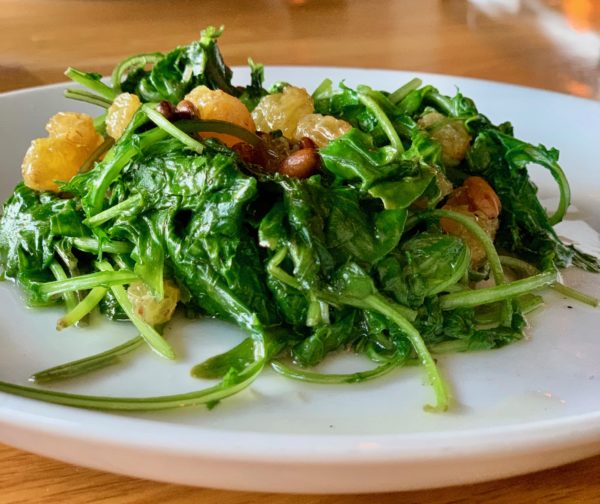 Hard to believe but we still weren't finished indulging ourselves. Here are the two mains we enjoyed.
entrées
pappardelle bolognese      
tomato sauce, parmesan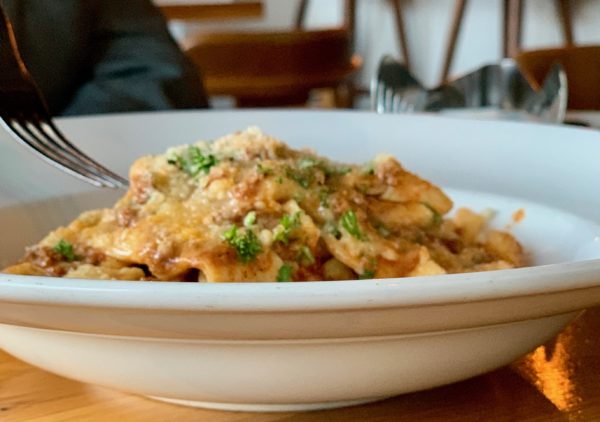 gnocchi      
spring vegetables, leeks, pesto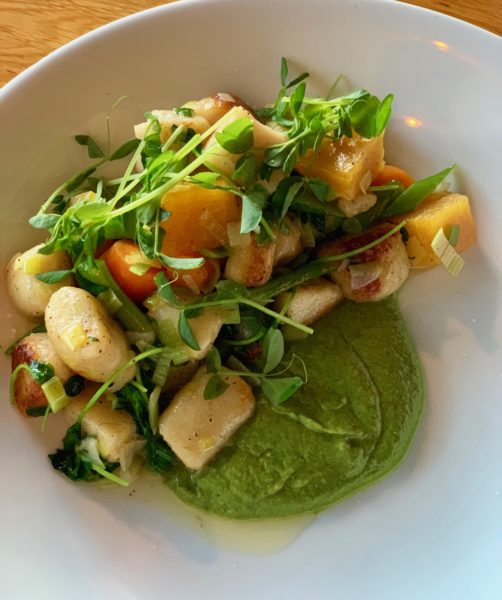 Confession time: we took at least half of our mains home for lunch the next day!
Fiore has an excellent wine list with mainly Italian wines but we were going off the grid instead of going with the Sicilian wine pairing dinner we thought we would have BC VQA wines by the glass with our dinner; I enjoyed the LaStella Lastellina Rosato, my go to favourite at Fiore and my companion had the hatch Cabernet Franc (first time trying this wine and he declared it excellent). Sounds like there will be more BC wines on the Fiore wine list before summer. I for one look forward to more BC wines being available by the glass or by the bottle. Kudos.
This was so much fun and worked well for our evening. Just means we have to go back and have the Explore Sicily three course menu another time. The Explore Sicily three course menu is available until May 15.
Here are some suggestions: we would have been equally satisfied sharing the Spring Pea Soup and then having two mains, or if we weren't quite so hungry two sides and even sharing any of the fabulous pasta main dishes on the dinner menu would have been ideal.
For smaller appetites you can dine for $12.50 per person! What you say only $12.50 per person? That's right. We so enjoyed the four sides we shared along with the mains but I can see occasions when you're either not as hungry or you had a late lunch or you just want light fare. The four sides were so delicious and all could be modified to be completely vegetarian, great when the kitchen is so obliging. Such a deal.
fiore restaurant
1485 West 12th Ave
(just east of Granville St)
open for dinner
tuesday – saturday
5:00pm – late
happy hour
8:30pm – close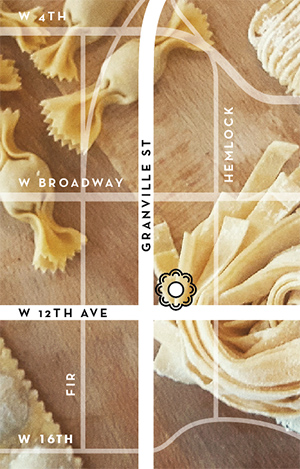 Dinner for myself and guest was complimentary in order to facilitate this review. All opinions are my own. All images, except as noted, MyVanCity. Feature, squid risotto, seared halibut and map courtesy of Fiore. A gratuity equal to 18-20% of the value of the dinner left with thanks to the team at Fiore.
[wdi_feed id="2″]