Behind closed doors, a daring initiative took place over the past four years. The goal: To make new world Chardonnay and Merlot with old world elegance in North America.
This Tasting Experience feature has been interrupted by a special announcement (my tasting experience follows below) attention Checkmate Chardonnay fans! Put July 26 on your calendar!
We are very excited to be celebrating our 2nd Anniversary and final season in The Installation Pop-up by Ton Kundig.  To commemorate the occasion we are releasing our 3rd vintage of our very limited production 2018 Bear's Move Chardonnay!  This naturally fermented Pied de Cuve wine is sourced from our Dekleva Vineyard, left to ferment in Cermaic vessels amongst the vines,  from which it was picked.  With its limited production of only 40 cases, Bear's Move has become a favourite with CheckMate fans and natural wine lovers alike.  Pouring July 26th, and only available at the winery, $60.00 (plus tax + deposit).
The opportunity to taste exquisite new world Chardonnays and Merlots is an experience not to be missed by lovers and aficionados of excellent BC Wine. A tasting at Checkmate is also an opportunity to not only experience but to educate the palate. For myself the journey of my interest in Chardonnay was brought about by what I would call necessity and one unusual experience. So many quality BC wineries are producing varietals that make Chardonnay wine and I felt it incumbent on me to have not only an appreciation but also a better understanding of what makes these wines what they are – exceptional.
One of the first things to do when learning about a wine, especially one that for any number of reasons, you may have been avoiding is to immerse yourself in that varietal. To do this means taking the opportunity to taste the wines produced by a mix of wineries and winemakers. Although Chardonnay does have some basic characteristics each winery produces a wine that is unique to them. If, like me, you have been avoiding Chardonnay because you think of it in terms of a heavily oaked California version then you need to step away from your preconceived opinion and be open to this grape that thrives in the BC grape growing regions.
My turning point came about a year ago when I was dining in a very reputable restaurant well known for its cuisine. I wanted to pair a dish of seared scallops with a Riesling even though the recommended pairing on the menu was a Chardonnay. Our server was quick to point out that my pairing choice was all wrong and insisted I order the recommended pairing of Chardonnay. As odd as the situation seemed at the time it was also a good lesson, just not in diplomacy. Thus started my journey towards becoming a Chardonnay drinker.
That journey also led me to taste and enjoy the wonderful Chardonnays being created by winemaker Philip McGahan at Checkmate.
Phil set out to make sophisticated Chardonnays and Merlots by meticulously focusing on family-owned and farmed estate vineyards, relentlessly studying and researching rows within them to define micro-blocks. These sites, natural yeasts and artisanal winemaking resulted in a collection of remarkable Chardonnays and outstanding Merlots. He let nature take its course, with no fining or filtration to allow for the full potential of flavour expression.
On my most recent visit to Checkmate I did a tasting of four Chardonnays while my companion tasted Merlot.
Here is what I tasted, followed by the winery's tasting notes and my own reflections:
2015 Capture Chardonnay
Border Vista Vineyard, Osoyoos East Bench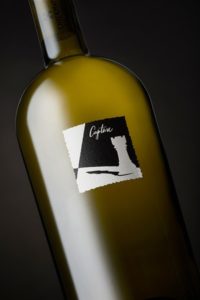 The natural ferment contributes a lifted, aromatic, complex nose. The palate opens with apple, mandarin, spice and creamy stone fruits yet remains delicate with a long finish. $90.00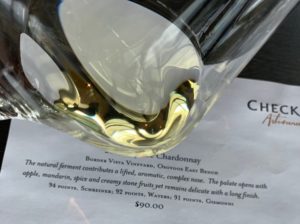 I found the Capture Chardonnay to be silky and soft with wonderful fruit flavour, light, with almost no scent of oak. Very easy drinking.
2015 Queen's Advantage Chardonnay
Combret Vineyard, Golden Mile Bench – DVA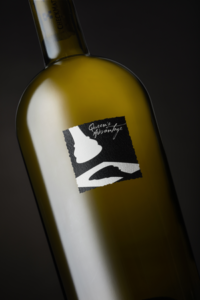 Deep, rocky soils and old gnarly vines (planted in the early 1970's) combine to create a wine with an intense bouquet of passion fruit, papaya and lemon blossom. This palate explodes in the mouth, being round and fleshy, yet silky all at the same time. $85.00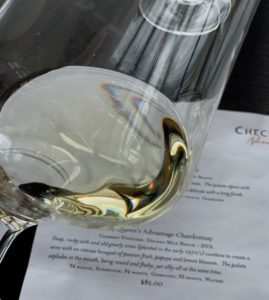 I found the Queen's Advantage Chardonnay to have scents of oak, ever so slightly tart with a heavier, sweeter taste than the Capture. Darker in colour, smooth and rich.
2015 Attack Chardonnay
Jagged Rock Vineyard, Black Sage Bench; Border Vista Vineyard, Osoyoos East Bench; Combret & Dekleva Vineyards, Golden Mile Bench – DVA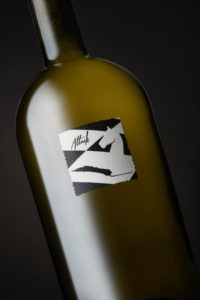 Winemaking and foudre combine to impart aromas of the seashore with wet stones, flint and Asian spices on the nose combined with a tropical lift. The palate has a zesty entry, with a hint of richness and minerals followed by lingering flavour of lychee, ginger, spice and saltwater. This is a unique, modern Chardonnay that also pays homage to the old world. $115.00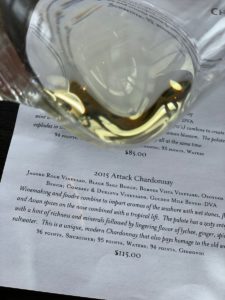 I found the Attack Chardonnay to have less oak aroma and taste but not as smooth as the Queen's Advantage but similar in colour. Woodsy.
2013 Fool's Mate Chardonnay
The Barn Vineyard, Border Vista Vineyard, Dekleva Vineyard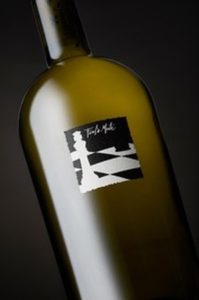 An extremely complex wine with a nose of brioche, herbs, hints of melon, yellow peach and sur lie notes. The palate is rich and reminiscent of almond croissant. The finish is long and round with a touch of mocha, vanilla and spice.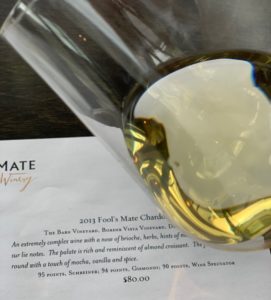 The Fool's Mate Chardonnay was the darkest in colour with the most oaky scents. The most flavourful of what I tasted but not as silky, full bodied with a slight alcohol finish.
The Tasting Room, known as "The Installation", is a pop-up modular structure by architect Tom Kundig. Open for tastings Daily from 11:00 am to 6:00 pm through early October. Due to the nature of the tutored tastings appointments, especially during the busy season, are highly recommended. Book online or by calling 250 707 2299. Allow a minimum of 45 minutes for your tasting experience. Tasting fees apply and are redeemable with purchase of a minimum of one bottle per person. No pets please.
When visiting BC Wine Country, before you go: Do your homework and a bit of research about the wineries you wish to visit. Check the winery website to find out their months, days and hours that their Tasting Room is open. Know if you need to book your tasting in advance of your visit. Many wineries are now so busy there may be times that they are unable to accommodate you. It will be a much better visit if you have a confirmed appointment. Be on time. Expect to pay for your tasting, some, but not all wineries refund all or a portion of the fee if you purchase wine. Plan ahead for a designated driver or use the services of a wine tour company. Limit the number of wineries you visit in a day. A more leisurely timeline will increase your enjoyment. For the best overall experience, I like to limit my daily visits to three, maximum two wineries if a winery lunch is on the agenda.
 CheckMate Artisanal Winery 4799 Wild Rose Street, Oliver, BC.  
Tasting notes, bottle shots, "Phil" bio, text in italics all courtesy of Checkmate Artisanal Winery. All images, except as noted, MyVanCity. I received a complimentary tasting for myself and my companion. We each purchased one bottle of wine.
[wdi_feed id="2″]