There is a group of dedicated Pinotphiles (yes, I made that word up) who gather several times a year with the objective of sampling all of the many styles of BC Pinot Noir.  Often a bottle from another well-respected Pinot region is included for the sake of comparison.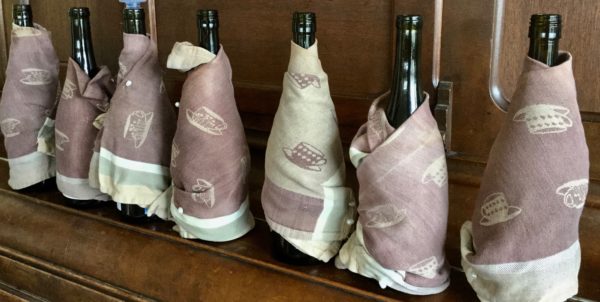 The wines are opened in advance and sampled blind.  All we were told is that they were from the 2015 vintage.
With all wines being the same variety and from the same year one would rightfully expect a lot in common and yes, they all showed distinctive Pinot Noir character, yet they definitely all had their own personality.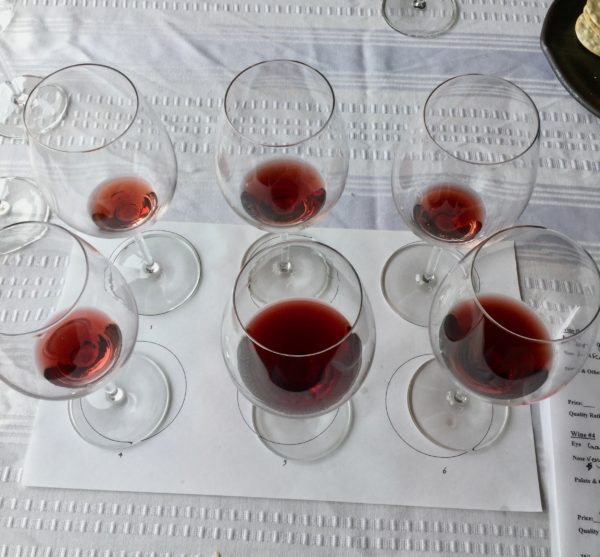 Some may not be familiar with the term 'bricking' when describing a wines appearance.  As red wines age they tend to change colour and move from purple tinged to ruby red, to garnet and finally to brick red.  Bricking is to be expected with aged wines and is only a negative when it no longer has the appearance of wine.
Prices shown are for the current vintage as listed on the wineries' web sites.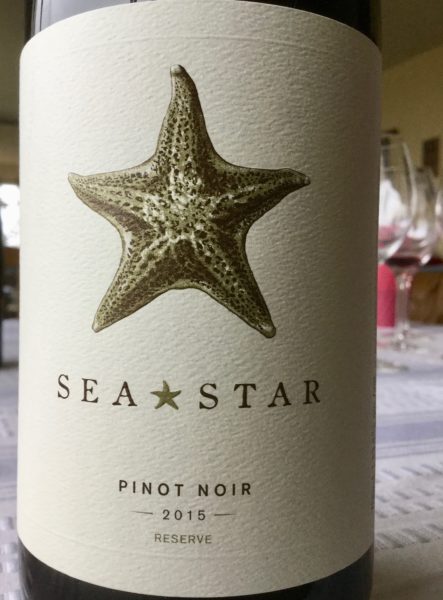 Sea Star                                          $33
Pender Island
Sea Star Winery (formerly Morning Bay) is a 26-acre vineyard owned by David Goudge that dates back to 2002 and is planted with Gewürztraminer, Pinot Noir, Pinot Gris, Riesling, Ortega, Marechal Foch, Leon Millet, Schonburger and more recently Siegerrebe.  Wines are made by Ian Baker.
Garnet/brick colour with medium-minus intensity.  The nose shows aromas of dried cherries, spice, earth and dried rose petals.  Good balance with medium body, fresh with nice acidity, food friendly, subtle flavours on the palate followed by a medium-plus finish.  This wine clearly benefitted from a few years aging.
Good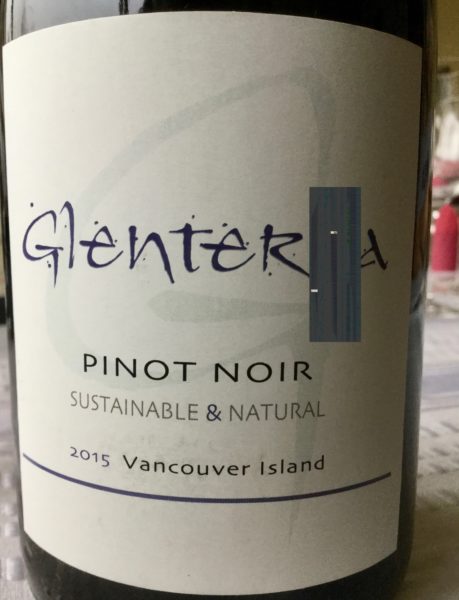 Glenterra                                      $30
Vancouver Island
Located in Cobble Hill on Vancouver Island, Glenterra is a dry farmed 5-acre organic that has been farmed for 20 years.  John Kelly is the winemaker.
Garnet red colour with some bricking and medium intensity.  Burnt orange, sour cherry, floral notes and wood on the nose.  Sadly, this bottle was past its prime, most likely due to some bottle variation.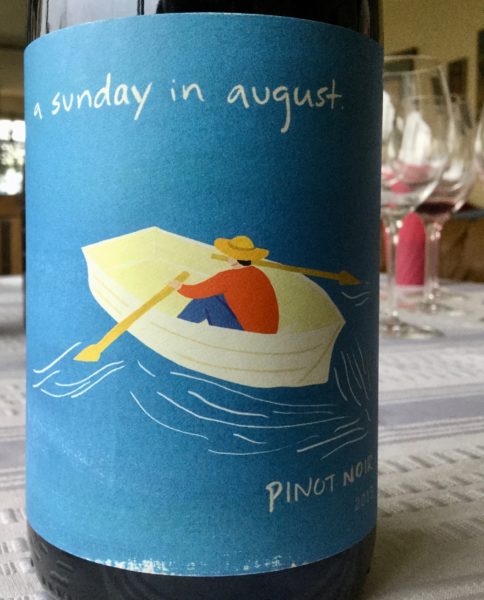 A Sunday in August                            $22
Similkameen Valley
Mike Shindler is the winemaker at A Sunday in August.  "Since 2016, Shindler and his fiancée, Sam Milbrath have been making small-batch, naturally made wines with minimal intervention, using organic grapes from B.C.'s Similkameen Valley."
Dark garnet red colour with a slight hint of bricking.  Delicate varietal character on the nose – ripe red cherry, some spice and forest floor.  Good balance with just a hint of sweetness (ripe fruit) and with medium body.  Nice fruit on the palate followed by a medium finish.
Good/Very good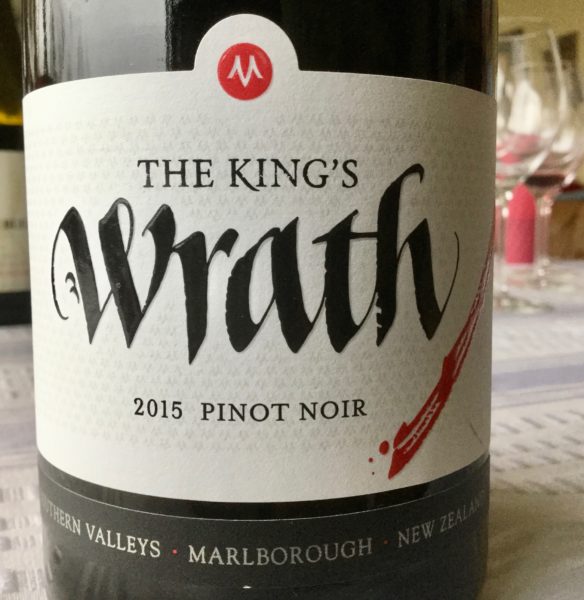 King's Wrath                                       $30
New Zealand
Mostly made from the Able clone in the southern Marlborough.  The grapes were cold soaked for five days and aged in 50% new French oak puncheons for 11 months, with later malo-lactic fermentation.
Garnet red with ruby tones and medium-minus intensity. An inviting, pronounced, Burgundian-styled nose layered with varietal aromas of sweet red cherries, forest floor and burnt sponge toffee dominating.  Very good balance.  The flavours echo the nose followed by a medium-plus finish.  Quite tasty.
Very good +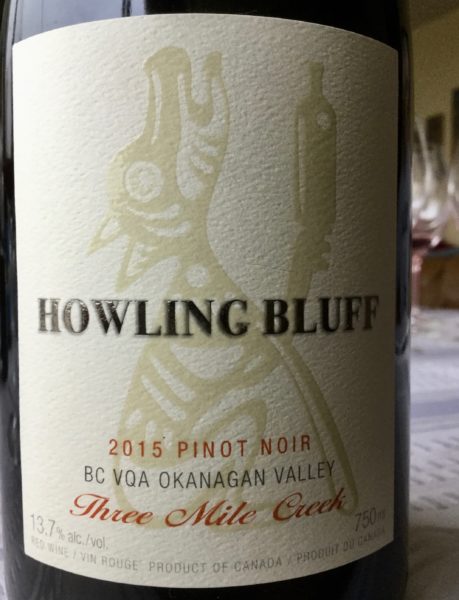 Howling Bluff Three Mile Creek        $30
Naramata
Luke Smith is the proprietor and winemaker.  Pinot noir thrives on this site and low cropping ensures wines with great character.
Garnet red with medium-plus intensity.  The nose is big and inviting.  Burgundian in style layered with savory notes, cherry, forest floor and meaty aromas.  This is what pinot should smell like.  Well balanced.  Juicy on the palate, with ripe almost stewed fruit followed by a medium-long finish.
Excellent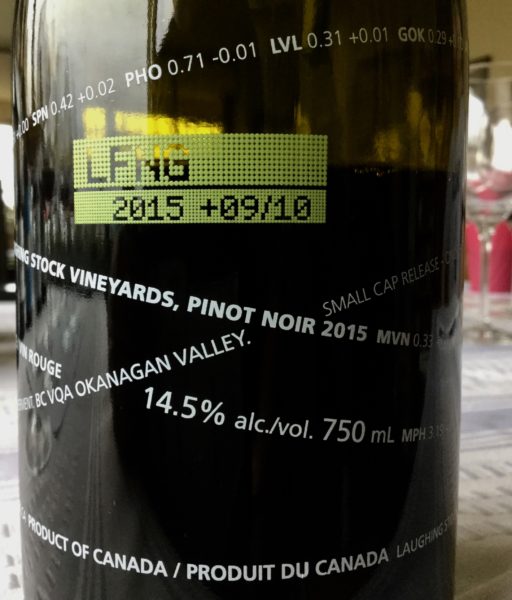 Laughing Stock                                   $34.99
Naramata
Garnet red with just a hint of brick and medium-plus intensity.  The nose is well integrated with pinot character, but I found it difficult to pull out specific aromas.  As it opened up, forest floor, graphite and cinnamon began to emerge.  Good balance and body, pleasing on the palate followed by a medium-plus finish.   Needs time to breathe to show its full colours.
Very good + / Excellent  (see last paragraph)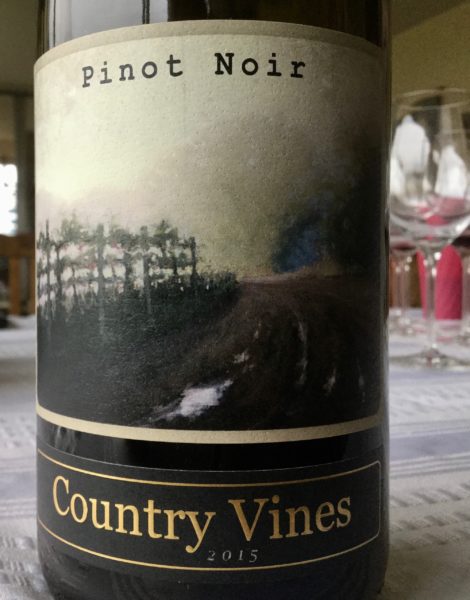 Country Vines (Yee Haw Pinot Noir) $18
Richmond
Located on the Steveston highway in Richmond, Country Vines has operated as a family owned farm for over 60 years selling fresh fruit, berries and vegetables to the public.  In 2016 they opened the winery.  Their onsite vineyard grows Pinot Gris, Schonburger and Pearl de Csaba on the family owned farm.  Jason Parkes was the consulting winemaker for this two-vineyard blend.
Garnet red with brick and medium-light intensity.  A delicate, inviting nose, varietal, cherry, meaty, savory.  Good balance and body.  Fresh.  Lots of flavour on the palate with ripe fruit, cherry, red plum flesh and a medium-plus finish.
Excellent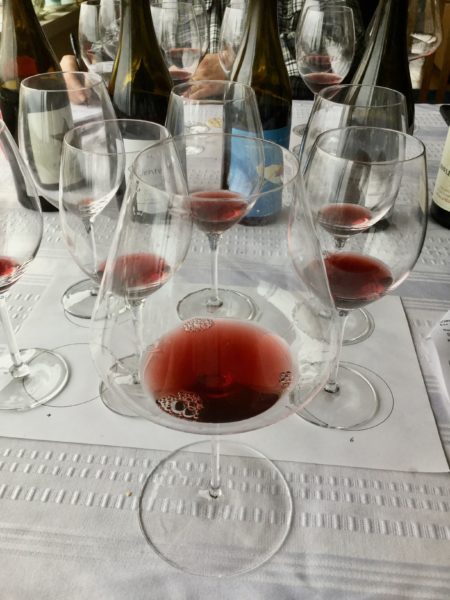 When we were finished, Brent, our host, brought out his Zoltan Burgundy glasses so we could do a glass comparison.   We chose the Laughing Stock wine for the experiment.  We all agreed that it made a noticeable difference.  From my perspective, it was if the wine had been decanted for one to two hours.  It acted like sandpaper, rounding out all the rough edges and making a noticeable improvement in the wine.  Yes, a proper glass does make a difference.
(All photos – Sam Hauck)
[wdi_feed id="2″]