As part of the BC Pinot Noir Celebration three Breakout Sessions were included for those that wanted to learn more about wine in general and Pinot Noir in particular. We opted to attend the first free session The Science of Wine and the Breakout Session B Something Old, Something New.
The Science of Wine: free educational session hosted by UBC.

UBC is pleased to invite BC Pinot Noir Celebration participants and members of the general public to join them for a presentation showcasing their cutting-edge research related to wine. Attendees will learn about how the chemistry and biochemistry of grapes and fermentation impact the flavour profiles of wine. Tickets to this session are free and must be booked in advance.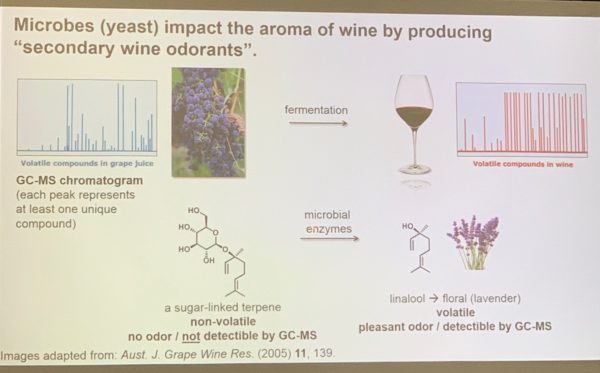 The session was broken down into 30 minutes lectures by three different professors. The first topic related to the effects of smoke on grapes and winemaking. The second topic explored the levels of melatonin in wine. The third topic was about spontaneous fermentation and whether there is true and unadulterated wild fermentation.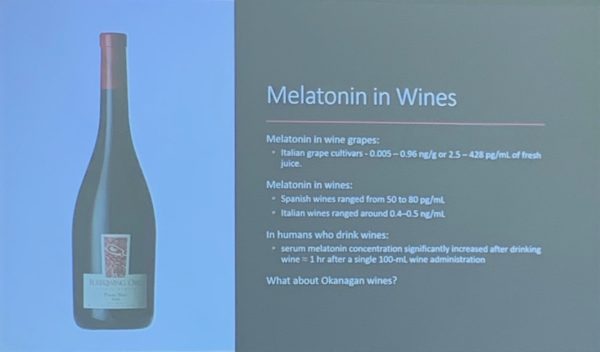 All three segments were fairly interesting and from my perspective would have be more so to winemakers, viticulturists, scientists or wine nerds. The speakers were extremely knowledgeable about their field of expertise. I confess that most of the information was far more detailed and scientific for me to digest but I did come away with some interesting observations.
The next two Breakout Sessions were held simultaneously which was a shame because I'm sure both were equally interesting but you did have to choose. Between Pinot Noir coast to coast and Pinot Noir old and new I really didn't have any trouble choosing the latter. Cost of the sessions: $30.
Breakout session B: Something Old, Something New by BC Pinot Noir Celebration.

British Columbia is considered a young wine region but some of its producers have been making pinots for a number of years now. You will have a chance to taste some 'old' and 'new' winesfrom four British Columbia wineries. During the tasting there will be a discussion about how the vines, wines and times have changed in the last decade. Limited seats available, tickets must be purchased in advance (tasting included).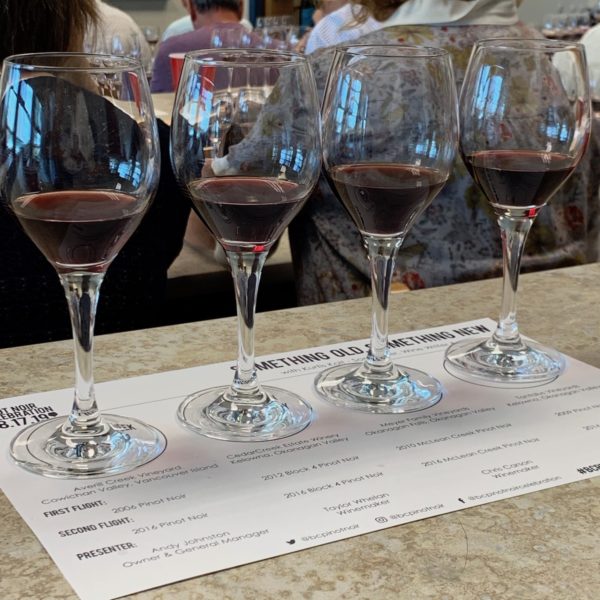 Something Old, Something New
This session was so worth the price of admission and a must of Pinot Noir lovers. Four wineries were represented; Averill Creek with owner and General Manager Andy Johnston, Cedar Creek with winemaker Taylor Whelan, Meyer Family Vineyards with winemaker Chris Carson, and Tantalus with winemaker & GM David Paterson.
What we tasted – Something Old:
The first flight of Averill Creek was a 2006 Pinot Noir. Tasting notes for this vintage are not available on the website but there was no question that this was an exceptional wine with an interesting background story about it's winemaker. For a little information on this vintage here is a comment by John Schreiner. (*)
2006 was pronounced as the best Pinot Noir made to date. Small wonder. A hot year with late rain. This vintage was made by Cherie Spriggs, the first woman, and only winner outside of France, awarded the Sparkling Winemaker of the Year by the International Wine Challenge. (*)
Destemmed grapes with no crushing, in wood, with gentle punchdown. Soft, subtle tannins. Scents of light smoke, herring, smoked salmon, licorice and plum. Sweet and delicious. Stone fruit, light, smooth, lingering tannins. Later the scent of wet stone, stewed Italian plums.
Next CedarCreek 2012 Block 4 Pinot Noir. Two thirds from the main vineyard approximately 25 years old, mostly clone 115. Silky well drained soil with stones. Well maintained vigour, cool year with not too much rain. Thinning, wild ferment in stainless steel, 22 to 25 days on skins, 18 months in French oak. (*)
Scents of sour milk, cat pee, candy, stone fruit, chalk with very light  plum aromas. Perfumey and I found it very acidic, really light on flavour with lingering tannins and lemony flavour.
Awarded Decanter World Wine Award for their 2012 Platinum Block 2 Pinot Noir as Best Canadian Red Wine over 15£.
Third, Meyer Family Vineyards 2010 McLean Creek Pinot Noir. Winemaker Chris Carson comes to Meyer as a bit of a traveller having worked in California and Burgundy and a stint at Lake Breeze in Naramata. Carson has been with Meyer less than 5 years and when he started Meyer was making only Chardonnay wines but Carson saw the potential for Pinot Noir. 2010 was only their third vintage. 2010 had limited rainfall and great conditions with 15-20% whole cluster, about 22 days on the skins in 40% new oak. McLean Creek, Okanagan Falls. (*)
Aromas of port, black pepper and cherries. Light, tasty and scents of chalk, wet stone and red pepper. A bit acidic and initially not too smooth, later some green pepper. Tart but not bitter, dark fruits. Gets much better as you sip. Nice brownish reds and flavours of cherries.
Fourth, Tantalus Vineyards 2009 Pinot Noir. With some of the oldest vines in Kelowna dating back to the 1920's. Vines were pulled and by the 80's there was a mix of grapes. In 2004 the vineyard was sold and 18 acres of old vines were pulled and replanted with riesling and pinot noir. In 2009 Paterson travelled to Oregon and to Burgundy, a hot year in the Okanagan with the winery about half built. The first effort of 50 tons, wild ferment resulted in 600 cases. (*)
Super smooth with light flavours. Cherry aromas with light scents of candy and dirt. Flavours of plum, sweet taste, light rose scents like dusting powder. Light, smooth, easy drinking. Beautiful just enjoying the scents.
Something new:
In 2014 the Averill Creek vineyard was mature enough for the first reserve Pinot, a classic and last vintage of the previous winemaker. For this vintage there was no destemming, 100% natural. An additional 12 acres have been recently leased  plus 2 others. (*)
Scents of leather, tobacco, toasty marshmallow, plum and slightly floral. Sweet juicy fruit, low acidity, delicious.
The CedarCreek 2016 Block 4 Pinot Noir is from the same  block as the 2012. Early bud break and fast ripening. Vigour challenge, waiting longer, hand picked and sorted. In concrete with wild ferment, wild mellow. 13 months fermentation. Bees present in the vineyard. (*)
A bit alcohol forward (14%) some plum with flavours slow to develop. Peach, candy, sweet, lightly acidic with tasty sweet preserve flavours. Nice, I liked this one more than the 2012. Fruity with good body.
The 2016 Meyer Family Vineyards McLean Creek Pinot Noir had a larger punch down over barrels in that year. Wild yeast. 2016 had better weather for slow ripening. September nights were cool. (*)
Scents of dust and plums, cherry pie, red apple, tobacco and nectarine. Sweet delicious with dark fruit. Light but tangy tannins. I really liked this one.
The 2016 Tantalus Pinot Noir experienced early heat and smoke before varaison which slowed the grapes leaving no smoke taint. A cooler vintage due to the smoke with cold nights. The smoke prevented extreme heat which was a good thing. Multi clones, terroir, mixed vineyards picked at the same time. A field blend, not noted on the label. (*)
Toasty, deep, sweet. So good, dark fruit, dense, rich, medium tannins, excellent.
It was a fascinating morning with a lot of information to take in, especially in the first Breakout Session. The Something Old, Something New was fantastic and I am so glad we opted for that one. The wines were exceptional and we both enjoyed hearing about the wineries and wine making process.
My review of the BC Pinot Noir Celebration is online here.
(*) notes taken of the owner/winemakers remarks during the session, any errors and omissions are my own.
Notes in italics courtesy of the BC Pinot Noir Celebration. All images, except as noted, MyVanCity. Science of Wine images were taken from the PowerPoint presentation. I received one complimentary ticket for the Breakout Session to facilitate this review, and purchased one ticket for my guest. All opinions are my own. Feature image: Pixabay