Sip, swirl and discover the nuances of BC's top Pinot Noirs
First, you have to know there is definitely a reason it's called a Celebration with an ! This was my first time attending and although I had talked to others who have been many times I still wasn't prepared for what was to unfold as the day progressed.
This year, for the first time, the Celebration was held at the Kelowna campus of UBC. The campus is situated quite a ways from downtown Kelowna and most visitor accommodation. For us it seemed easiest to opt to stay right on campus. This eliminated the need to arrive early in the day to take in the Breakout sessions and also meant when all was said and done at the end of the night driving wasn't a consideration.
We opted for a "one bedroom" which gave us a large bedroom with queen size bed, four piece bathroom, kitchen, dining area and a living room. Our accommodation was basic but did include wifi and a television, basic toiletries and towels. No hairdryer, iron or ironing board. Parking was an additional cost. It was handy and convenient to be on campus.
For those attending, either locals or from out of town, shuttle service was provided, round trip, for a fee from four downtown hotels.
The day started with a Breakout Session at 9 am, held in a lecture hall in a building close to where the event would later take place. About a 10 minute walk from our accommodation. The 9 am session was free and request advance registration.
The Science of Wine: free educational session hosted by UBC.

UBC is pleased to invite BC Pinot Noir Celebration participants and members of the general public to join them for a presentation showcasing their cutting-edge research related to wine. Attendees will learn about how the chemistry and biochemistry of grapes and fermentation impact the flavour profiles of wine. Tickets to this session are free and must be booked in advance.
The next two Breakout Sessions were held simultaneously which was a shame because I'm sure both were equally interesting but you did have to choose. Between Pinot Noir coast to coast and Pinot Noir old and new I really didn't have any trouble choosing the latter. Cost of the sessions: $30.
Breakout session A: Pinot Noir from Coast to Coast hosted by BC Pinot Noir Celebration.

In this breakout session you will have the rare opportunity to taste pinots from coast to coastwith representation from Nova Scotia, Ontario, and British Columbia. You will learn how terroir, climate, vineyard management and wine making techniques affect the pinots that are produced from these unique regions and of course, you will taste the wines to judge for yourself. Limited seats available, tickets must be purchased in advance (tasting included).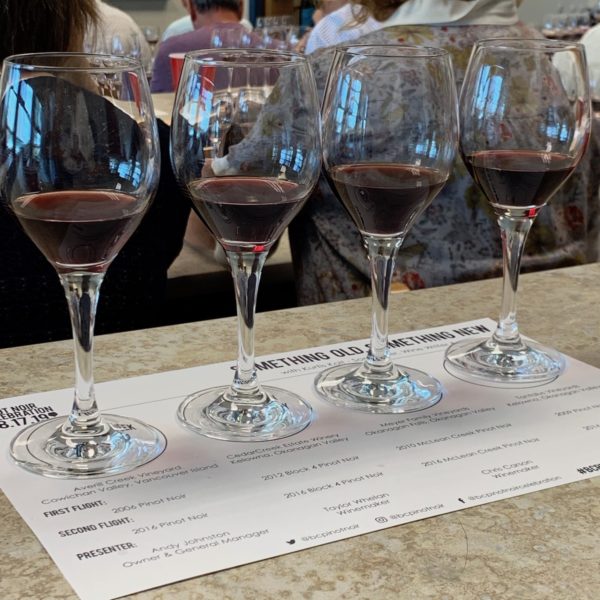 Breakout session B: Something Old, Something New by BC Pinot Noir Celebration.

British Columbia is considered a young wine region but some of its producers have been making pinots for a number of years now. You will have a chance to taste some 'old' and 'new' winesfrom four British Columbia wineries. During the tasting there will be a discussion about how the vines, wines and times have changed in the last decade. Limited seats available, tickets must be purchased in advance (tasting included).
For more about the Breakout Session I attended, read my review here.
At this point we headed for the nearest source of food which turned out to be a small coffee shop with sandwiches and goodies, then back to our campus room for a short rest.
The afternoon began with a sparkling reception wine from Fitzpatrick Family Vineyards and remarks from key note speaker Madeline Puckette, certified sommelier and author of New York Times Bestseller, Wine Folly: The Essential Guide to Wine.
With something like 35 wineries pouring fabulous Pinot Noirs the day couldn't have possibly been any better. I tasted many, but not all, wines on offer and snacked on some delicious bites along the way. The setting was ideal and the slightly overcast day turned out to be perfect for strolling at our leisure tasting wines.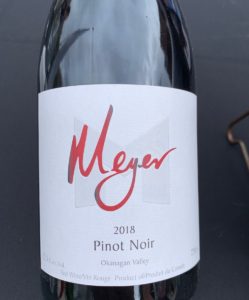 Given the number of wineries participating there was ample room to roam and sufficient time for short chats with owners, principals and winemakers. This is an opportunity to refresh your senses for your favourites and discover wines that are new to you.
Wineries ranged from boutique to major players all proudly offering their best to attendees. Pours were reasonable allowing you to really taste and savour the wines. If you found one you particularly liked or wanted to go back to compare you were free to do so. Wines flowed freely right up to the end.
As the afternoon wine tasting wound down the festivities cranked up with a live band and a catered dinner by Joy Road Catering. Everyone was encouraged to enjoy glasses of wine with dinner. Bottles of wine were made available to groups wishing to dine together. Following dinner the music got a bit more lively and everyone was dancing on the grass with great abandon.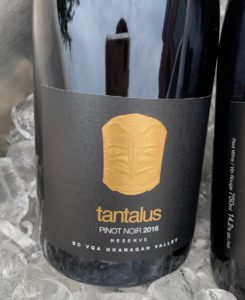 The entire day was fascinating, friendly, fun, instructional, inspiring, exhausting with frivolity and just plain old enjoyable. This was Woodstock for lovers of Pinot Noir.
Food and wine were plentiful and delicious, people were friendly and mixed well with others, the setting was ideal, line-ups were short, chat was interesting and informative, all in all a wonderful celebration.
The main event began at 3:00 pm and it was without question one of the best wine tasting events I have had the pleasure of attending. Kudos go to the organizers, wineries and many volunteers who put this extravaganza together.
Here is a list of wineries that participated:
About BCPNC 
The BC Pinot Noir Celebration (BCPNC) was conceived in 2013 when a collection of passionate Pinot Noir producers across the province got together (over a pint of beer) to discuss a vision to create an event for an intimate group of winemakers and Pinot Noir lovers. The idea was simply to get together for a casual evening to enjoy great wine and incredible food, and open the dialogue about Pinot Noir in BC, how it compares to benchmarks around the world, and where the varietal is headed. The event is coordinated and managed 100 per cent by dedicated volunteers from the local wine and event industry. 
Our 2019 BC Pinot Noir Celebration could not have been possible without the generous donations made by our sponsors – thank you for your support!
Media Sponsor: 
A/V Sponsor:
All Occasion Party and Event Rentals
Images, except as noted, MyVanCity. I received one complimentary ticket to attend for pre event promotion and to write a review. I purchased a ticket for my guest. Cost of transportation and accommodation was at my own expense. All opinions are my own. Feature image: Pixabay
Thanks to Ford Canada for the use of the Ford Escape.