I love trying new wines! The Ricco Bambino 2018 cabernet franc rosé was a real treat. I shared it with friends about a month ago when summer was in full swing. I enjoyed it so much I'm sure I will be enjoying it year round. Only problem with rosé wines of British Columbia is they hardly ever last long enough to be drinking once summer and early fall have become a distant memory. So if you are as hooked on good rosé as I am be sure to snag this one right away.
Be ready to embrace your fun side. Ricco Bambino wines are meant to be enjoyed and savoured. Share the wines with friends and family you get along with. These wines are uplifting, light hearted and will make you feel good. I really enjoyed this Rosé and will definitely be drinking it again.
RICCO BAMBINO ROSÉ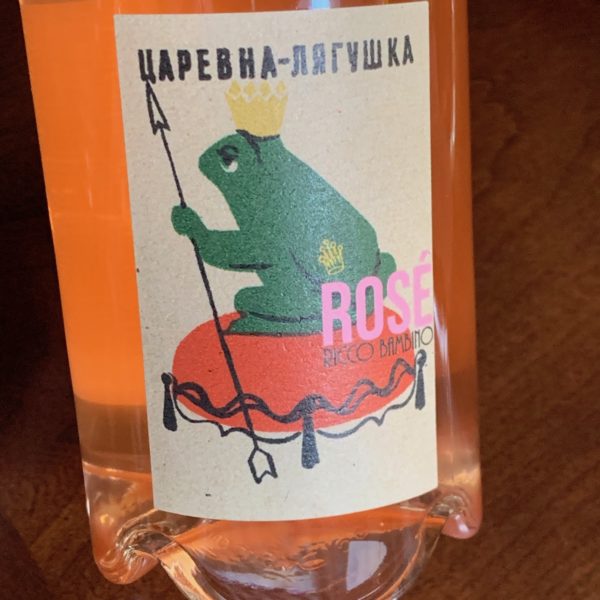 "pleasant fruity aromas with a crisp taste, goes down smooth, quite clear for unfiltered and a charmingly amber colour, enjoyable" Valerie, Editor 
Organically farmed Cabernet Franc from Sekhon Vineyard in Osoyoos our Cabernet Franc was hand harvested on November 1, 2018 and macerated on skins for 17 hours. The grapes were basket pressed and underwent indigenous Alcoholic fermentation in stainless tell tanks where it aged on gross lees for 5 month prior to being bottled unfined. (due to lack of chemical manipulations our wines may appear cloudy or contain sediments, this is not a fault. Please store in a cool place)
Take a picture of it, make sure the sun is glinting brightly off the beautiful glass and bottle, splash it up into the air a bit, type #adifferenttypeofwinery into the caption, smile, be happy, and appreciate the intricate delicacies. We beg you to convince us this is not your new favourite Rosé.
Released on June 1, 2019 
$29.00
sku 159098
ABOUT RICCO BAMBINO
Ricco Bambino is a low intervention, boutique winery producing expressive, small batch offerings from organic grapes, without additions of commercial yeasts or filtering agents and minimal additions of SO2.
Less than a year after launching their flagship tasting room in downtown Kelowna, Ricco Bambino opened their second location Crooked Crown Vineyard & Winery in Oliver, where they grow organic varietals for their natural sparkling wine, skin contact whites, concrete aged reds and also houses their production facility, creating unique wines under the watchful eye of winemaker Sebastien Hotte.
Founder Jason Alton, a Kelowna native, spent over 20 years in Australia and after falling in love with low intervention wine, he decided to sell his Sydney based company and move home to pursue his lifelong dream of creating a winery that reflects his passion for honest wine and 100% transparency in its vinification. These values are the core of Ricco Bambino's approach to crafting lovable, electric and terroir-driven wines.
RiccoBambino.com @RiccoBambino
About Ricco Bambino, tasting notes and feature image provided by Gael Mackie, boom boom beverages. Bottle shots by MyVanCity. I received a complimentary bottle of wine to share in order to facilitate this review. All opinions are my own.
[wdi_feed id="2″]