FEAST Asian Dining Festival Restaurants Announced + Official Festival Beer!
FEAST: Asian Dining Festival
— celebrating the best Asian dining in North America — is pleased to announce its
roster of restaurants
for the 2019 Festival, along with its specially-branded beer. As of this date, participating restaurants include:
Continental Seafood Restaurant, Chef Tony Restaurant, Jade Seafood Restaurant,  Shiang Garden Seafood Restaurant, Su Hang Restaurant, Tin Tin Seafood Harbour, Club One Cafe, Chef Hung Taiwanese Beef Noodle, Danny's Wun Tun Restaurant, Gingeri Chinese Cuisine, JiangHu Taiwanese Pot & Wok Cuisines. Hotpot Palace and Liuyishou Hot Pot.
Pokey Okey, Yokohama Teppanyaki & Sushi Bar, Kanpeki Teppanyaki & Seafood Bar, Mr. Bro Korean Bistro & Izakaya,  Xyclo Bistro and Ginger Indian Cuisine.
Westcoast Poké, Kisha Poppo Japanese Restaurant,  Ora Sushi, Ichiro Japanese Restaurant,  Anar Persian Cuisine  and Ember Indian Kitchen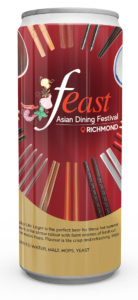 "FEAST restaurants will feature signatures dishes all part of special curated menus, available at promotional pricing for our guests," says Alvin Chow, FEAST producer. "We are excited to showcase the culinary excellence of these restaurants and invite everyone to reserve their tables today, referencing FEAST."
The 2019 edition of FEAST also features its own signature beer and custom designed beer can, courtesy of Old Abbey Ales. "FEAST is the perfect complement to the many beers produced by Old Abbey Ales," says Sonny Li, CEO. "Our West Abbey Lite Lager is the feature beer of FEAST and suitable for a wide range of palates and food pairings."
Taking place October 18 — November 18 throughout the City of Richmond, FEAST allows diners to discover and indulge, family-style, in a range of Asian cuisines that are the envy of foodies in North America. Participating cuisines in FEAST include Cantonese, Filipino, Indian, Japanese, Korean, Persian, Shanghainese, Taiwanese, and Vietnamese.
2019 FEAST sponsors include major partner Tourism Richmond, along with supporting partner Horseshoe Press, Yelp, Old Abbey Ales, Aberdeen Centre, and others. Media partners including Awaaz, Burnaby Now, Cybermedia, Glacier Media, The Indo-Canadian Voice, Delta Optimist, The Korea Daily, OMNI Multicultural Television, New Westminster Record, North Shore News, North West Asian Weekly (Seattle), Richmond News, Seattle Chinese Post, Sing Tao Media, TriCity News, Vancouver Courier, Vancouver Is Awesome, Westca, ZhiDao Media, and others.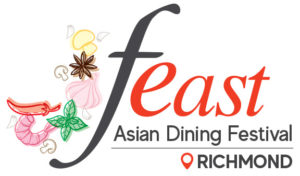 About FEAST: Asian Dining Festival
FEAST is a month-long dining festival — taking place Oct 18-Nov 18 — celebrating the best Asian cuisine in the most Asian region in North America — Richmond, BC. With its rich culinary talent, Richmond has led the way in establishing Metro Vancouver as a mecca for Asian food. FEAST gives local foodies, gourmands, and visitors the opportunity to experience the most exciting, delicious and renowned Asian food on the Continent in an exciting, accessible, and celebratory way. FEAST: Asian Dining Festival is produced by Richmond News and Hamazaki Wong Marketing Group. www.asianfeast.ca

Media release and images provided by Anna Ma,  Asian Feast.
[wdi_feed id="2″]