Here are two wines from Tall Tale. The first one I couldn't wait to try and enjoyed it in the summertime. The other just recently. I wanted to share both with you.
2018 Grüner Veltliner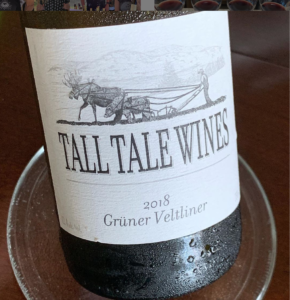 100% Grüner
Oliver
$18.00
Rich and exotic aromas of tropical fruit, white blossoms, green almond and lime juice with a light grassiness. The palate has a salty, crunchy, texture with a bit of weight and great length. Look for yellow apple skin, more tropical fruit and white pepper.
Tried this Grüner the other night with a bbq roasted chicken. Later being one of the warmest nights of the summer I added just a touch of Perrier to make a light spritz. Enjoyed it both ways.
2018 Sémillon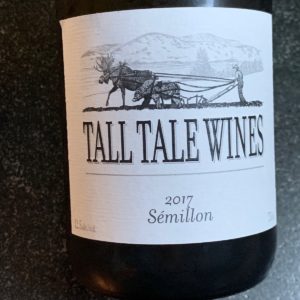 Sémillon
100% Sémillon
Okanagan Falls
$22.00
Whole closet pressed from 36 year old vines. Bright acidity with notes of wild honey and fresh lawn clippings. Our Sém drinks beautifully your but should also ago well.
Enjoyed this wine recently with friends as the pairing. Totally without food just as a pre dinner aperitif so to speak. Everyone loved it.
TALL TALE WINES
Tall Tale Wines is a small winery that does not have a fixed location but sources premium quality grapes from the South Okanagan. Tall Tale, which makes fine wine in small batches using a completely natural approach, released its first wines in 2017.
Kyle Lyons, the winemaker and co-owner, entered the wine industry over a decade ago by sweeping floors at a local winery. He worked his way up from there to become a skilled winemaker with high standards for crafting excellent wine. After spending time making wine in Australia, Kyle came back to the Okanagan looking to challenge himself by making natural wine.
Tall Tale makes unique wines that the winery believes to be a challenge, and this journey is filled with worthy and delicious challenges. Kyle has been working in the wine industry since 2004. He is a local, so he has a unique insider view of Okanagan Valley. Kyle has a full-time job at a premium winery in Okanagan Falls, and Tall Tale wines is his passion project and unique challenge. Because Kyle is so well loved and respected in the Okanagan, he is able to craft his wine at different colleagues' wineries each year.
The name "Tall Tale" was the result of Kyle growing up in a family of storytellers. Kyle's grandfather used to tell stories about taming and breaking wild animals to help farm his land because he couldn't afford a horse. It took Kyle a few years to figure out that these stories were nothing but tall tales, but the idea stuck. Kyle's gentle sense of humour is reflected in the outlandish notes on winemaking on the back of the label that poke fun at the seriousness of the wine industry.
Kyle makes natural wine that is a true expression of the grape and terroir. This means the wines contain no added yeasts or additives, and the grapes are farmed in a low-intervention way. Natural wines often have a distinctly wild taste, and because they are very low in sulfur, they are best enjoyed fairly young. Kyle says that the path of making natural wine is stressful and unpredictable, but when it all comes together, the result is incredible. @TallTaleWines
Tasting notes and info about the winery provided by Gael Mackie, Boom Boom Beverages. Feature image courtesy of the winery. Bottle images by MyVanCity. I received these two bottles complimentary to facilitate this review. All opinions are my own.
[wdi_feed id="2″]