Just prior to the launch I joined a bunch of media bloggers and influencers to take a tour around the Railtown community to sample a few of the nine restaurants participating.
Each restaurant has a featured dish (below, in bold type) and the proceeds of that dish go to the Powell Street Getaway at 528 Powell Street, a peer-led resource centre that supports people living with chronic illnesses, addictions and/or mental health challenges. Funds raised from Dine Railtown will be put directly towards Powell Street Getaway programming and initiatives.
We started at Belgard Kitchen where we noshed on charcuterie and had a glass of wine. We were divided into three groups and each group had three different restaurants to try. All the groups had at least one restaurant in common so that gave us something to chat about when we returned from our tour.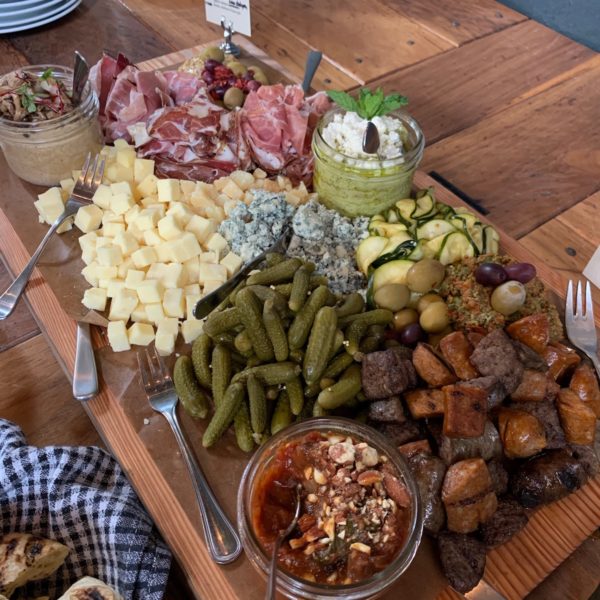 The wines poured were from Vancouver Urban Winery and are "on tap" by the glass. I enjoyed the Pinot Gris.
Our team leader was Theodora Lamb, Executive Director at the Strathcona Business Improvement Association (SBIA). While we strolled the neighourhood going from restaurant to restaurant Lamb pointed out landmarks and some history of this area.
The tour group I joined as one of eight people started out just around the corner at Tje Uncommon Cafe at 477 Powell Street right across from Oppenheimer Park.
We enjoyed a Braised Chicken Sandwich  with Homemade herb aioli and jalapeño jelly, brie cheese, applewood smoked bacon, crispy fried onions. Tasty. There was also an assortment of drinks on offer.
Moving on now to Ask for Luigi. 305 Alexander Street, a cozy 34 seat restaurant with lots of windows letting in the sunlight. This uber popular restaurant is tops on many people's list and they do not take reservations. Lunch time is a good alternative if you don't want to wait in line. Or go early, they open at 5:30 pm.
Here we had a complete meal which was totally unexpected but very appreciated. I know I had skipped lunch that day knowing we would be sampling dishes later that afternoon.
We started with a lovely butter lettuce salad with blue cheese, followed by their crispy and delicious cauliflower and chickpeas, topped off with absolutely scrumptious meat balls with garlic toast. Wow! We weren't hungry anymore.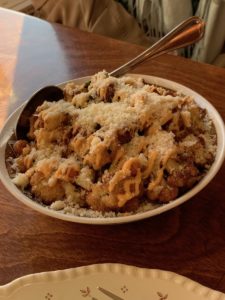 For a third stop we headed over to Railtown Cafe. Also a full service catering kitchen. The team at Railtown Cafe were ready for not just us but for Halloween the next day. The tables were set with seasonal decorations and it looked so inviting.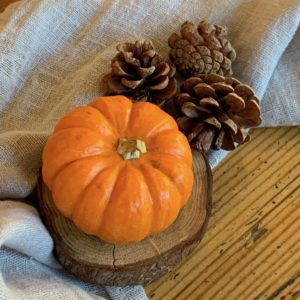 We relaxed and enjoyed the pleasant atmosphere and friendly team at Railtown.
We were treated to a Classic Beef Stroganoff Bowl with Buttered egg noodles, flank steak, mushrooms, onions, sour cream. Served with a classic Caesar Salad. Perfect fall dish. Gotta love comfort food on a chilly day.
As a special added treat to warm us up everyone was offered a Pecan Caramel Latte. It was almost too pretty to sip but I couldn't resist. It was so delicious. A perfect end to our tour.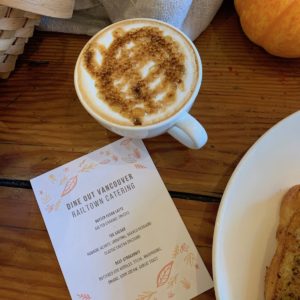 Then it was back to the Belgard Kitchen and, yes, more goodies including a decadent vegan chocolate dessert. What an afternoon.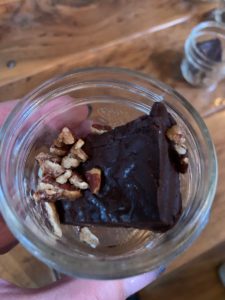 So why not get a few friends together and do the whole tour? It would be great fun, you can take advantage of this wonderful weather this weekend and support a good cause and a great local community.
Here is the list of all the participating restaurants and their featured dish (by the way everyone raved about the dishes in every restaurant):
The Belgard Kitchen
55 Dunlevy Avenue
Yam Gnocchi with Lamb Ragu  $19
braised pork shoulder, brown sage butter, sweet peas
Ask For Luigi
305 Alexander Street
Fried Cauliflower and Chickpeas  $15
Herbs, spicy aioli, parmesan
Cuchillo
261 Powell Street
Wild Caught Argentinian Sea Prawns  $24
Butter browned corn arepas, green apple jalapeño pipian verde
The Uncommon Café
477 Powell Street
Braised Chicken Sandwich  $12
Homemade herb aioli and jalapeño jelly, brie cheese,
applewood smoked bacon, crispy fried onions
Railtown Cafe
397 Railway Street
Classic Beef Stroganoff Bowl  $16
Buttered egg noodles, flank steak, mushrooms, onions, sour cream
St. Lawrence
269 Powell Street
Escargots  $18
Garlic butter, puff pastry
The Mackenzie Room
415 Powell Street
Chicken of the Sea  $19
sea urchin parfait, burnt onion nectar, poached pears,
hazelnut butter, squid ink brioche
LanaLou's Restaurant
362 Powell Street
Quinoa and Brown Rice Salad Bowl  $13
ginger tamari dressing, greens, grape tomatoes,
avocado, beets, pumpkin and sunflower seeds
For more details on the Dine Railtown initiative see our previous feature here. I received the tour complimentary to facilitate this review. All opinions are my own.
[wdi_feed id="2″]