As our #ShiptoSip campaign continues with more than 50 BC wineries participating we welcome Church and State Wines. Offering free shipping in BC and Alberta ($30 off in the rest of Canada) on 12 bottle minimum. Use their discount code: BESAFE
From May 1 to 31, 2020, Church and State will donate $1 per bottle of its wine purchased at liquor retail stores, grocery stores, and restaurants. For full details use this link.
Bottle of the Season – Rosé

Varieties:
Syrah, Pinot Gris, Chardonnay
The brilliant ruby colour of this wine hints at the vibrant berry flavours that it contains. The nose is expressive and fragrant, meeting you with mature jammy aromas of strawberry and raspberry. The wine is rich in flavour on the palate, repeating the notes of the nose, with added hints of strawberry jam and citrus. Perfect pairings for this rose are light salads, smoked fish, cured meats, and goats' cheese.
On Sale Price Extended to May 1st!
Case sale $207.30 ($17.38/bottle)
Bottle of the Season – Trebella

Varieties:
Marsanne, Roussanne, Viognier
Vibrant yellow straw in colour, this wine offers a complex array of aromas including lemon creme, nectarine, vanilla, herbal tea and acacia flowers. Additional flavours of yeast and honey with notes of toasty oak are found once fully opened. A firm core of vibrant acidity holds everything together. Its elegance will complement foods with subtle flavours, and pairs well with rich seafood dishes such as halibut, crab bisque, risotto, and most west coast cuisine.
Intrinsic to a balanced Chardonnay, the citrus flavours are complemented and enhanced by rich and buttery tones of caramel and vanilla bean custard. Truly introducing the best that oak has to offer, while preserving the acidity and fruit flavours of the grapes, this new world Chardonnay is one for the books.
Original Price $26.90, now at
$23.90
FREE SHIPPING IN B.C. & ALBERTA.
$30 OFF SHIPPING FOR THE REST OF CANADA!
USE DISCOUNT CODE: BESAFE
(12 bottle purchase minimum)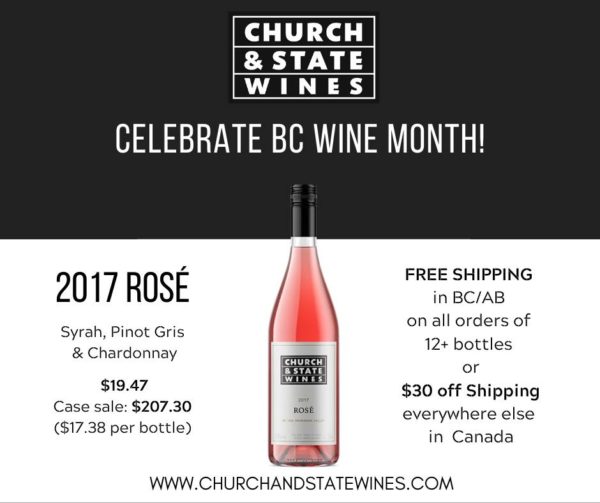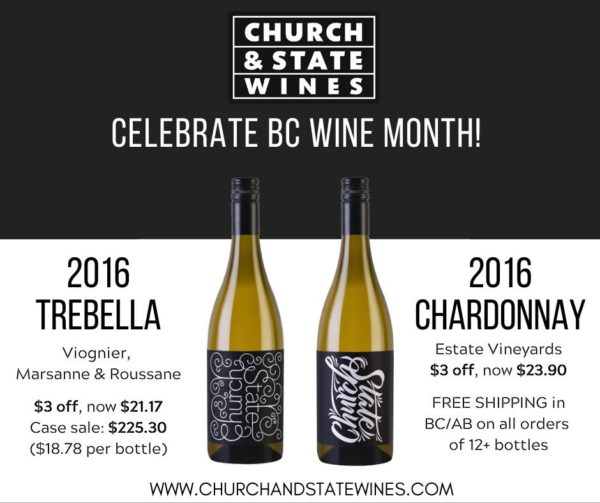 EAT. DRINK. EXPERIENCE.
Church & State Wines features two distinctly different vineyard properties located in the Okanagan and on Vancouver Island. Our meticulous wine-making process is driven by a passion to make wines that capture a sense of place, drawing from the terroir to showcase a sense of character, depth and the elegance of our land.
Tasting notes, bottle shot and image courtesy of the winery.