We are pleased to welcome Gray Monk Estate Winery to our #ShiptoSip campaign. Providing online ordering, curb side pick-up or free delivery you can shop at your convenience and have wines delivered right to your door or pick-up; your choice.
Here are three new releases ready to order for your sipping pleasure. All with a terrific price point. Enjoy!
2019 BC VQA Rosé 

This copper pink rosé has wonderful aromas of wild strawberry, peach, melon and summer rose petals.
The light to medium bodied, refreshing, medium-dry mouth-feel has flavours of orchard fruits and delicate red berries. Notes of rhubarb, red berry, pink grapefruit and peach linger on the refreshing finish.
2019 Ehrenfelser 
The Ehrenfelser grapes were picked in early October from Gray Monk Vineyard and an east Kelowna vineyard within the Okanagan Valley.
Clear and bright with pure fruit aromas of apple, citrus and pear, accented by notes of mineral and floral. This light-bodied, refreshing white wine is medium-dry with good balancing acidity and flavours of sweet citrus, apple and pineapple. Tangy notes of pink grapefruit, apple and pear linger on the finish.
2019 Siegerrebe 

This Siegerrebe is clear and bright with pure fruit aromas of summer melon, yellow apple, white peach, tangerine and white flower.
This is a light-bodied, medium-dry, refreshing white wine with flavours of juicy citrus, honeydew melon and red apple. Lovely notes of tangerine, peach, Meyer lemon and a touch of floral linger on the finish. The touch of natural sweetness is balance by refreshing acidity.
Free shipping is available until further notice with no minimum order. To place an order you can shop online here through Sandhill Winery's website. Orders can also be placed by calling the winery directly at 250-766-3168 Ext.1 or email wineclub@nullgraymonk.com to purchase. Find more information about available wines visit their website at www.graymonk.com
Gray Monk Wines Now Available Online!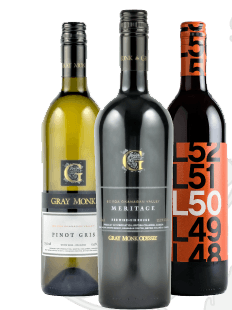 We would like to thank our fans for their support and patience ordering Gray Monk wines to be shipped to your door. We've experienced a higher than normal volume of calls while we work to take everyone's orders, and we've been looking for solutions. We have partnered with Sandhill Winery so you can conveniently shop our award-winning wines online.
Please note, should you wish to order from multiple wineries while on the site, this may result in a longer wait for your shipment. From the team at Gray Monk Estate Winery, we thank you for your support, patience and understanding during these challenging times.
*NEW* Curbside Pickup
With our staff and the community top of mind with have made the decision to close The Lookout Restaurant, Wine Tastings and tours.
For those of you who would like to purchase wine for our store, we will be on site from 10am-4pm daily. We are offering convenient Curb Side pickup to promote social distancing. Simply call the wineshop at 250-766-3168 ext 1 before you leave home to place your order and again when you arrive and we will place your wine right in your trunk.
Gray Monk Estate Winery
From the heart of British Columbia's Okanagan Valley, welcome to Gray Monk Estate Winery, which was established in 1972 by George and Trudy Heiss.  Working with the Heiss family, Gray Monk is now proudly owned and operated by Andrew Peller Limited.
The Gray Monk Estate is comprised of 75 acres of lush vineyards overlooking Okanagan Lake, in addition to premium grapes sourced throughout the Okanagan Valley, to produce some of the world's finest wines.
The Heiss family moved to the Okanagan Valley from Europe via Edmonton, Alberta with dreams of owning a successful vineyard. In 1972, George & Trudy Heiss were at the front of the line presenting their request to be allowed to make (and sell) wine from their own grapes. That began the Estate Winery program – which many believe was the turning point for British Columbia WinOur name comes from one of the first grape varieties we produced – Pinot Gris.
In Austria and Hungary, this grape is called 'Grauar Mönch' hence the translation to 'Gray Monk'. The grape has a very distinctive blue-gray colored berry.ESTATE WINERY
In the early 1980's, the BC provincial government defined three types of wineries that were regulated under these separate categories:
Farm Winery – could only use their own grapes; required ten acres of land and had a production limit of 5,000 gallons annually.
Estate Winery – first known as "cottage wineries", but soon changed, required 20 acres of land; could contract up to fifty per cent of what they owned; had a production limit of 30,000 gallons annually.
Commercial Winery – basically had no restrictions.
When Gray Monk was first started, they began as an Estate Winery as defined by the regulations at that time.
Today, the rules have changed- there now is a simplified distinction between a land-based (farm) winery and a commercial winery, eliminating the need for an "estate" winery license. However, Gray Monk chose to keep the name of Estate Winery because of its importance in their history and the family's participation in the winery's operation.
Gray Monk Estate Winery – One of the original five estate wineries that pioneered the BC Wine Industry, located in Lake Country. Link to their Instagram here.
Tasting notes, bottle shots, information and image courtesy of the winery.