Enjoy a special 15% off our BLVD Provisions BBQ favourites – this long weekend only with the code WEEKEND15.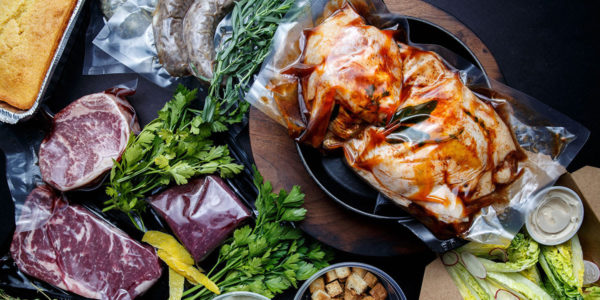 Our much-loved Grill Pack features an array of premium proteins: USDA prime striploin, PEI rib eye, Oyama miso pork sausages and a 1/2 marinated chicken. Sides include the irresistible Boulevard Corn Bread and a ratatouille bursting with summer vegetables. This summer package has everything to last all weekend or for one seriously epic feast.
Perhaps opt for Chef's newest offering, a mouth-watering Crispy Pork Belly Porchetta. Expertly prepared this ready to roast feast is sure to be super tender and comes accompanied with zesty lemon potatoes, broccolini and local greens from Zaklan Heritage Farm. This summer spread provides great value, feeding four people for $60. Available for pickup on Saturday only.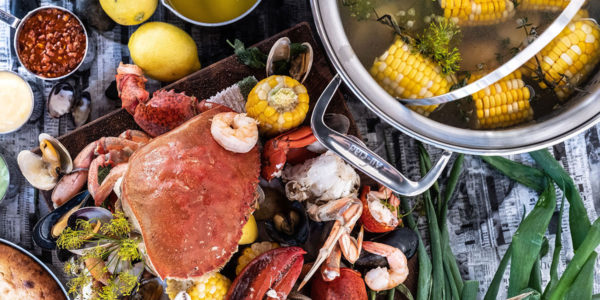 Featuring generous piles of fresh Dungeness crab, lobster, prawns, mussels and clams alongside an array of sides including corn, potatoes and the infamous Boulevard Corn Bread this is a fun-filled patio experience not to miss. To start the evening guests will be treated to a welcome glass of bubbles on the patio. Freshly made beignets, for dessert complete this must-try Southern-inspired experience.
Seafood Boils will be held on Thursday's starting August 6th to August 27th. The experience is available for $140 per 2 people with 18% gratuity. Tickets will be available for socially distanced tables of 2, 4, and 6, they can be purchased via tock.com. An at-home version of the boil is available through BLVD Provisions for those who prefer to enjoy the experience at home.
What are you waiting for? Get crackin' and book today.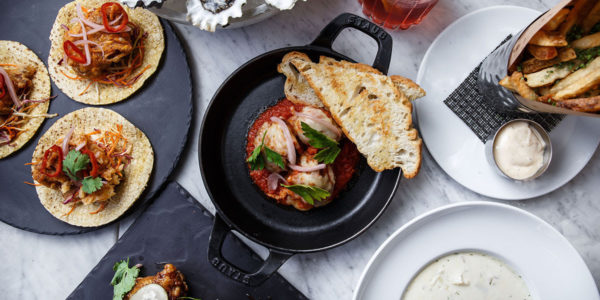 Beat the heat with an array of thirst quenchers and bites to pair all available at very friendly pricing. Options include $8 cocktails: Margarita, Negroni and Moscow Mule and $6 draught beer. Wine lovers may enjoy a $7 red or white, and will receive 20% all wines bought by the bottle from the Boulevard cellar.
Enjoy local oysters for $2 a shuck and Crispy Chicken Wings – all those happy hour classics you've missed and more.
Happy Hour is available Tuesday – Saturday, 4-6pm. View the menu here and make your reservations today.
Information and images courtesy of the restaurant. If you would like to be featured on MyVanCity.ca please email myvancityval@nullgmail.com, features are complimentary.