Always a must visit for me when I am in the South Okanagan. It amazes me how many really good restaurants there are in BC Wine Country. Miradoro is definitely in the top restaurant category that I want to visit.
The team at Miradoro are experienced and knowledgeable and are always very helpful when it comes to wine pairing or making suggestions based on menu specialties. A few items I hope will always be on their menu would be their fabulous Kale Caesar (sometimes it's an Arugula Caesar) but are so good. Carbonara is hubby's go to dish wherever we are. Miradoro has it down to an art. (menu changes seasonally so not all items will be available when you visit)
Miradoro is open 7 days a week for both lunch and dinner from 11:30 am to 9:00 pm. All proper protocols are in place.
Reservations are required. All menus items are also available for take-out!
MENU

We're now pleased to offer options for both dine-in and takeout.
We will continue to monitor the situation and will keep you informed of changes at the restaurant as they occur.
Our team thanks you for your support during these challenging times and we look forward to welcoming you back to the restaurant.
The Miradoro Philosophy. This is modern wine country cuisine. Our food pays homage to the bounty of the Okanagan, using the culinary traditions of the Mediterranean as our inspiration. We believe that there's nothing better than simply, but well-prepared ingredients from our local fields, forests and ocean.
Reservations are strongly recommended, please call 250-498-3742
*Menus may change without notice.
Panoramic views of the valley below; clean lines, and a comfortable atmosphere. Locally sourced ingredients prepared by an award-winning chef.
T: 250-498-3742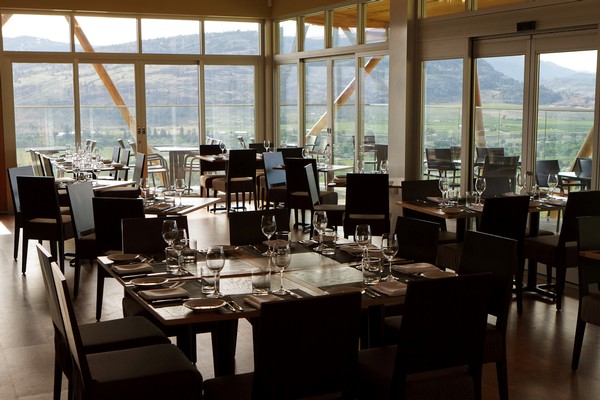 Miradoro Restaurant is a partnership between Tinhorn Creek and BC culinary legend Manuel Ferreira. 
Panoramic views of the valley below; clean lines, and a comfortable atmosphere. Locally sourced ingredients prepared by an award-winning chef. All of this, in the heart of the south Okanagan – with a hint of Mediterranean on the palate.
It's where rustic meets elegant in delicious harmony.
With an emphasis on seasonal products and a commitment to sustainable practice, the menu at Miradoro is a study in culinary creativity. From the authentic forno oven to a diverse wine list (including library wines), this is the place for food lovers to indulge.
Open from March through December, Miradoro is where you can enjoy a leisurely meal and a glass of wine – whether you're visiting wine country or you live down the road.
Full disclosure: Many of my experiences have been for dinner as a media guest receiving a complimentary meal in order to do a review and publish a feature on MyVanCity.ca (note: I always leave 20% of the value of our meal for the team) but dinner for two with hubby on our own dime is just as wonderful a dining experience. I have never been dissappointed and do not hesitate to highly recommend Miradoro Restaurant.
This year I won't be travelling unfortunately but I hope my self imposed self isolation won't last too much longer. I miss everything about BC Wine Country.
Information and images courtesy of the winery. See all our Miradoro Restaurant reviews here. If you would like to be featured on MyVanCity.ca please email myvancityval@nullgmail.com.