Miradoro Restaurant at Tinhorn Creek Vineyards is just divine. You absolutely must have Miradoro on the top of your "where to dine" list anytime you are travelling to BC Wine Country. Located on the property of the Tinhorn Creek Vineyards this is THE place for lunch and dinner; tapas; or just desserts.
We visited in late May and had the most incredible dinner you could imagine. We always feel so welcome here, the staff are great and the kitchen team are pure genius. Headed by Executive Chef Jeff Van Geest one of British Columbia's most celebrated chefs, focusing on locally procured foods from sustainable producer partners. Miradoro Sous Chef Ian Stilhorn was team lead in the kitchen the evening we dined.
As tempting as it was to just repeat our wonderful dinner from the Fall we decided to give the new Spring menu items a try this time and pair with the recommended wine flights. The menu changes with the seasons but you can expect it to always be at the peak of freshness.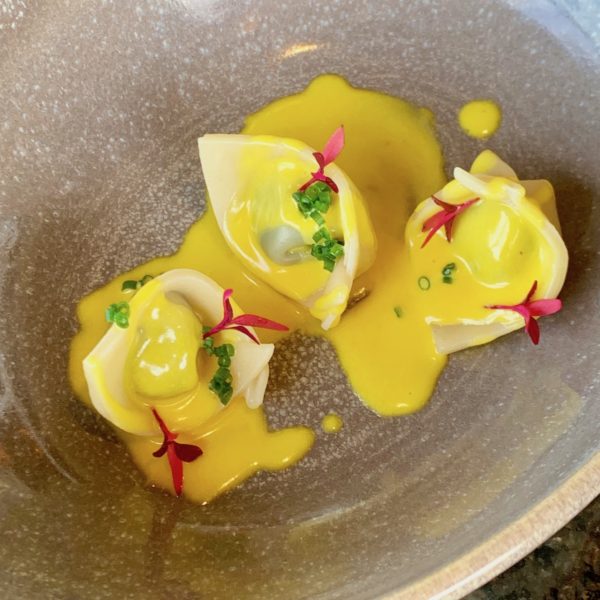 We each started with a pre-dinner drink, a cocktail with local rye for him and a glass of Tinhorn Oldfield Reserve Rosé for moi. First up was an amazing amuse bouche of nettle & ricotta cappelletti with saffron cream, fresh chive and amaranth. (note: Chef Ian foraged the stinging nettle from an area located between the restaurant and the highway for this dish)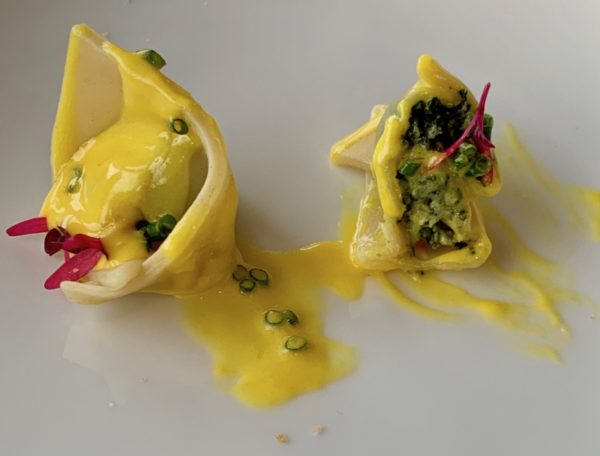 The team at Miradoro really have it going on, and they're quick on their feet too. Knowing we had already enjoyed the salad of willowbook kale with caesar dressing, balsamic pickled egg and pumpkin seeds they subbed out the kale for delicious, peppery arugula for our first course. This salad is light and the caesar dressing is a juxtaposition to the tender and peppery greens which makes it an interesting dish whether you have the kale version or the arugula. I love it both ways. The balsamic egg is the topper for this dish along with the crunchy fresh pumpkin seeds. Another winner.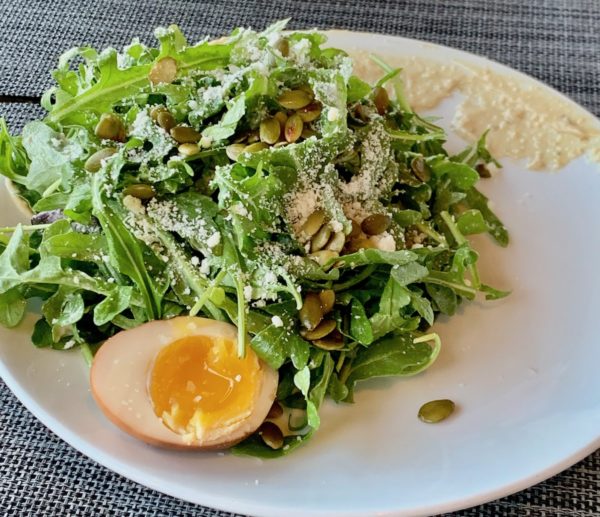 It is always a good idea to keep both an open mind and your eyes open when you are dining in a quality restaurant. I just happened to spot a dish going by to a table of four that were indulging on the Tasting Menu (available in three or five courses/with or without wine pairings). Inquiring of Chef Ian turns out they were morels stuffed with side stripe shrimp mouse, with a light Tempura batter, quickly deep fried. You didn't have to ask me twice. Absolutely had to have one of those. (one was a taster but a full order would be three or four of those delicious morsels). This dish was over the top good, very rich so I was glad we just had the taster but it definitely left you craving more!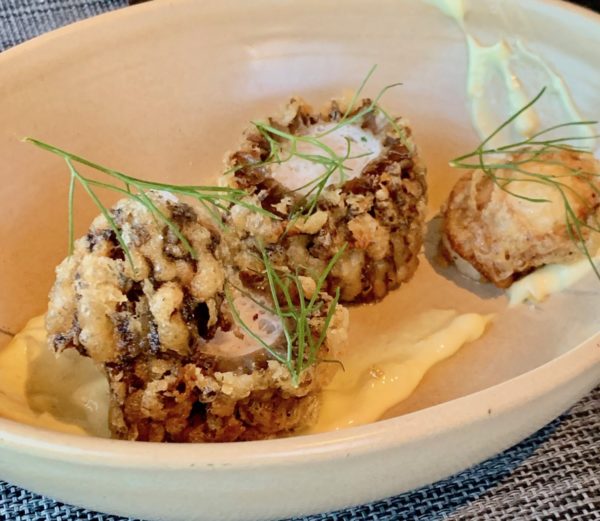 For mains I was again tempted to go with dishes we have had, and loved, before but we really wanted to sample the Spring menu items so we went with: for him; wild boar bacon carbonara – spaghetti alla chitarra, black pepper & egg yolk sauce, arugula, parmigiano, cured & smoked yolk paired with Tinhorn "The Creek" I admit I snuck a little taste and if you love rich, flavourful pasta dishes with an abundance of smokey bacon and sharp parm cheese then this one is for you.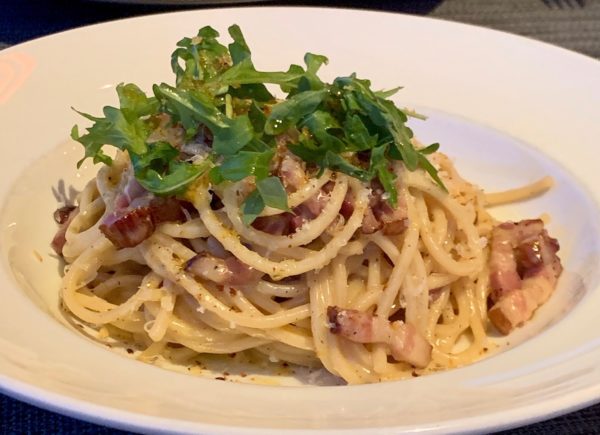 I seldom order a pasta dish but I could not turn down this one: seared scallop calamarata – saffron, pine nuts, raisins & capers preserved lemon pangrattato. This dish was out of this world, the scallops were perfectly cooked matched with the al dente pasta. The saffron and the sweet raisins and tangy capers just set it off beautifully. As delicious as the suggested pairing would be (Oldfield Series 2Bench Red 2013) I opted for a flight of three white to try with the scallops. First the Tinhorn Gewürztraminer 2017; second the Tinhorn Pinot Gris 2018 and finally the Tinhorn Oldfield Reserve Chardonnay 2017. Of the three I liked the pairing of Oldfield Reserve Chardonnay but I'm glad I had the chance to taste all three and the 3 oz servings times three is ideal.
I tend to avoid desserts just because I think of my wine consumption as my dessert allocation but Chef Ian had other ideas and sent us a lovely sampling duo of lemon cream with summer fruit preserves sitting on an amaretti biscuit along with dark chocolate budino with sponge toffee and peanut butter mouse (please someone lock me in a room with a lifetime supply of sponge toffee all to myself). It isn't that I don't love desserts, and these were sensational, I don't normally succumb but these little samplers, shared, did help ease the guilt, a little. So good!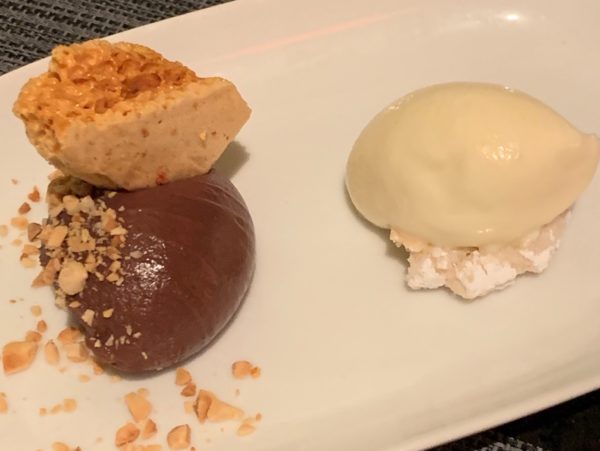 As always everything was superb. We really love travelling to BC Wine Country and nothing tops a great meal with wine pairings.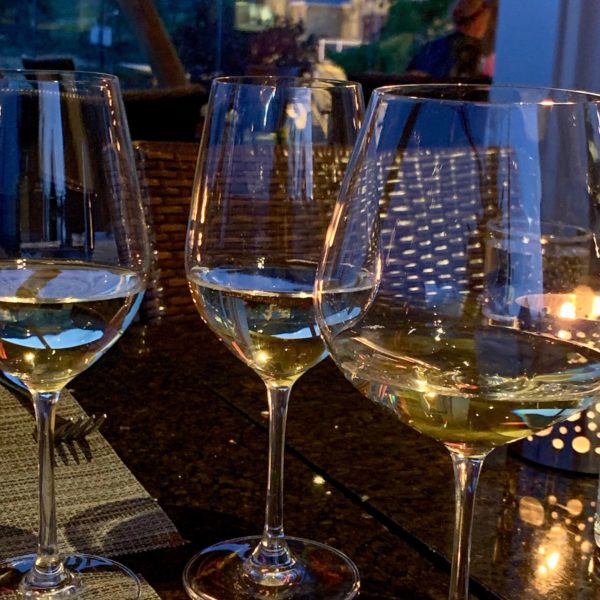 Reservations highly recommended: please call 250-498-3742 or email info@nullmiradoro.ca
Miradoro is open for lunch, tapas, & dinner 7 days a week (closed January and February)
Lunch – 11:30am to 3pm
Tapas – 3pm to 5pm
Dinner – 5pm to 9pm
About Miradoro Restaurant
Miradoro Restaurant is a partnership between Tinhorn Creek and BC culinary legend Manuel Ferreira.
Panoramic views of the valley below; clean lines, and a comfortable atmosphere. Locally sourced ingredients prepared by an award-winning chef. All of this, in the heart of the south Okanagan – with a hint of Mediterranean on the palate.
It's where rustic meets elegant in delicious harmony.
With an emphasis on seasonal products and a commitment to sustainable practice, the menu at Miradoro is a study in culinary creativity. From the authentic forno oven to a diverse wine list (including library wines), this is the place for food lovers to indulge.
Open from March through December, Miradoro is where you can enjoy a leisurely meal and a glass of wine – whether you're visiting wine country or you live down the road.
The Miradoro Philosophy. This is modern wine country cuisine. Our food pays homage to the bounty of the Okanagan, using the culinary traditions of the Mediterranean as our inspiration. We believe that there's nothing better than simply, but well-prepared ingredients from our local fields, forests and ocean.
All images MyVanCity. Feature image that evenings view from the balcony – photo MyVanCity. I received dinner and wine complimentary for myself and a guest. All opinions are my own.  A gratuity equal to 18-20% of the value of the dinner left with thanks to the team at Miradoro.