Wine Clubs are a great way to be sure you receive the latest releases and favourite wines. We think that Blue Mountain has a unique style that gives the member so much flexibility. If you want to acquire a certain varietal you have one annual opportunity. You can buy only the wines you like and want for your cellar, you make the decision. If needed you can take a pass and still buy that varietal next time.
Best of all it is free!
Our Friends of Blue Mountain Club is a self-managed style of buying our wines. We send out periodic release notifications to club members and you can purchase wines that you are interested in during the window of availability. We will release each varietal of wine once per year, and all wines are available in limited amounts to purchase. As part of the club, you will be among the first to hear about special events and products throughout the year. This is free to signup, with no commitment for purchase.
On these long summer days you can enjoy your Blue Mountain wine with some local cheese. BC creameries create some delicious cheese that pairs so well with our delicious BC wines, especially wines from Blue Mountain. Watch Allison from Les Amis du Fromage create individual cheese plates using BC cheese and featuring Blue Mountain Pinot Gris.
Pinot Gris 2019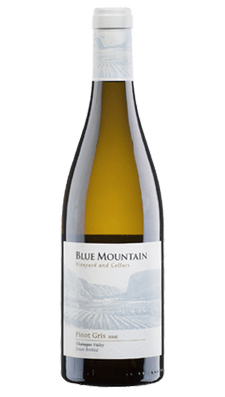 Winemaker Notes
The 2019 Pinot Gris has a citrus, mandarin orange, blossom nose with rich, dense orange and lemon flavours across the palate with notes of citrus, apple and spice on the finish. The structure of the wine will allow it to age beautifully for 4-6 years.
$24.90 available online
About Blue Mountain
Blue Mountain is the wild and respected territory of which the Mavety family are blessed to be the guardians. As a family business with a strong connection to the South Okanagan site, the goal of Blue Mountain Vineyard and Cellars is to realize the potential of the individual sites of the land in which the grapes are grown. Overlooking and tending, the Mavety's life work is an ongoing process of creating something simple yet powerful, to be expressed in the glass and enjoyed.
The philosophy of Blue Mountain is to focus on the potential of each variety, continually improving its range across Pinot Noir, Chardonnay, Gamay Noir, and Traditionnelle Methode sparkling wine.
Blue Mountain's strong focus on viticulture across the site allows for an increased representation of individual terroir when the grapes reach the winery.
A deliberate refinement of the winemaking process has allowed Blue Mountain to more clearly capture the identity of each of the vineyard blocks. Through these unifying processes, Blue Mountain allows for a reflection of the land and the fruits of its labour.
Careful vinification prevents over-handling through the strategy to continually evolve the entire process – from the growing practices in the vineyard, to handling of the fruit and sorting, to minimal extraction, ageing, and racking. By focusing on the bigger picture, Blue Mountain strives to reveal precise, focused wines that are terroir-driven, regardless of whether they are a blend reflecting different sites, or a single vineyard wine.
For Blue Mountain, as the vineyards age, and new vineyards are established, the cycle of growth as a business and a range continues. The process is truly an ever-evolving reality, representative of the Estate, and bringing precision and focus to its continued evolution.
Information and images courtesy of the winery.
If you would like to be featured on MyVanCity.ca please email myvancityval@nullgmail.com for details.