"In this series I will be sharing my take on which BC Wine pairs well with some inspirational recipes"
This totally simple salad is delish and if it's a hot summer day it can make a satisfying dinner for those with lighter appetites. I served this recently on a dead hot day in August and by adding some warm, home made focaccia bread it was perfection.
Tuscan White Bean Arugula Salad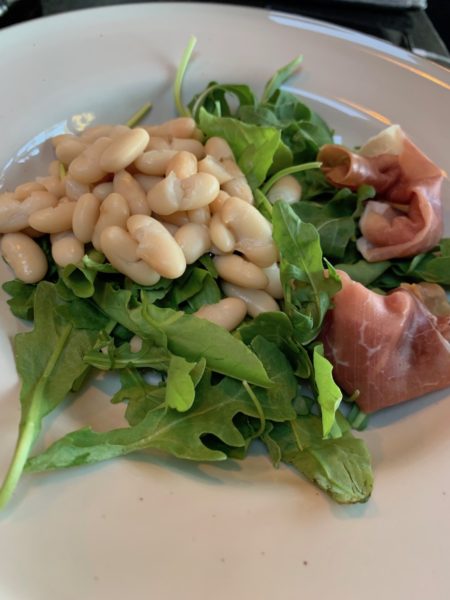 My version is super simple:
Ingredients:
farm or market fresh arugula
canned cannellini beans or white kidney beans
proscuitto slices (at room temperature)
parmesan cheese
croutons or tostini
top quality organic, extra virgin olive oil
good balsamic vinegar (sweetish)
sea salt
In order to get the most flavour from your parmesan do this first: Using a mandolin or potato peeler make parmesan cheese slices, set aside
Pour the beans into a colander and rinse well with cold water until the water stops foaming, leave to drain thoroughly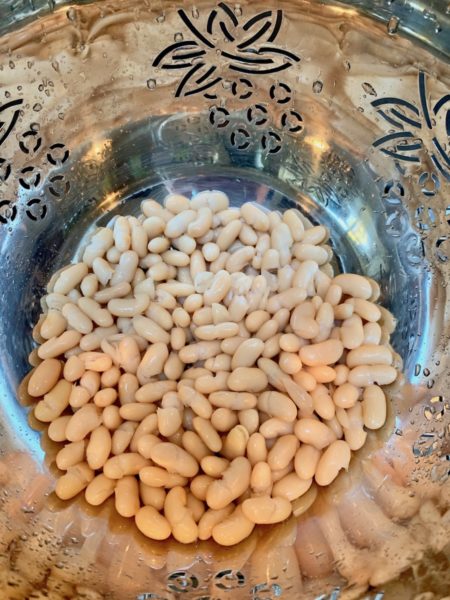 If using crostini place a few on the plate first. Add arugula to a plate or pasta bowl, add white kidney beans to one side on top of arugula. Fold the proscuitto into rolls and place to one side on top of the arugula.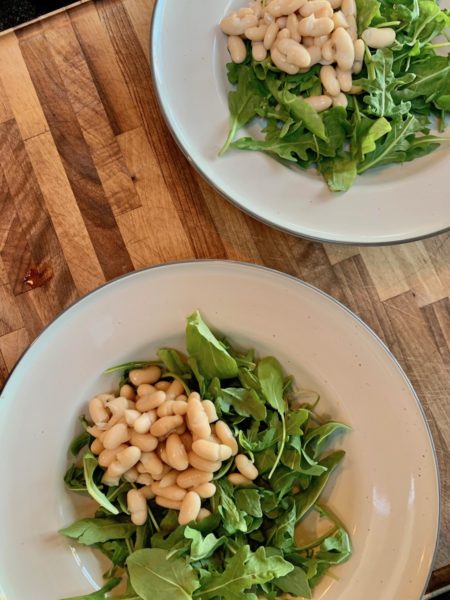 If using croutons toss on top. Dress with the best quality olive oil you can afford and sprinkle with the best quality balsamic vinegar you can afford. Add sea salt to taste. Add the parmesan cheese slices to the salad last, either before or after the dressing, to your taste.
Serve with warm focaccia bread or a crusty loaf of your choice with a dish of the olive oil and balsamic for dipping.

Summertime when I don't want to cook but still crave something different and a bit special this is my go to dish. I love the combination of flavours, the beans are filling and who doesn't love proscuitto?
My suggested wine pairing:
This one may surprise you because I have chosen an exquisite B.C. wine to pair with such a simple Tuscan dish but that can be the perfect opportunity to up the ante and turn the evening into something special.
CheckMate Knight's Challenge Chardonnay 2014
This is a classic Chardonnay with a floral nose, ripe fruit notes and well integrated oak. The palate has a sweet entry with stone fruits and subtle hints of gourmet cheese. Rich and supple, this white delivers peach, floral and sweet spice flavors in a harmonious profile.
 Winemaker notes: estate – Sunset Vineyard, Black Sage Bench; 50% wild fermentation; 100% French oak (50% new); crafted 11 barrels.
I find the Knight's Challenge Chardonnay to have the most oak of the CheckMate chards. It has light scents, and is refreshing and delicious. It paired very well with the tastes and varying textures of the dish. There was so much going on in this simple salad. The beans are slightly creamy and rich with the smokey prosciutto so rustically flavourful and the salty cheese along with the sharper tangs of the balsamic  needed a wine of some strength and structure to compliment this diverse but simple meal, which made the Knight's Challenge Chardonnay the perfect foil.
Final word goes to Sam Hauck, MyVanCity wine reviewer extraordinaire, from his first tasting in September of 2016. "They are as age worthy as top Burgundian whites. These are without doubt, among the finest chardonnays ever produced in Canada and as such, rival the best in the world."
Tasting notes and winery notes courtesy of the winery. All images MyVanCity. Read more MyVanCity features about CheckMate Artisanal Winery here.
If you would like to be featured on MyVanCity.ca please email myvancityval@nullmail.com for details.